The Tourism Promotions Board (TPB) recently held the soft launch of its newest campaign, Turismo Para sa Bayan.
MANILA, Philippines – "The TPB's concept of best tourism practices is being refocused on community development as our marketing priority," says chief operating officer Cesar Montano. "We will also promote community engagement as part of a cultural interactive tourist-based experience."
TPB chose to hold the launch in Bohol. Aside from being Montano's home province, the COO says they chose Bohol to show stakeholders how resilient the province is, having bounced back from a devastating earthquake in 2013 and, more recently, a terror attack during Holy Week this year.
Montano recalls being in Bohol during that week, where he was able to talk with local officials and hotel managers. Tourism was definitely affected, with one hotel manager reporting some 120 cancellations in one day. "Bohol doesn't deserve this," says Montano, noting that the province has so many unique selling points – from some of the best diving spots in the country, to the tarsiers, the Chocolate Hills and white sand beaches.
"Bohol is one of the country's most marketable destinations. In fact, Bohol is a model of best tourism practices," says Montano.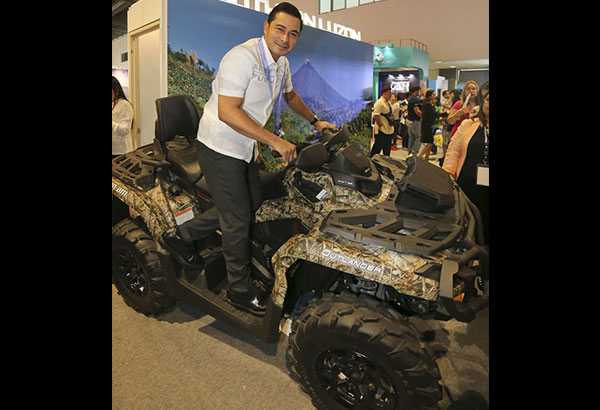 Tourism Promotions Board COO Cesar Montano shows off an ATV used for exploring Mayon Volcano in Albay during the recent Travel Tour Expo.
With martial law declared in Mindanao and the clashes in Marawi, tourism has been affected in the region, but Montano is positive that, just like in Bohol, Mindanao's tourism will show the same resilience and resurgence. "My trust and confidence is in the President," says Montano, adding that safety is definitely a priority for tourists. "I'm confident na maaayos ang bansa natin and we should not stop promoting it."
Lifestyle Feature – Travel ( Article MRec ), pagematch: 1, sectionmatch: 1
Expounding on the TPB's Turismo Para sa Bayan, Montano says, "We have to make tourism benefit those who need it most. We have to make tourism do what it does best: distribute wealth from the privileged to the marginalized, from the highly urbanized cities to the countryside. In effect, the marginalized will not have to wait for the benefits of development to trickle down to them. The TPB will strive to make tourism benefit the marginalized directly, right where they are. At the same time, they become conduits of progress in our society in general and to the tourism industry in particular."
The TPB will strive to inspire and benefit the communities directly through tourism; set a rising benchmark for tourism worthiness; boost the growth of MSMEs; highlight and instigate multi-sectoral efforts; and promote Filipino values.
One project under the new initiative is an artist's hub to be established in a Badjao village in Bohol. An artist himself and an ordained lumad datu, Montano plans to bring some of the top local and international artists to the hub to hold workshops for the Badjao residents. That way, a new livelihood will arise and Montano hopes that young Badjaos will realize that there can be different ways for them to earn a living other than diving for tourists' coins.
Montano first encountered the Badjaos seven years ago during a feeding program called "A Day Without Hunger." He hopes that through the artist hub, the Badjaos will be given an opportunity to earn from art.
A native Boholano, one of Montano's favorite places in Bohol is the Loboc River. The first time he saw it, he recalls thinking: "A beautiful love story must have taken place here." The river is what inspired his film, "Panaghoy sa Suba (Call of the River)," which earned recognition in international film festivals.
Montano, a multi-awarded actor, director, writer and film producer, has been bringing his affinity for the arts into his new position at the TPB. However, he has had to make quite a few changes as he adjusted to his new position in a government office. "It's new territory," he admits. While he has been bringing his connections, popularity and talents to the post, he has also had to deal with many challenges, including going through processes like bidding and procurement, which has been frustrating for him at times. He adds, unlike filmmaking where as director or producer he is able to work with his own vision, he has learned to listen too, especially since many of the TPB staff have been in tourism for many years.
"I want to make the Philippines the capital of Hollywood artists in Asia," says Montano, talking about his plans for promoting film tourism in the country. "There are so many beautiful locations that they can use in their films," he enthuses, adding that international productions that will film in the country will also create jobs for local crew members, the hotel industry and more.
Among his film tourism projects is a new show with the Discovery Channel called "Perfect Location" which is set to air next year. Featuring Quentin Tarantino, the show follows the director as he goes from island to island in the Philippines in search of locations for his next film.
Montano also plans to team up with other Hollywood, Bollywood, Korean and local actors to promote tourism in the Philippines. He hopes to produce period films that showcase Philippine history. "In order to promote tourism, you have to tell your story. Identify yourself before you promote yourself," he says.
Also an avid sportsman (Montano enjoys basketball, golf, running and is a licensed diver), sports tourism is another highlight that Montano plans to concentrate on. After attending the Asia Golf Tourism Convention, the TPB COO plans to hold an invitational World Celebrity Golf Tournament next year. The event will bring personalities from different fields to the Philippines to play golf, says Montano.
Reflecting on the TPB Turismo Para sa Bayan campaign, Montano says, "I saw how talented Filipinos are and I saw how rich our natural resources are. These talents are the source of our being a great nation."
He adds, "As leader of the Tourism Promotions Board, it is my duty to promote my people. Promoting my people is promoting tourism in the country itself. No matter where our modern technologies take us, tourism will always be about the people."