MANILA, Philippines — Christmas is just around the corner and that means celebration to many Filipino families!
Since the Philippines arguably has the longest Yuletide season in the planet, it offers a variety of ways to celebrate the holiday.
A month before the birth of Jesus Christ, different malls in the Metropolis are dressing themselves for Christmas, giving mall goers the season "feels" they badly needed to counter a stressful city life.
Whether you are looking for inspiration or for new experiences to share with family and friends, here are some holiday destinations and celebrations to check out.
1. Circus Christmas
Lifestyle Feature – Travel ( Article MRec ), pagematch: 1, sectionmatch: 1
The SM Mall of Asia Atrium has morphed into a circus as London's Acrobat Troupe gave mall goers an incredible highly skilled cirque display during the lighting ceremony of the mall's 50-foot Christmas tree.
The Acrobat Troupe has performed across Europe, the Middle East and Asia at film premiers, corporate and sporting events, private parties and public events such as the London 2012 Olympics.
Also, the MOA Christmas squad, namely Leo the Lion, Hailey the Hippo, Gerry the Giraffe, Macky the Monkey, Cyril the Squirrel, Benny the Bunny, Ellie the Elephant and Hanna the Panda, were present during the launch.
There will be also a Grand Festival of Lights happening in the mall on November 25, December 2, 9, 16, 23 and 25.
2. Christmas under the sea
A 360 degree LED tunnel that brings you under the sea; a giant Christmas tree glowing with jelly fish, corals, and mystical elements like mermaids; and pastel holiday wreaths studded with pearls. These are just among the multi-sensory treats to enjoy as Christmas comes to SM Aura Premier with an "Under the Sea" theme.
Giant shells and corals greet shoppers as they enter the mall, whose underwater inspired design captures the beauty and elegance of creatures found under the sea merged with a magical Christmas experience. Christmas, after all, is all about magic. And as they enter the curved 360 degree LED tunnel at the Atrium, mall goers can enjoy an immersive experience. Here, they can view clear, crisp underwater images – sharks, manta rays, and other underwater sea creatures swimming above and around them, even on the LED flooring that simulates being on a seabed.
The "Under the Sea" theme was recently launched with Taguig City Vice Mayor Ricardo 'Ading" Cruz, Jr., Councilor Pammy Zamora and Acting Chief of Bureau of Immigration Atty. Arnulfo Maminta as special guests. They were joined by SM SVP for Operations Steven Tan, SVP for Marketing Jon Jon Agustin and AVP for Operations Bernice Baculi.
During the event, which included the lighting of its giant mystical and elegant Christmas tree, the 80-piece Bernie Pasamba Orchestra and the Philippine Women's University Choir serenaded the audience with Christmas songs.
3. Northern lights in the Metro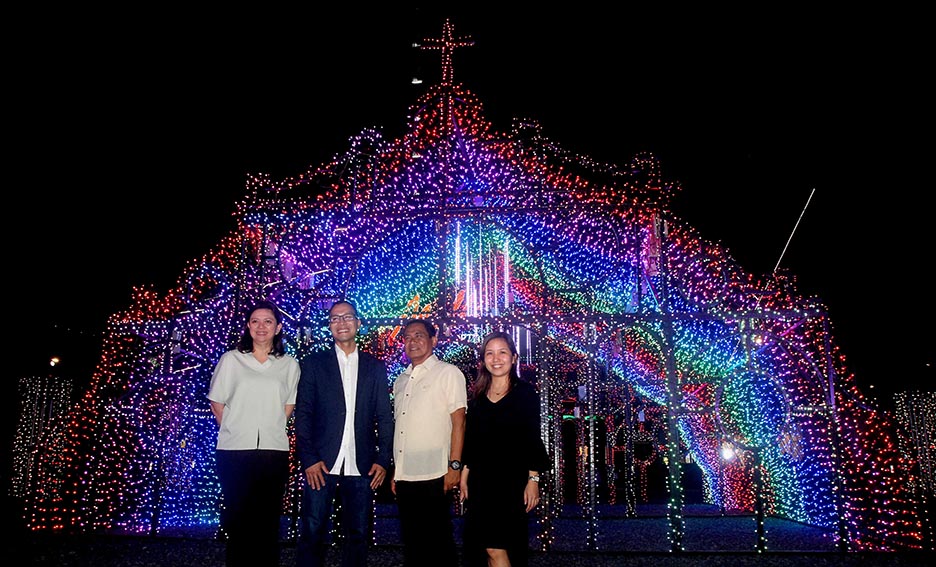 Ayala Land Inc. officials and guests inaugurate the Simbang Gabi-inspired Vertis Northern Lights.
Witness a magnificent Christmas spectacle as Ayala Land Inc., in the spirit of gratitude, brings its highly acclaimed lights and sounds show to Quezon City this year.
Vertis Northern Lights is an enchanting Christmas fete patterned after Makati's Festival of Lights. It is located in northern Metro Manila this holiday season, right in the heart of Quezon City. Beyond spreading magical moments, the show aims to bring people together in the spirit of gratitude for the many joys that Christmas brings.
A giant Cathedral exquisitely covered with thousands of lights comes ablaze at the Vertis North grounds, transforming it into a magical wonderland that brings to life the wonders of Christmas. The theme was inspired by the Filipino culture of attending Simbang Gabi, where Christmas season in the Philippines begins. This goes back to the idea of the Vertis Northern Lights signifying the start of Christmas in Vertis North.
Veering away from the traditional red and green Christmas colors, the cathedral is draped with thousands of LED lights for the full production which includes cyber spheres, meteor lights, intelligent lights, and laser lights that produce a variety of hues.
This world-class lights and sounds show will run until January 8, 2018 at Vertis North Mall.
4. Celebrity bazaar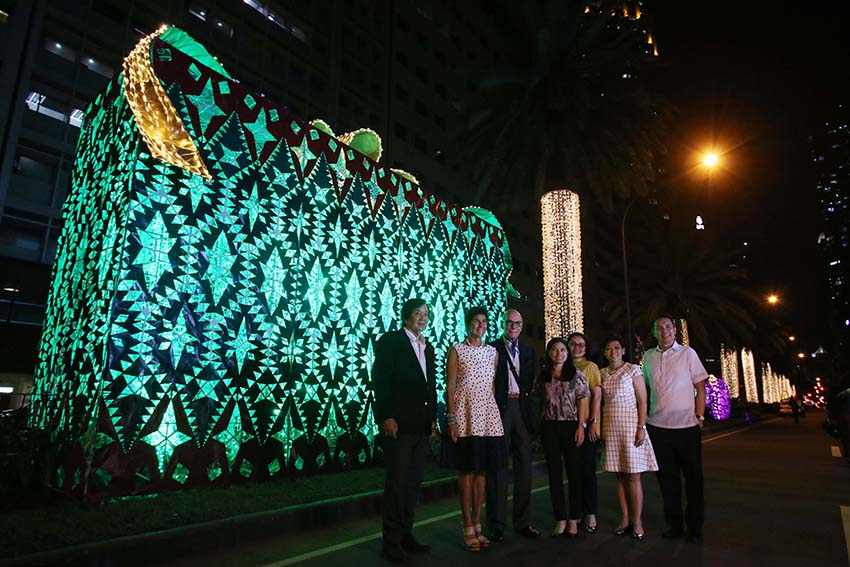 Makati's Christmas decors are adorned with over 250,000 sparkling lights that form intricate patterns of native Filipino weaves such as the Inabel and Burdado of Luzon, Banig Tikogo of Visayas and T'boli, Ukol and Yakan of Mindanao.
Circuit Makati officially welcomes Christmas by lighting up the magnificent 56-foot tall Christmas Tree that towers majestically over the city's new upbeat lifestyle and entertainment destination.
Adorned with over 250,000 sparkling lights that form intricate patterns of native Filipino weaves such as the Inabel and Burdado of Luzon, Banig Tikogo of Visayas and T'boli, Ukol and Yakan of Mindanao, the Circuit Makati tree is an extension of the Christmas wonderland now found at the Makati thoroughfares Ayala Avenue, Paseo de Roxas and Makati Avenue.
The Christmas tree lighting also coincides with the opening of Pop Up Town, which is taking place at two locations this year – Circuit Makati and Arca South. The bazaar features the Star Avenue section, which offers fun brands and pre-loved items from Janice de Belen, Kaila Estrada, Inah de Belen, Ara Mina, Danita Paner, Maricar Reyes Poon, Marissa Sanchez, Nene Tamayo, Nikki Valdez, Christine Babao, Maria Isabel Lopez, Mara Lopez, Gretchen Fullido, and Miriam Quiambao, among others.
5. A new haven in the north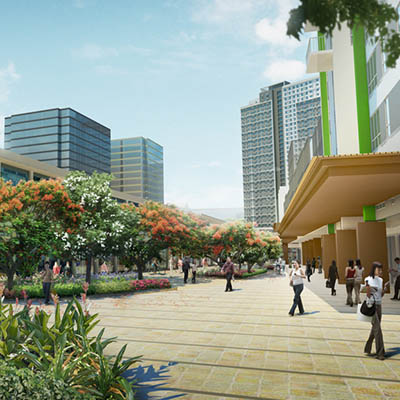 Envisioned to become one of Metro Manila's master-planned, contemporary green urban developments, Ayala Malls Cloverleaf boasts a mix of business, retail, dining and lifestyle entertainment options – all of which is brought together on the 11-hectare estate.
For residents of Camanava and other nearby provinces, you do not need to travel for long hours to visit a mall as Ayala Malls Cloverleaf is now open to the public this holiday season.
Envisioned to become one of Metro Manila's master-planned, contemporary green urban developments, the mall boasts a mix of business, retail, dining and lifestyle entertainment options – all of which is brought together on the 11-hectare estate.
It also features several residential projects led by Avida and Alveo, five towers featuring office spaces for various enterprises. It also houses several mall anchors, including Robinsons Supermarket, Robinsons Department Store, and six cinemas, which aim to bring everything one needs, from fashion to tech, home and other novelty items. Also available are international brands such as H&M and Uniqlo, as well as fitness brands Anytime Fitness and Slimmers World.
The mall has also become a new foodie destination with an array of dining options, which aim to excite the palate and delight food lovers.
6. Celebrating the traditions of Christmas
Located in 5th Avenue, Bonifacio High Street Central, Bonifacio Global City, Taguig City, Central Square aims to bring in more cheer and merry into the holidays with a slew of fun activities, gift ideas and inspirations, and promos and shopping deals.
Central Square's Christmas workshops are held every Saturday of December from 2:30 p.m. to 4 p.m. On December 2, let the kids discover the joy of gift-giving as they learn how to put their personal touch on presents during the gift-wrapping workshop.
The mall's cookie-decorating workshop is on December 9. Come December 16, kids can learn how to deck the halls and decorate their Christmas trees with their own Christmas socks.
There will be weekend holiday parades, featuring Hamley's well-loved characters from 4:30 p.m. to 5 p.m. Take pictures with Santa Clause at his corner every Saturday and Sunday, 5 p.m. to 7 p.m. Group chorales serenade mall-goers with their Christmas carols every Saturday and Sunday at 7:30 p.m.
7. Festival of lights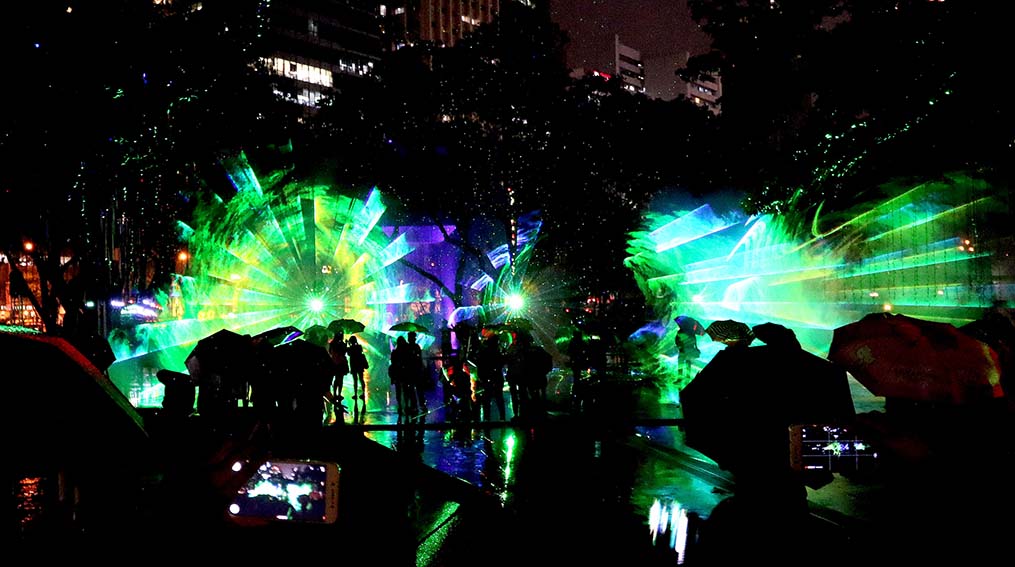 Festival of Lights in Ayala Triangle Gardens
Until January 7, the Ayala Triangle Gardens brings back its signature lights and sound show, which has captivated thousands of Filipinos for the past eight years.
The light show is choreographed by award-winning director Voltaire de Jesus and Luther Gumia. More than 1.6 million LED lights were used for the light show, adding brilliance while staying environmentally sustainable. Musical scoring for the three medleys were beautifully arranged by acclaimed musicians and composers.
The musical medleys have three distinct themes – Pinoy Fiesta by Roy del Valle, Traditional Christmas by Von de Guzman, and Techno by Tris Sunguitan. One medley will be staged every 30 minutes nightly. Each one boasts of a different mood, pace, and rhythm, while retaining the Christmas cheer that brings people together and envelopes everyone in the spirit of the season.
"We want Christmas to be magical for everyone, which is why we have continued with this beautiful Christmas tradition that brings people together and lets them feel the joys of the season," said Shiella Aguilar, Ayala Land Project Development Head for Makati.
For added holiday cheer, Ayala Land is also bringing the lights and sound show to its various estates across the country. It will be held at Vertis North, Nuvali, Bonifacio Global City, Centrio, and Ayala Center Cebu.
The majestic Festival of Lights has made it to the coveted list of Conde Nast Traveler's Most Spectacular Lights in the World, in the company of distinguished luminaries such as the Tivoli Gardens in Copenhagen, Denmark, the holiday lights display at the legendary Champs-Elysees in Paris and Japan's Kobe Luminarie.
The show will run daily every half hour from 6 to 10 p.m.
8. Respite from the 'holi-daze'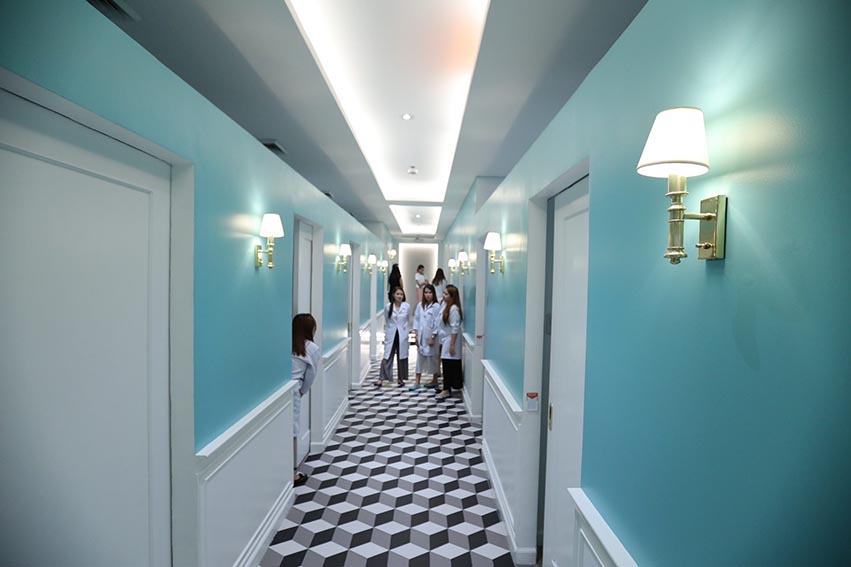 The mall offers quiet havens for rest and rejuvenation this holidays.
For those looking for a quick escape from the city's hustle and bustle, Shangri-La Plaza boasts of two wings that house stores offering premium products and services. Bo's Coffee Primo is a good chill spot for those looking to get some work or reading done.
The Institute of Creative Entrepreneurship, located at the Lower Ground Level of the East Wing, offers beginner, advance, and mastery courses for a wide array of art- and business-related subjects such as Fashion Design, Sewing, Styling, and Makeup.
For skincare, there is Skin 101 that offers a 45-minute Whitening or Seaweed Facial. Likewise, The Spa has an Aroma Facial Massage service that aims to soothe the face to reduce tension and boost blood circulation. Meanwhile, the Nail Spa at Level 5 has Express Hands or Express Feet services.
9. BGC Arts Center Festival
Immerse yourself in a visual and cultural experience at the upcoming BGC Arts Center Festival, a three-day event that features the works of various artists in the performing and visual arts on November 24 to 26. This month's theme is titled "Champions of Passion: Soulful Feats of Art."
The Bonifacio Art Foundation, Inc. (BAFI) has been passionate about using art, through the BGC Arts Center and the ArtBGC program, to highlight the crucial role of artistic endeavors in elevating lives. It will also be held alongside the yearly "Passion Fest" celebration along Bonifacio High Street.
For the November festival, there are two connected "Passion Eyepieces" to experience.
First, there are murals redefining the façade of nine building surfaces in BGC, injecting a creative flair and dynamic vibe within the community. These murals depicting various themes were done by individual artists and artist groups – most of them, Pinto artists, and one mural was a collaboration of foreign and local talents.
One mural was a collaboration made by artists from South Korea and ASEAN countries. This was initiated by the Korean Cultural Center as they partnered with the National Commission for Culture and Arts, and the Bonifacio Art Foundation, to visualize a "merging" that represents the friendship across borders.
To complement the murals, another "Passion Eyepiece" to be held at the BGC Arts Center features performing arts to show audiences passion embodied in human movement and sounds. Watch two separate performances by Steps Dance Studio: one animated by young choreographers and the other, to the timeless music of Sting, titled "I Got Stung."
To play the music that scales the highs and lows of daily lives, there is "Lupa ng Araw," a concert by the Silangan Chamber Guitar Ensemble and an outdoor serenade of Christmas Carols by the Ateneo Chamber Singers.
Various plays and musicals will be held on topics such as life and love. Watch how whimsical mischief yields real-life lessons in "The Glitter Trap" by Upstart Productions; 2013 Pulitzer-prize winning drama on how politics shapes personal identity in "Disgraced" by Twin Bill Theater; or how passion for a traditional delicacy deals with the imperative of change in "Maria, AngBinibini ng Bibingka" by Make Believe Productions.
Discover "after-life" perplexities revealed in 'Waiting Area" by Antrosininglaya Theatre Company; "Tao Po," a monologue on the affirmation of humanity by Juana Change; and refreshing experimental theater with "Two is Bitter Than One" by Ampalaya Monologues X Una Productions.
There is also "BisRock: GugmangGiatay" by Cebu-based 2 Tin Cans Philippines; the many faces and masks of love in "Ricky Lee's Para Kay B" by Tabsing Kolektib; and an original musical "My Suite Princess" by community theatre group BGC Passion Collective.
Children and their families can also look forward to a range of activities that will help them develop their appreciation for the arts. The list includes participative storytelling and art workshops by My Masterpiece Movement in 2 sets: Artful Retellings of Timeless Tales – "#MMPowerWithin," a Wizard of Oz-inspired sand-art performance; and "#CuriouserAndCuriouser," an Alice-in-Wonderland inspired shadow play performance.
Get entertained with an improv performance by SPIT Manila titled "Pasyon//Passion," and learn through an improv workshop by Third World Improv entitled "Never Say 'Pass Yon'." Hone your art skills and unleash your inner artist through live art workshops offered by Pens N Brushes Philippines, a watercolor workshop by Alessa Lanot, and a paper-cutting workshop by Mary Joy Roxas. Lastly, do not miss Toym Imao's art installation "Desaparecidos" (The Disappeared), 43 figures which represent those left behind by victims of forced disappearance during Martial Law.
10. A piece of France in the Philippines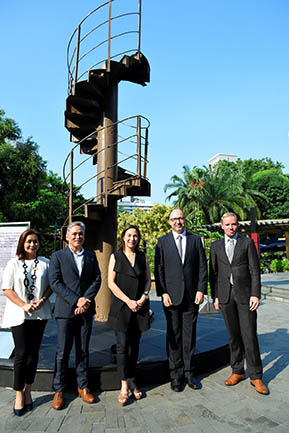 Ayala Malls officials and guest welcome the arrival of the original Eiffel Tower Staircase in Manila.
With the expensive flights and the lack of time, traveling to the most romantic city in the world, Paris, France, is hard to squeeze in for most people. But avid travelers and explorers who are drawn by the country's particular culture, history and the arts can find a piece of it in Makati City.
For the first time in history, the original Eiffel Tower Staircase leaves its home in Paris and finds a new – albeit temporary – "home" at Ayala Malls Greenbelt 3. The grand staircase – which measures five meters high and 1.7 meters thick, and weighing 1.7 tons – is part of the iconic French monument which was unveiled in 1889. It will be on display for the viewing public in Greenbelt 3 Sunken Garden until January 15, 2018.
The Eiffel Tower was deemed the tallest tower in the world at the time, and represented "France's industrial and cultural strength, becoming the global symbol of French ingenuity, craftsmanship and engineering perfection."
Janat Paris, the renowned Parisian Tea House, is credited for bringing the iconic structure to the Philippines. Janat Parishas a long, proud history with the Eiffel Tower, developing the Janat French Oak Tea, which was first served at the inauguration of the Exposition Universelle in 1889. In addition, matriarch JanatDores and Gustave Eiffel, the engineer and architect of the Eiffel tower, shared a unique friendship.
"This unique and rare opportunity celebrates not only the enduring friendship between France and the Philippines, but also ourshared vision and values," said Joseph Reyes, Ayala Malls Assistant Vice President, and Area Head of Central & South Malls.
11. Quezon Province celebrates Niyogyugan 2017
As the number one coconut-producing province in the country, Quezon celebrates the 5th year of Niyogyugan Festival dubbed as "the celebration of the tree of life" to further improve the province's coconut industry and to showcase each of the municipalities' and cities' products.
An interplay of "niyog" (coconut) and "yugyog" (to move a beat), Niyogyugan 2017 is so far the grandest edition of the feast as all 39 municipalities and 2 cities of Quezon Province joined this year and over half a million tourists visited their festival.
"What makes this year's Niyogyugan Festival is all the 39 municipalities and two cities of Quezon join this year's festivities. Lahat po sila may booth dun sa kapitolyo. Sumali po sila dito para ibenta ang kanilang mga produkto at para na rin ipakilala ang kanilang bayan," acting head of the Quezon Tourism Office Alberto Bay Jr. said.
In the provincial capitol, 41 colorful and stunning booths showcased each municipalities' and cities' products and they are vividly attractive as guests lined up to have photos and buy each place's delicacies: from Lambanog of Tayabas to Lucban's Longganisa.
This year's two-week celebration, which covers the commemoration of the birth of the late President Manuel Quezon, has different activities such as Binibining Niyogyugan 2017, Grand Blood Donation Activity, Tagisan ng Pag-Awit, Niyogyugan Triathlon, Araw ng mga Guro, Araw ng Pamilyang Magsasaka, Dog Show, Grand Parade and Float Competition and Street Dancing Competition.
With the theme "Tara Na Sa Quezon, Niyogyugan Na!," the float competition drew 22 floats and 22 street dancing participants in this year's festivities – three participants higher as compared to last year.
Ultimately, the festival's goal is "Paunlarin ang industriya ng niyog, Maging sikat muli ang Quezon Province sa larangan ng niyog, 'pag niniyog at mga produktong galing sa niyog," said Bay.
Bay also said that the provincial government allotted an appropriated budget for the festival. "The budget is appropriated for the festival. Ang hindi mabibilang ay yung intangibles na makukuha namin sa Niyogyugan Festival."
He, however, admitted that the Niyogyugan Festival is not yet ready for the international market because they cannot provide what the foreigners need. Thus, for now, they only target 38 million people in Calabarzon as well as millions in Metro Manila.
"Makakuha lang kami ng five million people dun. OK na kami," Bay said.
12. Hong Kong's new "A Symphony of Lights"
A spectacular new version of the internationally acclaimed nightly multi-media light show "A Symphony of Lights" will light up the sky over Hong Kong's iconic Victoria Harbour starting December 1. Featuring dynamic lighting effects with a stunning new musical score, the world-class light show will dazzle and delight millions of visitors.
The new version of "A Symphony of Lights" will be performed from 8 p.m. The 10-minute multi-media light show above Victoria Harbour incorporates a variety of exciting lighting effects, including colored searchlights, laser and beam lights sent out in rhythm from 40 buildings and sites on both sides of the harbor.
The performance will also for the first time feature LED panels on a number of harbor side buildings, displaying interactive images and messages to encourage audience participation. The light show will be complemented by music from one of Asia's leading classical orchestras, the Hong Kong Philharmonic Orchestra, providing visitors with a thrilling and unforgettable sound-and-light experience.
Situated in the heart of Kowloon along the legendary Canton Road, Marco Polo Hongkong Hotel, an iconic favorite for many Hong Kong based families and a preferred destination for business and leisure travelers, recently completed an extensive upgrade to its building facade as part of continued quality improvements.
Situated in the heart of Kowloon along the legendary Canton Road, the hotel, an iconic favourite for many Hong Kong based families and a preferred destination for business and leisure travellers, recently completed an extensive upgrade to its building facade as part of continued quality improvements.
The landmark hotel is renowned for providing warm and welcoming quality service and is a popular choice known for its harbour views of one of the world's most recognized skylines.
The hotel is part of Wharf Hotels, a Hong Kong-based hotel management company currently operating 15 owned or managed hotels in Hong Kong, China and the Philippines.
— Reports from Deni Rose M. Afinidad-Bernardo and Kristel Dacumos-Lagorza
RELATED: Cutest Christmas tree adorned with Disney's Tsum Tsum characters now delighting Filipinos
The spirit of Greenhills' Christmas on Display lives on
4 things you shouldn't miss in Cavite this Christmas
Where you can experience Christmas inside a glass imaginarium