MANILA, Philippines — The southern part of Metro Manila is now sparkling with different Christmas decorations and lights as here comes the most wonderful time of the year.
Family and friends might enjoy their bonding here as the dazzling, state-of-the-art light show comes with futuristic three-dimensional mapped giant Christmas tree.
Dubbed "Sparkle of Christmas at Filinvest City," the estate literally sparkles as it is now adorned with more street lights. There will also be the annual Musical Lights Show that transforms the newly opened Spectrum Linear Park into a Christmas Wonderland.
"Definitely, we are bringing in something new to this year's Light Show to make the holidays even merrier and more delightful. It is not just a light show but holistic in-city Christmas celebration, which means more activities for the families and friends to enjoy. So, it is really a community celebration. We are opening more space where people can converge and enjoy the holiday sights and sounds with the garden city as the backdrop," executive vice president of Filinvest Alabang Inc. Kate Ilagan said.
Families and friends might also enjoy the scheduled live performances every weekend by Spongecola, Ebe Dancel, Sandwich, and many more.
"We have always been keen about transforming the lives here in the metro south, thus the idea of hosting an activity during Christmas to give back to the community was created. We are delighted that the Annual Christmas Musical Lights Show has become part of the holiday celebrations, not just those in Alabang, but of people in neighboring locales as well," Ilagan said.
Lifestyle Feature – Travel ( Article MRec ), pagematch: 1, sectionmatch: 1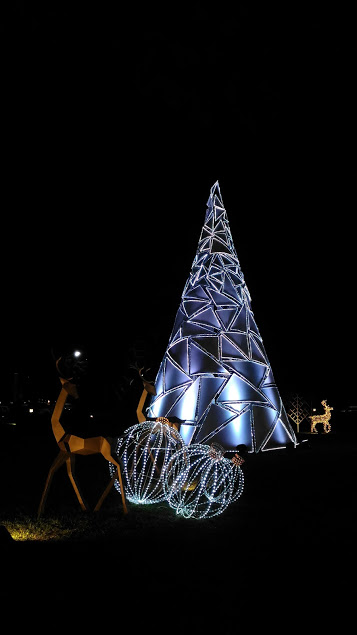 As symbolized by its giant Christmas tree on the hotel grounds, the holiday spirit is alive in Clark, Pampanga. Philstar.com/C. Mendez Legaspi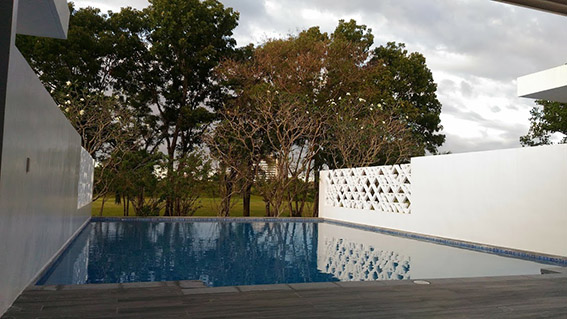 Grand villa swimming pool. Philstar.com/C. Mendez Legaspi
To entice more tourists and encourage more investors, Mimosa+ Leisure City is developing an "integrated, balanced and eco-centric community/township" that "focuses on four components: leisure, business, residential and hospitality, and nature."
Strategically located at the Clark Freeport Zone in Angeles Cty, Pampanga, the 201-hectare property aims to be a center of commerce and tourism in the north.
"We are excited to be part of the vast Mimosa + Leisure City, with its massive development that brings a lot of promise. It will surely be a major hub for business, investment and tourism in Clark," said Patrick Beck, the hotel general manager, in a statement.
The township has the Quest Hotel and Conference Center, with 303 newly refurbished guestrooms, the famous Mequeni Restaurant, Charley's Bar and swimming pool. Its centerpiece is the 150-hectare Mimosa Golf Course, which is a no membership-required golf course that offers players a sprawling view of the Pampanga and Zambales mountains.
"The property is just in the early stages of its development plans. Nonetheless, one can already expect to experience a pleasant stay or visit as it boasts of nurturing a nature-centered township wherein visitors can enjoy a green and serene surrounding. This is evident in the newly opened Acacia Park," said Marla Mendoza, assistant marketing manager.
The property was formerly known as the Mimosa Leisure Estate. "It was a conscious decision to keep the name Mimosa in our branding. Mimosa is a well-respected and known name not only in Pampanga but even Metro Manila. More importantly, Mimosa has a rich heritage that will always be part of Clark Pampanga, and even Philippine history. We want to respect that and in a way continue a legacy," explained Mendoza.
Besides the hotel and golf course, guests can also enjoy two luxury grand villas, which have three bedrooms each, a swimming pool, kitchen and dining area, a living room and plush bathrooms.
Guests eager to explore the new Mimosa can visit this Christmastime. As symbolized by its giant Christmas tree on the hotel grounds, the holiday spirit is alive at Mimosa with the Quest Holiday Collection offers that include deluxe rooms and executive suites until January 6.
Most of the developments, however, are still in the pipeline. "But the major change is how the company will redevelop the former Mimosa Leisure Estate that will make it a fully functioning hub for success. There will be an office campus to provide corporations and BPOs a new hub to branch out and to offer more employment opportunities; a retail strip and lifestyle mall to provide more leisure attractions; an event pavilion and event grounds to accommodate bigger events; another hotel and more villas to provide more choice accommodations for travelers," Mendoza shared.