Perhaps the new generation of local-movie lovers is not aware that the first Panday movie was almost aborted by a big storm.
That was 37 years ago.
"The set in Montalban, Rizal was totally destroyed," recalled Komiks King Carlo J. Caparas, creator of the legendary hero that has become like second skin to FPJ (Da King). "It was initially directed by Butch Bautista (Quezon City Mayor Herbert Bautista's late father). When the set was re-built, FPJ took over as director."
And thus began FPJ's glorious journey as Panday. The movie topped the 1981 Metro Manila Film Festival (MMFF), surpassing its record year after year, and enthroning FPJ as the unbeaten King of MMFF, going on not just as star in probably the country's most bankable franchise but also as director and producer.
In the 2017 MMFF, Coco Martin is taking his first step along the FPJ path by starring in the seventh resurrection of Panday and at the same time directing and producing it under his own CCM Productions (with Star Cinema and Viva Films as co-producers), using his real name Rodel Nacianceno as megman just as FPJ did (Ronwaldo Reyes).
Through the years, with FPJ and Carlo's blessing, other actors essayed the Panday role, including Bong Revilla (2010-2011, first in Dugo ng Panday, Carlo's widely-followed Liwayway magazine serial, then Panday which topped an MMFF), Jinggoy Estrada (Hiwaga ng Panday in which he played a Panday-inspired role), Jericho Rosales (in a Kapamilya fantasy-adventure series), and Richard Gutierrez (in a TV5 series).
"FPJ is a tough act to follow," noted Carlo. "That's a tall order for Coco who should know that not just one Panday is enough to qualify him as the new FPJ. Hindi kainggit-inggitang puwesto ni Coco from whom much is expected. The challenge is not just holding the sword of Panday but also, more so, carrying the torch of FPJ as a top-rate actor-director-producer…a legend. Milya-milya pa ang dapat tahakin ni Coco."
But, and that's a Big But, Carlo praised Coco for his foresight.
"He's very promising," observed Carlo. "He's on the right track. It's a wise move to get two big companies as co-producers. Among his contemporaries, nag-iisa siyang may dream to be a big name in the industry in the tradition of FPJ."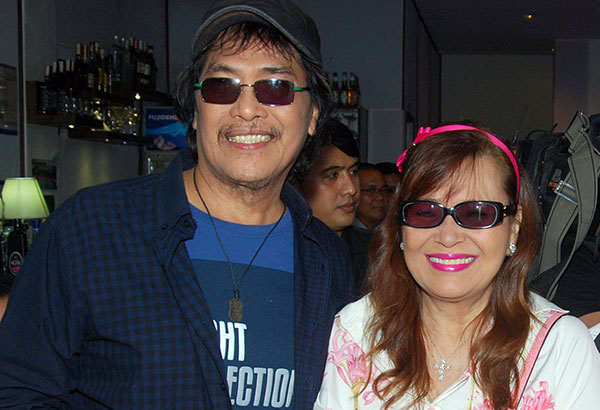 Carlo with his late wife Donna Villa who passed away early last January: Inseparable for 29 years until the Grim Reaper rudely interrupted their blissful togetherness.
Before the shoot, Carlo and Viva big boss Vic del Rosario Jr. met with Coco to remind him not to violate the "moral rights" of Panday as champion of the oppressed, hailed for being a larger-than-life Knight in Shining Armor, everybody's big brother and savior.
"And also," added Carlo, "not to veer away from the conflict between Flavio (the Panday) and his nemesis Lizardo. But we gave Coco a free hand to do his own interpretation."
Among the actors who have played Lizardo were the late Max Alvarado (in FPJ movies), Phillip Salvador (Bong movies), Victor Neri (in the Jericho series) and Christopher de Leon (in the Richard series). Now pitted against Coco's Panday is Jake Cuenca.
Serialized in Pilipino Komiks in the late '70s, Ang Panday is the first to be filmed among Carlo's works whose rights were bought by FPJ, also including Daang Hari, Sa Ngalan Mo, Maestro, Sambahin ang Ngalan and Totoy Bato (filmed twice).
"Kaming mga komiks creators," confessed Carlo, "big dream namin ang magawang pelikula ni FPJ ang nobela namin. It meant that you have arrived, that your talent was being recognized. When I created the Panday character, ang nasaisip ko ay si FPJ. The irony is that it was FPJ's widow (Susan Roces) who called FPJ's attention about my novel. FPJ told me that one day, Susan told him, 'May bagong nobela si Carlo na bagay sa'yo'."
The rest is history that continues to inspire movie fans. In his movie, Coco gathered an all-star powerhouse cast that includes, among others, Susan herself (who co-stars with Coco in his Kapamilya series Probinsyano, also popularized by FPJ), Gloria Romero, and two Bb. Pilipinas titlists, Mariel de Leon (International) and Kylie Verzosa (2016 Miss International).
Asked about his advice to Coco, Carlo compared Coco's "big steps" to driving a car.
"It's not an easy task," reiterated Carlo. "Kumbaga sa sasakyan, nasa first gear pa lang siya. Everything starts on the first gear. As soon as he gets to the second gear, he needs four things…talent, endurance, character and attitude…na kelangan as he accelerates to the third gear and fourth gear. I have seen the movie and in some scenes Coco reminds me of FPJ."
Incidentally, since last January, Carlo has been staying in Cebu where the ashes of his wife Donna Villa were interred beside the graves of Donna's parents. Actually, the ashes were divided between Carlo and children CJ and Peach. It seems that up to now, Carlo hasn't learned how to let go, how to move on, which is understandable because he and Donna were inseparable for 29 years until the Grim Reaper rudely interrupted their blissful togetherness.
Carlo can't talk about Donna without choking with emotion, so Funfare refrained from asking further about the subject after wishing him and his children a Merry Christmas.
(E-mail reactions at entphilstar@yahoo.com. For more updates, photos and videos, visit www.philstar.com/funfareor follow me on Instagram @therealrickylo.)