MANILA, Philippines — At the rate Enrique Gil is acquiring Old Master artworks, he will soon be in the ranks of the biggest art collectors in the Philippine entertainment industry with the likes of Richard Gomez, Julius Babao, Aga Muhlach and Joey de Leon. John Lloyd Cruz is also shortlisted before taking Ellen Adarna as love life.
When it comes to fine tastes that spread from gourmet cuisine to master paintings to multi-karat diamonds, nobody beats Enrique who puts his television, film and advertising top-bracket income into high-return investments. This makes Enrique as the country's youngest celebrity connoisseur at 25.
A seven-figure bulk deal, Enrique acquired six paintings by Old Masters including a Juan Luna, a Felix Resurreccion Hidalgo and a Nena Saguil on the second day of the ongoing Heras (Pamana)Old Masters, Contemporary and National Artists exhibit by Bicol Antique Arts and Craft at The Carmen Hotel, Peñafrancia Ave., Naga City.
Enrique purchased online Luna's watercolor study for the cover of Diario de Manila Nov. 30, 1894 issue of a winged creature in flight battling Japanese warriors.
Known for his European motifs, Hidalgo rendered Untitled (Undated), a rare graphite sketch in mint condition of a landscape-cum-seascape of a very rural scene dotted with a nipa hut, coconut trees and bamboo bushes.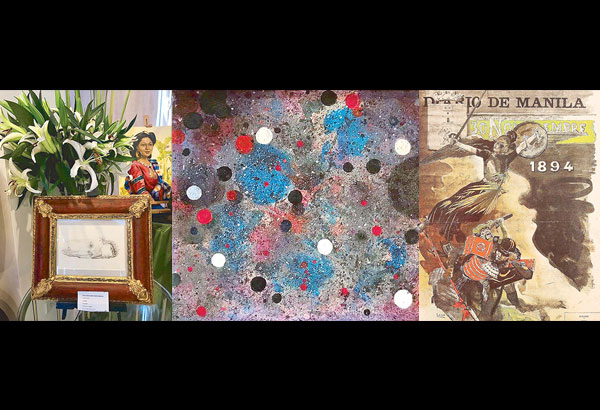 From left: Untitled by Felix Resurreccion Hidalgo; Diario de Manila by Juan Luna; Captured Cosmos by Nena Saguil
Pre-figuring her well-known cellular style as viewed from a microscope, Saguil's Captured Cosmos (1964) shows vari-sized spheres, vortices, dots and bubbles in white, red, black and cobalt blue, expressing a deep sense of spirituality.
Entertainment ( Article MRec ), pagematch: 1, sectionmatch: 1
Serafin Serna's A Man in Native Costume and A Woman in Native Costume (1955), vivid oil on canvas of the half-body portraits of royalties in pre-colonial costumes.
Simeon Saulog's Untitled (1967), watercolor of stallions on the run.
Facilitated by curator-cum-art dealer Jay Cuarto, he reopened in 2006 the '60s famous antique dealership of his departed father, Jesus Cuarto Sr. "I am humbled to be given this opportunity to take on my father's legacy and to live up to his name," Jay pays tribute to the Cuarto patriarch.