For once, Vic Sotto is breaking "tradition" for Talitha, his month-old daughter with wife Pauleen Luna.
Usually, Vic and partner (this time Pauleen) would leave for abroad for a much-needed break from the holidays, especially now that he is back in running at the 2017 Metro Manila Film Festival (MMFF) with Meant To Beh (with a new director for a change, Chris Martinez; co-produced by Vic's own company M-Zet Productions with OctoArts Films and APT Entertainment), a feel-good domestic comedy that reunites him with Dawn Zulueta more than two decades after they starred in the fantasy TV series Okey Ka,Fairy Ko.
"Pauleen and I cannot travel yet because Talitha is still an infant, masyado pang maliit," Vic told Funfare in a one-on-more. "Hindi naman puwedeng kaming dalawa lang because Pauleen might suffer from separation anxiety. Last week when Eat, Bulaga! celebrated its Christmas party, Pauleen was there but she was in a hurry. Gusto nang umuwi kaagad dahil nami-miss daw niya si Talitha."
Being breastfed by Pauleen, Baby Talitha sleeps in a crib attached to her parents' bed.
"Mabait si Talitha," said Vic. (The baby was named after a baby girlbrought back to life by Jesus. Talitha is an Aramaic word that means Little Girl.) Hindi siya iyakin pero maingay. When she wakes up, she stretches her body and makes a sound na parang naghihikab,ahhhhh!!! She has to be fed every two hours."
Asked who does the changing of the diaper, Vic said it had to be Pauleen.
Entertainment ( Article MRec ), pagematch: 1, sectionmatch: 1
"Ako lang taga-bili ng diapers," he joked. "Actually, it's easy to change the diapers. You just tape here and tape there, ayos na. What's tricky is cleaning the baby when she makes poo-poo or makes wee-wee."
The couple wasn't able to celebrate Pauleen's 29th birthday last Nov. 9 because she was in the hospital recuperating from delivering Talitha by Caesarian section three days earlier (Nov. 6). Because Pauleen is a Marian devotee (and so is Vic), they added Maria as the baby's second first name (Talitha Maria Luna Sotto). There's also a Maria in Talitha's parents' names — Marvic Sotto and Marie Pauleen Luna.
On Christmas Eve, Vic and Pauleen will celebrate with Vic's other children and their families: Danica and husband Marc Pingris and their two children; Oyo Boy and wife Kristine Hermosa and their four children; Paulina and her husband; and Pasig City Councilor Vico. Christmas Day is reserved for the in-laws or with the other Sottos reuniting at the home of Sen. Tito Sotto and wife Helen Gamboa in White Plains, Quezon City.
Asked how many more children did he and Pauleen plan (or hope) to have, Vic said, "It depends. If none, OK na rin. We leave it all to God kung ilan ang ibigay Niya sa amin."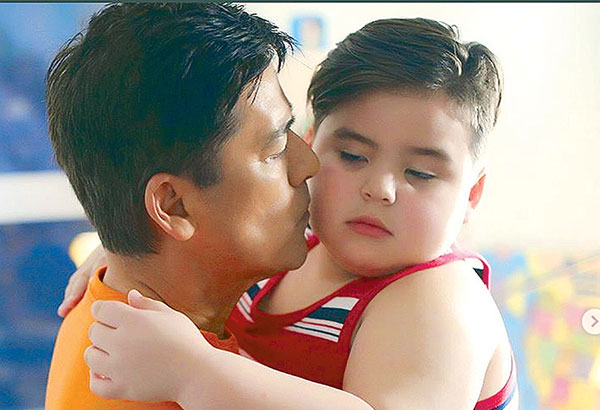 …with Bae-by Baste, one of his co-stars in his 2017 Metro Manila Film Festival (MMFF) entry, Meant To Beh
Meanwhile in Meant To Beh, chubby-cheeked five-year-old Bae-by Baste (born Sebastian Benedict Granfon) is out to prove that he's more than just a cute little face on television and that his time has come to be in showbiz spotlight.
"He delivered all his lines and gave us a very good performance. Baste will surprise everyone because in this movie, he was able to do everything — from singing, dancing, acting to comedy. He's a natural born entertainer," said direk Chris.
Vic, who took the kid under his wing since the latter joined show business over two years ago, added that considering his age and that he is still learning to read, Baste was able to deliver what was asked of him. He said the five-year-old was able to grasp the concept of making a movie and is already conscious of what acting is all about.
"At first, we were just thinking that he would just say a few lines and do minimal acting because he's never had experience shooting a movie. He's used to what we do in Eat, Bulaga! that we just let him sing. I was really surprised. We were all surprised that he has a talent in acting even if he still cannot read the script."
Credit also goes to Baste's mother, Shiela, who tirelessly read the script and practiced her son on how to deliver and act his lines correctly. She said it was difficult at first, especially when Baste had a hard time pronouncing long Tagalog words, but everyone in the production had been patient about it.
"I had to act the script myself because he cannot read yet and will just copy what I will do. I think the pressure was more on me than on him because we have limited time. He also doesn't want to commit mistakes while filming it," she said.
Mommy Shiela and Baste have been inseparable since they moved to Manila from General Santos City almost three years ago.
(E-mail reactions at entphilstar@yahoo.com. For more updates, photos and videos, visit www.philstar.com/funfareor follow me on Instagram @therealrickylo.)