MANILA, Philippines – Depicting Pope Francis' festive welcome during his January 2016 visit of the Philippines, certain media entities buzzed Dante Hipolito's oil on canvas Salubong as the artist's or Batangas Gov. Vilma Santos' gift to the head of the Catholic Church.
In the painting, Gov. Vilma leads Gary Valenciano, Sen. Grace Poe, Marian Rivera, Dingdong Dantes, Coco Martin and Kris Aquino dressed as farmers in welcoming the Pontifex. The brouhaha started when Marian reposted the off-the-grill buzz on her Facebook account.
Wikipedia even said that the Catholic Bishops Conference of the Philippines commissioned it for display at the rotunda of the Batangas provincial capital. This was pure manufactured information as there was no such intention or transaction. I know this as Dante and I closely coordinated while he painted the artwork.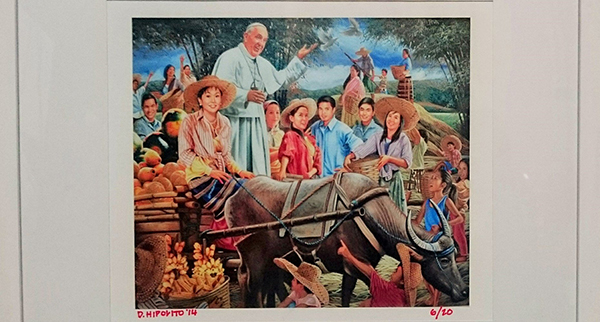 A limited edition fine print of Salubong as double-signed by the artist will go under the hammer at Leon Gallery's Leon Online Express Auction tomorrow, January 20 at 2 p.m.
Before all are forgotten again about the Papal visit of January 2016, it kicked off the negative capabilities of fake news. Accorded primary exposure by media, it went viral to controversial despite its pacific message.
Turning into a convoluted issue, commenters missed its spiritual dimension, a non-sectarian approach, turning it into a free-for-all bashing from the banal to the bizarre causing the meltdown of social media. The Age of Information has been twisted and mangled, resulting to the Age of Misinformation.
Entertainment ( Article MRec ), pagematch: 1, sectionmatch: 1
Dante stated it best by bringing it back to earth level: "Isa lang po ang naging mensahe ko sa painting na yon… ang pagmamahal ko sa aking kabiyak ng puso."
Salubong was never intended as a welcome gift for Pope Francis. Meant to be a commemorative of his visit, it was given to this writer as souvenir. It is now part of my art collection that his family has to borrow when needed such as in his wake on Jan. 24, 2016 that we are commemorating its second year now.