If there was a place in the Philippines that I had always wanted to visit, it was Ilocos. I travel around the Philippines mostly to study our food, and it makes so much sense for me to visit a place whose food I loved so much. Alas, for a multitude of different reasons, something would always come up when I wanted to go.
A month ago, though, my friend Mika Mendoza, provincial board member of Ilocos Sur, invited me to judge the Ilocano Chef Wars competition. The contest, held last Feb. 5, which was between students from 18 schools in Ilocos Sur, was part of the 2018 Kannawidan Bicentennial festivities led by Gov. Ryan Singson. Seeing a chance to both work with culinary students and finally visit Ilocos Sur, it was an easy "yes."
Unfortunately, I only had 24 hours to spend as I had a scheduled appearance in Manila on the sixth, but I was surprised at how much fun there is to have in Vigan, even with such a short time frame.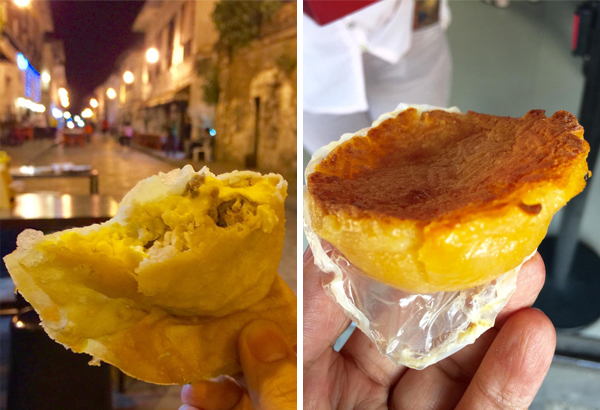 My favorite Vigan moment: Enjoying an empanada(left) from Irene's at night along Calle Crisologo.Sweet and salty Tongson's Royal Bibingka(left) is a great pasalubong idea.

Lunch and art
Hotel Luna is literally a stone's throw away (even if you have a weak arm) from the historic Calle Crisologo and it is, in itself, a must visit. Grab lunch at Comedor, their Ilocano and Spanish-themed restaurant. I enjoyed the sinanglaw and poqui poqui. Describing the sinanglaw in English might scare you off (it's a soup of different parts of beef — kidneys, liver and lungs — and flavored with bile and ginger) but believe me, the flavor combinations of salty, spicy, bitter and what my friend likes to call "offal sweetness" makes for a really comforting dish.
Meanwhile, poqui poqui is a personal favorite of mine. The charred eggplant flavor combined with the sweetness of the tomatoes and the hardly cooked egg is a perfect appetizer or accompaniment, to say, Vigan longganisa.
The best part about dining in Luna is that, after your meal, you can head up to the second floor and check out their museum. They house some amazing art, including Fernando Amorsolo's "Lavandera" and Juan Luna's "La Mandolinera." Make sure to ask the hotel guide to show you outside so you can see a wonderful wall installation of Ilocos Sur by Rene Robles. I'm not the biggest art guy around, but even I appreciated how exciting their collection was.
Walk down the street
No visit to Vigan would be complete without a walk through Calle Crisologo. The iconic heritage street is certainly a sight to behold. Walk up and down the street to see heritage houses, take lots of pictures and shop for some local items and treats. Among my favorites would be the tinubong, glutinous rice cooked in bamboo together with some coconut, cheese and margarine.
When I wanted to try some, the lady selling the tinubong showed me how to serve it in the most interesting way possible. She slammed the bamboo stem on the ground to crack it and then proceeded to tear the stem in half, revealing the tinubong inside. Then she showed me how to eat it without dirtying my fingers by using one half of the stem as the spoon to dig out the snack from the other half. It's definitely an experience and at P100 for three bamboo stems, tinubong is something everyone must try.
Visit Calle Crisologo at night, too! I returned later that evening and the place looked completely different. At night, the lights give the street and the heritage houses a completely different feel and a lot of shops set up tables outside for people to dine in. With the weather cool and breezy, it was the perfect setting for me to enjoy a Vigan empanada from Irene's. One of my favorite Filipino dishes, the crunchy pastry is filled with cabbage and papaya strips mixed with egg white, Vigan longganisa and an egg yolk. Ask the lady to cook a fresh one for you if possible, as a freshly fried empanada features a hot, runny egg yolk, which gives you an added richness that combines well with the salty Vigan longganisa and it keeps the empanada extra moist. It was, by far, my favorite Vigan moment.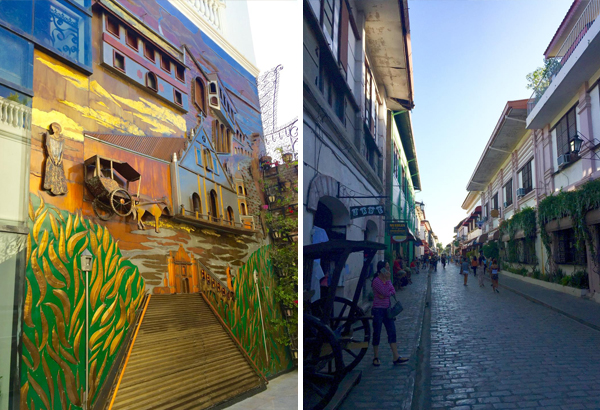 A beautiful wall installation by Rene Robles(left) is a must-see at Hotel Luna. Experience a time warp as Calle Crisologo(right) is lined with heritage houses.

Bring home some love!
Like I mentioned, I travel to study food and eat and Vigan's the perfect place to do that. I dropped by Cafe Leona to grab some bagnet with KBL. The Ilocanos cook their pork in oil and lard as much as three times, almost like a confit, giving the pork not just a rich flavor but the process also puffs the skin up like chicharon. That on its own is delicious, but the KBL, which means kamatis (tomatoes), bagoong (fermented fish sauce) at lasona (onions) is the perfect complement by giving it sour, salty and fermented flavor notes.
There are plenty of choices for pasalubong, too. There are several places to buy your longganisa and bagnet, but the fine folks at Hotel Felicidad took time off their schedule to drive me to Jeanie Piamonte's and I got myself some longganisa made fresh that very day. I have to say, I like their choice. Vigan longganisa is heavy on the garlic flavor with chunks (not ground) of pork and fat and it's perfectly seasoned, too. The people of Vigan are adept at handling tourists like me, so they can pack Vigan longganisa, garlic from Sinait and even bagnet well enough that you can take it with you, even on a plane.
On the sweet side, I brought home some Royal Bibingka from Tongson's. The bibingka is made with glutinous rice and topped with a layer of cheese. The glutinous rice gives the bibingka a nice chewy texture, while the cheese gives it a slight crunch and the saltiness cuts right through the sweetness. Now I get why they are only sold in boxes of eight and 16. You can't have just one! I also suggest that, as you buy some for pasalubong, buy a box to eat there. When it's freshly made and still warm, you will thank me later.
As I headed home from a wonderful 24 hours in Ilocos Sur, I knew my heart was completely convinced that I needed to come back. After all, if I had that much fun in 24 hours, imagine how much more fun (and food) I could have with a three- or four-day trip?