Snowflakes aren't always kisses from heaven.
In countries with harsh winters, Filipinos always manage to find a way to keep body and soul warm – piping hot homemade soup, fireside chats and memories of warm sunshine and beaches in the old country.
MANILA, Philippines — In Canada's harsh winter season, temperatures can dip to near -30 degrees Celsius, said Philippine Ambassador to Canada Petronila Garcia. There is always a longing to escape. And so for the past five years, the embassy has been bringing Filipino tourists home to take a break from the frigid weather.
The enthusiasm of the Filipino community in this annual ritual now called "Winter Escapade" is incredible, if unexpected, according to embassy and tourism officials. This year, 240 Filipino-Canadians joined the tour, mostly retired professionals who came with their spouses, their friends, their Zumba classmates and their extended family.
Susan del Mundo, tourism attaché for New York and Eastern Canada, said they always go for popular destinations like Palawan, Boracay and Vigan where the balikbayan can experience the beach, tropical weather, good old Filipino food and hospitality and culture. "But we pair it with a secondary destination that also has the potential to be discovered," she explained.
In this year's Winter Escapade, it's Negros' time to shine. Bacolod, the city of smiles and the world-famous Masskara Festival in Western Visayas, played dutiful host, along with the President's hometown Davao in southern Mindanao.
The Visayan leg of the 10-day journey went smoothly, marred only by a slight drizzle at the Bacolod-Silay airport on the first day and a negative weather forecast on the second day that sent Bacolod City Administrator John Orola Jr. to make the traditional "offering of eggs to Santa Clara," an ancient prayer petition for good weather.
And so, as seven tourist buses made their way out of Bacolod City and out into the still vast and expansive sugarlands of Negros on the morning of the second day, the sun came out and cheered the excursionists who were only too happy to bask in the hot and humid climate.
First stop: Lakawon Island Resort
The 16-hectare banana-shaped island is perfect for a stroll on the white beach, a quick dip in its clear-blue waters, a relaxing spa by the beach and a sumptuous lunch of typical Negrense cuisine – chicken inasal, pork barbecue, green mango with bagoong, ensaladang talong with plenty of tomatoes and onions, along with ripe mangoes, pineapple and watermelon, sugary fried sweet potatoes and the yummiest chocolate cake for dessert, downed of course with fresh buko juice.
After lunch, most participants believed that Orola must have offered more than enough eggs to Santa Clara – the heat of the noonday sun was palpable that the rowdy men in shorts and the ladies in colorful native buntal hats were gasping for breath, perhaps longing for a touch of snowflakes.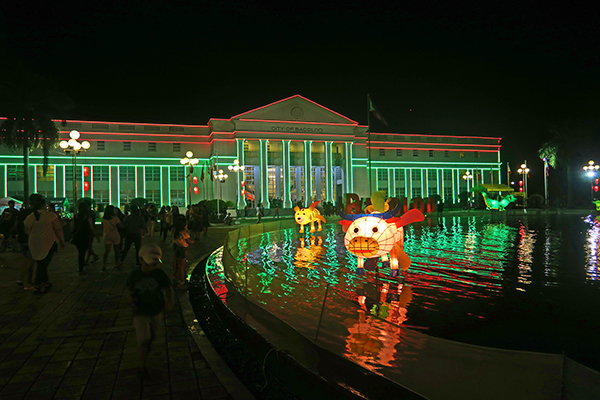 The Bacolod Government Center all lighted up.
A tourist in one's country
What does it feel like to be a tourist in one's country – after years, decades even, on foreign soil??Zeny Gabisan from Vancouver was ecstatic. She left the country in 1974 and has joined the tour twice.
"I've never loved my country this much," she enthused, sharing that before she left the Philippines in her youth, she never had the opportunity to go around and explore. "We didn't have the resources," she said.
And now that she has retired from work, the only chance she'll ever visit the country is through tours like Winter Escapade because she has no more close relatives here.
"I didn't know my country for so many years. I've never been so proud of my country," she gushed once more.
Fr. Nilo Macapinlac, the Filipino spiritual director of Couples for Christ and the Couples Foundation for Family and Life, has also joined the tour twice, but has another story to tell. Based in Edmonton, he said he gets a 30-day holiday each year as a Catholic priest and chose to spend it home. A close friend of Honorary Consul General of Edmonton Esmeralda Agulos, he is an active member of the Filipino community, "shepherding marriages, offering spiritual guidance to compatriots and at times even working as interpreter in court hearings."
During the tour, he was leading the prayers and was clearly the community's de facto spiritual adviser.
As dusk descended on the legendary sugar mills of Negros, the tour participants got to snap photos of an old golf course inside the 7,000-hectare compound of the nearly 100-year-old Victorias Milling Company and the St. Joseph the Worker Chapel with the image of Christ painted on the sanctuary wall and ceiling, a cultural landmark.
In the fading afternoon light, smoke was seen emitting from one of the mills, a relic of a bygone era, and one of the few reminders of Negros' foothold in the sugar industry. Today, the province is reinventing itself as an IT-business process outsourcing, conference and tourism destination.
A stop in Silay City would have given the tour participants a rare glimpse of the ancestral houses of some famous Negrense families such as the home of National Artist for Architecture Leandro Locsin, as well as the Ledesma, Jalandoni and Hofilena families. But evening had come and the merienda cena prepared by Mayor Mark Andrew Golez became a prelude to a sumptuous seafood dinner in Ading's Pala-Pala back in Bacolod.
Nights in Bacolod were perfect for a feast. Had it not rained on the first night, a full-blown Masskara dance would have been staged during the dinner hosted by Bacolod City Mayor Evelio Leonardia at Bacolod's Government Center. That the dinner was held indoors didn't lessen the spectacle. The city of smiles didn't disappoint. On the last night, an equally grand Governor's Ball was held at the Provincial Capitol.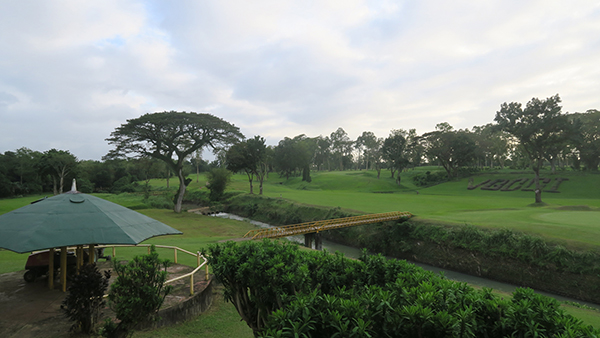 The golf-course inside the 7,000 -hectare Victorias Milling compound.
Last Stop: Mambuklao Resort
Spread over 23.6 hectares at the foot of Mt. Kanlaon, Mambuklao has warm dipping pools, a boating lagoon, seven waterfalls and more than 4,000 fruit bats hanging on tall, majestic trees – the perfect respite for the weary traveler.
It was here that Angelo Siglos was in his best element. He had not set foot in the Philippines in 41 years and he was seeing everything almost like the first time. "I left the country when I was 13 years old," he said, eyes alight with wonder like the kid that he once was. He came with 40 people from Vancouver, mostly friends. Like Gabisan, he has retired from work and made it his first priority to travel to the Philippines the first chance he got.
"I was busy working and raising a family," he explained why he has never come home. "I wasn't prepared for this. This is such a beautiful experience. My children will like it here."
At the Governor's Ball, he was seen wearing a barong tagalog. How do you fill the gaps of 41 long years? It wasn't easy, he said, in halting Tagalog, but he said he found a new calling. "I want to help my country, especially the overseas Filipino workers and their families."
It may take more Winter Escapades before that plan can crystalize into action, but for most Filipinos like Siglos, the journey home isn't a straight path. Not if the first time, you are merely escaping from snow.