MANILA, Philippines (Updated 9:28 p.m.) — A Hong Kong tourism official disclosed to Philstar.com Filipinos are no longer among the top tourists to its region, while South Korea and Japan are now the top international destinations for Filipinos, and no longer Hong Kong.
Determined to regain Filipino tourists' regard for Hong Kong, the official said they are considering having a wax figure of Philippine President Rodrigo Duterte, which could attract more Filipinos to visit Hong Kong.
Duterte is among the Philippines' most popular presidents, if recent surveys serve as basis. Hong Kong, said the HK tourism official, wants to leverage on Duterte's popularity to draw more tourists to the island city.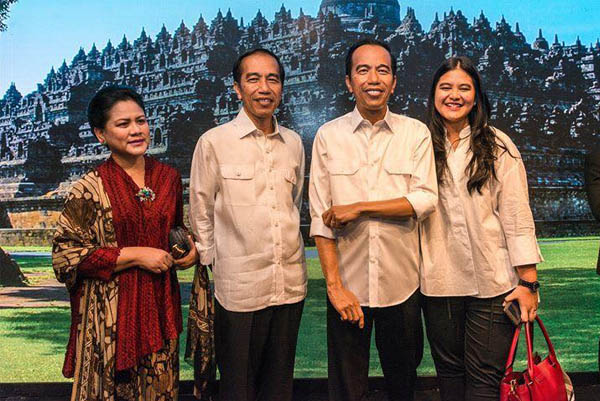 The real Joko Widodo stands besides his wax version. Madame Tussauds Hong Kong/Released
If this pushes through, Duterte's wax statue will be joining that of President Joko "Jokowi" Widodo, the current president of Indonesia.
Widodo unveiled his own wax figure in May 2017 at the famed wax museum Madame Tussauds Hong Kong.
Having Widodo's statue in the museum has been proven effective in attracting Indonesian visitors, said the HK tourism official. The Duterte figure could also do its magic, the official said, especially if the president himself would go to unveil it.
The HK official, however, admitted that current maritime tensions between the Philippines and China would be a reason the plan may not see fruition soon.
Other Hong Kong destinations
Elsewhere in Hong Kong, Disneyland is inviting Filipinos to visit the theme park and celebrate its Disney Friends Springtime Carnival from March 15 to June 20.
During the carnival, an all-new "We Love Mickey!" nighttime projection show debuting at the park's Main Street, U.S. New and longtime Disney friends will be appearing at the new Africa-themed Karibuni Marketplace in Adventureland and other locations across the park to greet guests and take photos.
In addition, there will be Disney character-themed eggs to find, alongside dining and accommodation experiences at the three resort hotels.