Nothing happens by accident in a Chaine dinner — the service, the flowers, the menu…"
Thus quipped Federico S. Borromeo, Bailil de Manille of the Confrerie de la Chaines des Rotisseurs, to begin his introductory remarks from a dais that faced the central part of a long table for 80 guests at the Makati Shangri-La Hotel.
Minutes earlier, a lady torch singer in 1920s flapper getup had concluded her performance to underscore the evening's theme: "The Days of Wine and Roses."
The invite to the annual posh affair, the 46th Grand Diner Amical and Intronisation on March 20 hosted by the Manila chapter of the centuries-old global organization, had promised a sumptuous feast in keeping with the theme. "Freddie" Borromeo planned the concept in coordination with executive chef Nicola Canuti, who agreed to treat the guests to special recipes reflecting his French and Italian heritage.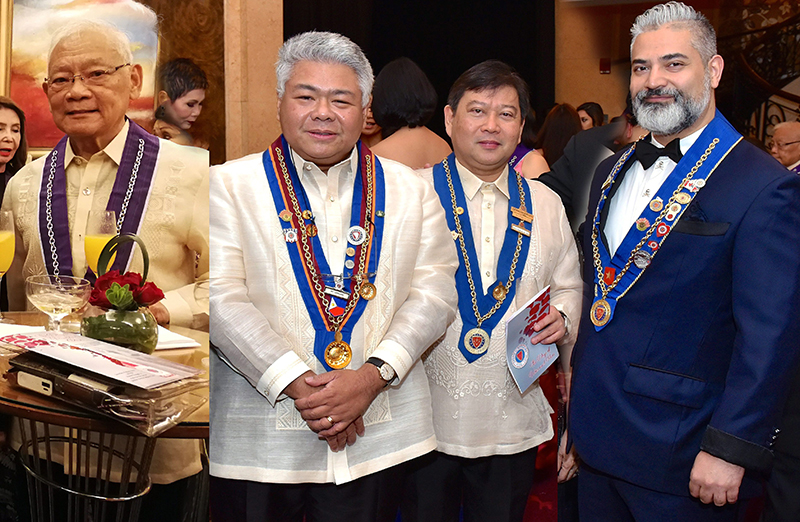 Jaime
Laya

, Julius C. Labrador Jr., Dr. Jose

Pujalte

Jr. and Rajesh

Taneja
"Join us as we travel back to the age of bootleggers, speakeasies, moonshine and gangsters in the time of Prohibition," the invite added.
For starters, we would be privileged with Champagne and Premier Cru Chablis specially chosen from the cellar of Bailli Délégué Michel J. Lhuillier of Cebu City. For the main course, a robust Italian Primitivo "from a vineyard with ties to the Mafia" was specially sourced. And, in keeping with the Prohibition theme, bourbon would be available as a digestif.
The social that lasted for all of five hours started with an hour-long Tigella cocktail that offered porchetta, Parma ham and grilled vegetables with pesto sauce, while the Chaine officers, members and guests had a choice among a rosé, Lhuillier Champagne Brut NV and Prosecco C. Cali Superiore Valdobbiadene.
Next came the "Intronisation" part of the program that was held in a special room, with new members being inducted while some gained promotion in the hierarchy of membership. This year, I noted that most of the inductees happened to be ladies.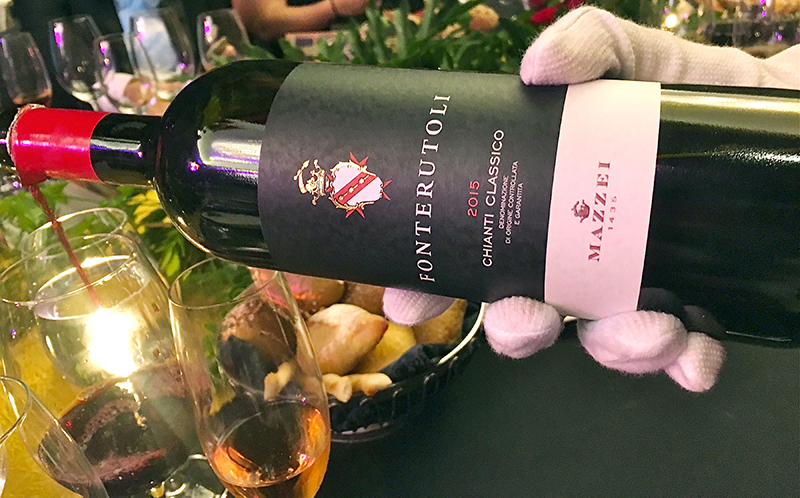 The excellent Fonterutoli Chianti Classico 2015
I've had good memories of the Grand Amical since my own induction in 2011, and these recollections all revolved around the unforgettable pairing of fine food and excellent wines.
Each of the wines was ushered in with enlightening commentary from Julius "Jay" C. Labrador Jr., vice-echanson of the Balliage de Manille and its official oenophile — maybe make that sommelier.
On the minus side, the traditional long table that requires dedicated service from a corps of trained waiters limits conversation to a radius of one's seatmates, at best with those across one's part of the table.
Missing this year were old friends Mike Toledo, Chargé des Missions National, and Sanjeeb Gopaldas, vice-chargé des missions, a noted gourmet who writes and publishes cuisine commentary.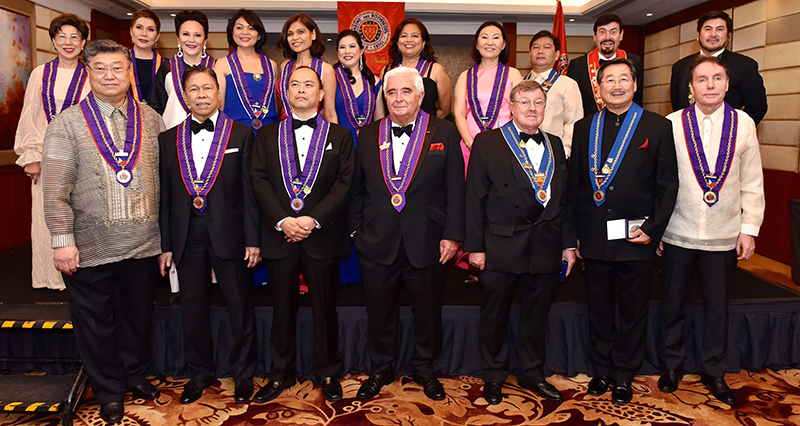 Inductees and awardees: Lazaro Chan (Officier); Luis Ablaza Jr. (Officier); John Tan (Chevalier); Guenter Matschuck (Commandeur); John Davis Potter (Commandeur); Eduardo Yap (Vice-Charge de Presse de Manille); and Raymond Albert Bariou (Officier); (second row) Dellie Yap (Officier); Vanessa Suatengco (Officier Maitre Hotelier); Amelia Ablaza (Officier); Lynnda Marie Laraya (Dame de la Chaine); Shirley Soriano-Marsh (Dame de la Chaine); Helen Del Rosario (Officier); Cristina Keppler (Officier); Czarina Camus (Officier); Dr. Jose Pujalte Jr. (Vice-Argentier de Manille); Michel Lhuillier (Bailli Delegue des Phils.); and Federico Borromeo (Bailli de Manille)
But within greeting distance were Eduardo H. Yap, vice-chargé de presse, and Carlo Rufino, both past presidents of Rotary Makati, with whom I had recently collaborated on a coffee-table book, as well as culture doyen Dr. Jaime Laya.
In between quick duels for selfies/doufies and groufies, I was introduced to a lady guest, broadcaster Emy Arcilla's daughter Marie-France Arcilla Ruaux, who had performed at the recent Oscar awards night as part of the ensemble for Best Song (Greatest Showman).
After the sweet amaretto and brewed coffee, and finally my glass of bourbon for the big burp, the long, lush night of wine and roses was over — while adding to the memories of good company indulging in a masterful feast.
No accident indeed is any element of such a pleasure, so that Freddie Borromeo never fails to conclude the evening by presenting, once again, not only the chef and entire kitchen crew, but all the servers — for whom the appreciative applause is always well-deserved.