One of General Douglas MacArthur's favorite places in Cebu is now a lifestyle and leisure destination full of history, memorabilia, and good food.
We had sunset cocktails and a nine-course dinner at Circa 1900, located in Casa Uno and Casa Dos, two turn-of-the-century houses in Cebu once favored by the five-star general.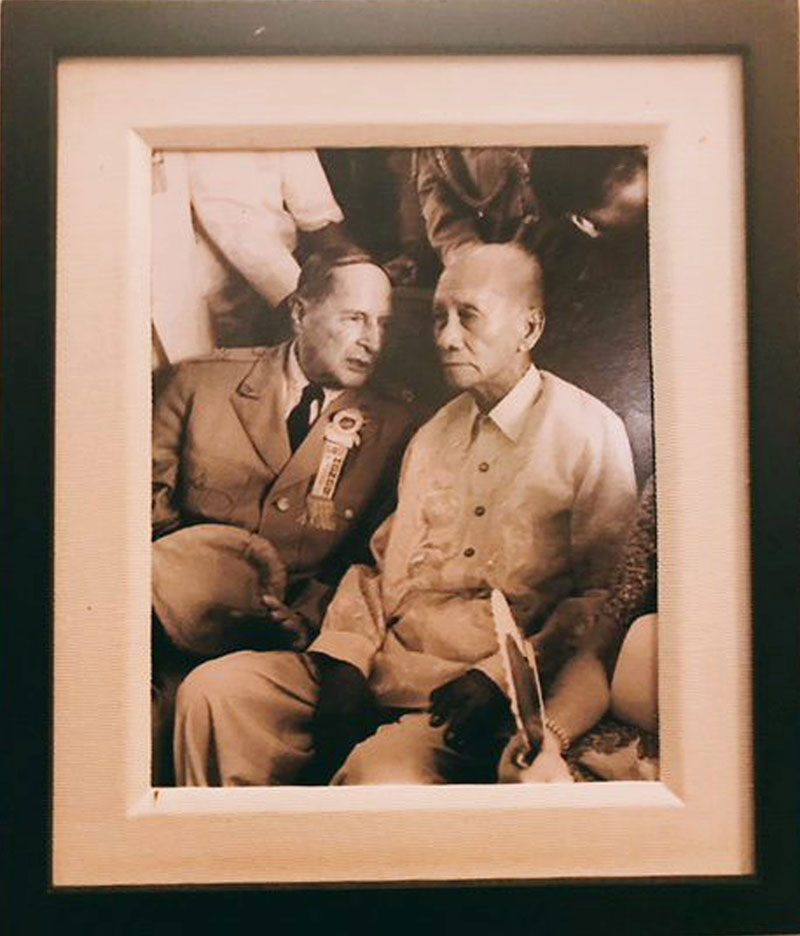 A photo of General Douglas MacArthur with President Sergio Osmeña hangs in Cicada Tapas & Bar.
"When World War II broke out, Casa Dos was one of the better houses so it became the headquarters of the Japanese command for the Visayas," says William Liu, CEO of the Primary Group of Builders, which restored and developed the property. "This was the favorite place of General MacArthur, who stayed in the rooms."
According to Liu, the 60-hectare area was originally owned by four rich, landed families in Cebu: Sanson, Jereza, Castillo and Villa. The area is now named Sanjercasvil — an acronym made up of the four family names. The Jereza house is now events venue Casa Dos, while the neighboring Castillo house is the site of the Casa Uno restaurant, Cicada Tapas and Bar, Noshery Bakery + Sweets, and Canvas Catering, which provides Circa's signature dishes to outside clients.
Souvenirs from the era dot the venue, from vintage photos to actual bullet marks on the stair railings of Casa Dos. "One of the owners wanted to keep it that way," notes Liu. "That's the only imperfect part of the house."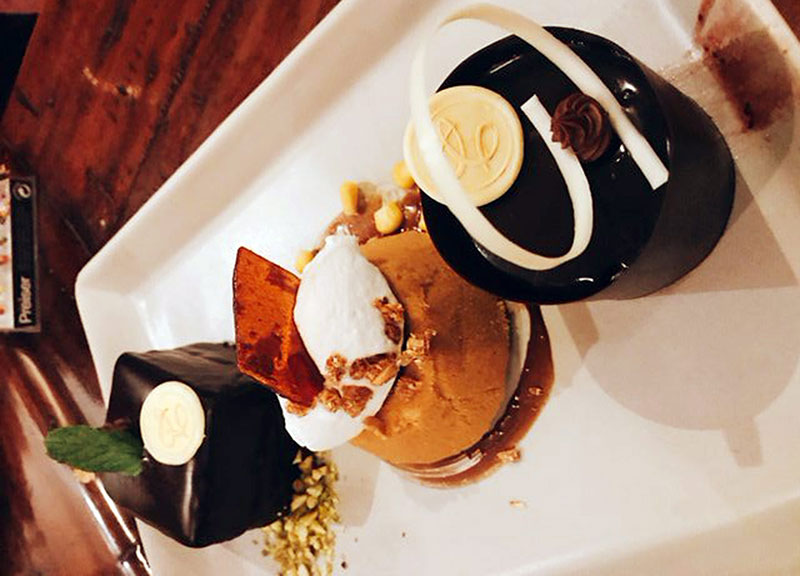 Dessert trio: (from left) Chocolate Stout cake with strawberry jam, maja blanca and rosquillos cheesecake with coconut mousse and caramel corn, and tres leches con leche flan
The rest of the dwellings were preserved and reconstructed according to old photos, with successful results. "The family loves it; they say this is how it looked like," he adds.?
The food at Circa 1900 perfectly complements the Old World atmosphere. The executive chef is Australian, Steve Shrimski, but he's lived in the Philippines for 10 years with Filipino wife Eya, who's Circa 1900's managing partner, and together with their culinary team they've created a perfect fusion in terms of concept and food.
"We've got an organic veggie garden in the back," Steve says, "and we try to look after local suppliers and farmers to incorporate what they've got with our food."
Must-tries include his signature ube ravioli filled with shredded pork lechon and apple, the slow-braised lengua pot pie with Spanish chorizo and kamote, the truffled squid and prawn risotto with fragrant herbs and turmeric, and the desserts: tres leches con leche flan, a chocolate Stout cake with strawberry jam and the capper, a maja blanca cheesecake, the crust of which is made out of Titay's rosquillos.
"It's international cuisine paying respect to the environment using sustainable ingredients grown locally," notes Eya. "We've captured not just a mall crowd but it has become a destination."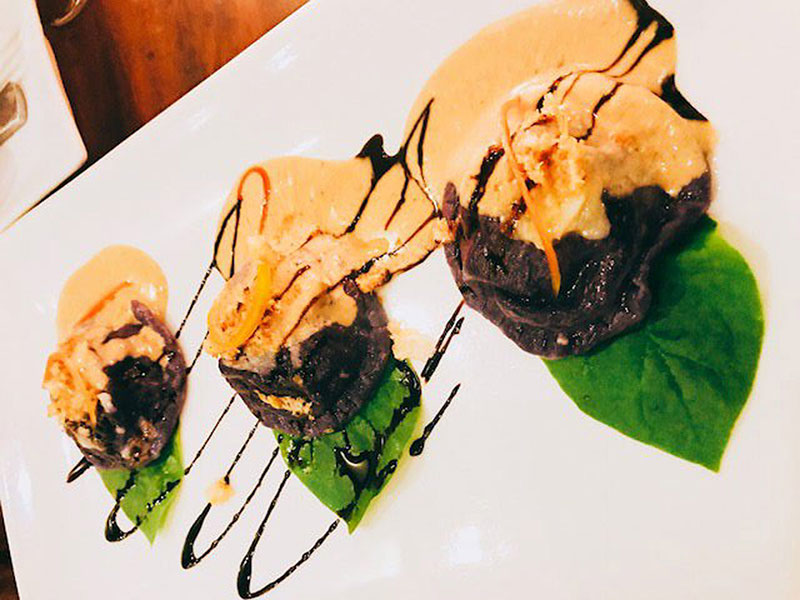 Must-try: Ube ravioli filled with shredded pork lechon and apple, topped with Cocodobo cream sauc
* * *
Circa 1900 is located on Sanjercas Ville Ext. Rd., Cebu City, Cebu. For more info visit www.circa1900cebu.com, call (032) 272-9469, 0917-655-5005, and follow them on Facebook@CircaCebu and Instagram @Circa1900.
Gnawa tea and poached sea bass at TWG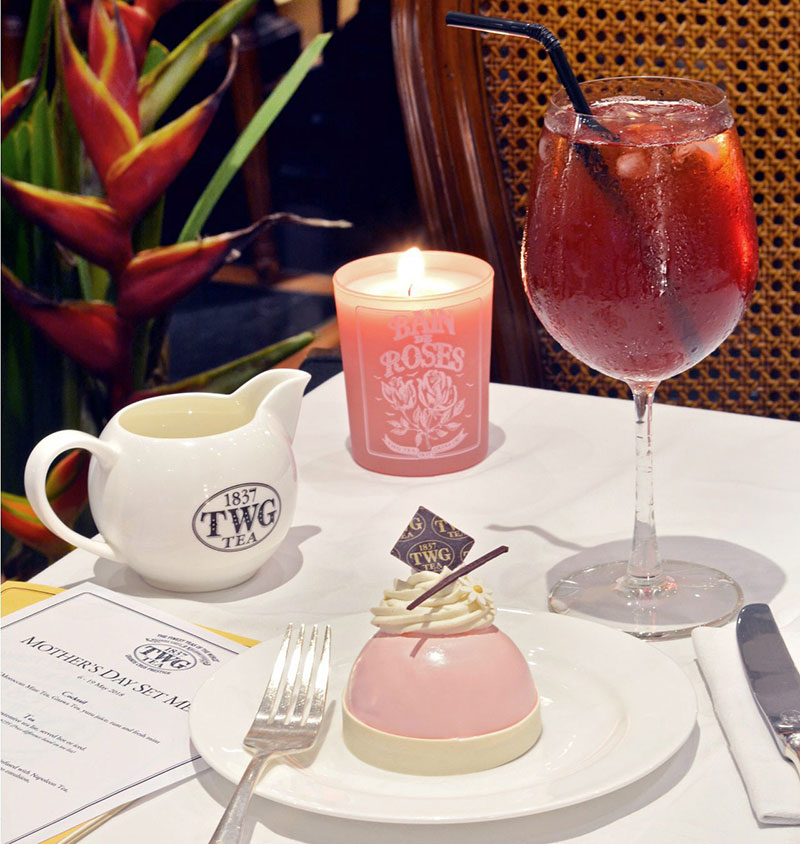 Sweet ending: Strawberry mousse at TWG
TWG Tea offers a Mother's Day set menu. The meal begins with Moroccan Mint Tea, Gnawa Tea, yuzu juice, rum and fresh mint. Start the meal with pickled sliced beets with a blue cheese mousse infused with Napoleon Tea, topped with tomato confit, fresh radish, tomato emulsion, smoked cucumbers and ciabatta crumbs. Main course is poached seabass served on romaine lettuce in a kombu broth, accompanied by summer vegetables and basil pesto with matcha oil, best paired with a warm cup of Jasmine Queen Tea. For dessert, there is a strawberry mousse dome with dark chocolate and honeycomb bits, crowned with a Love Me Tea infused Chantilly cream.
TWG Tea's Mother's Day Set Menu is priced at P1,550 for a cocktail, starter, main course, tea and dessert, available until May 19 at TWG Tea Salons and Boutiques at Greenbelt 5, Shangri-La Plaza and Central Square in the Philippines.
The Haute Couture Tea Collection is priced at P1,500 to P2,500. Tea Scented Candles are P2,850 each.