"Guess what? We're back in Luxembourg," proudly declared Patrick, our ever-so-knowledgeable driver-tour guide, after being on the autobahn in Germany for some 30 minutes, then traversing farmlands in France shortly thereafter.
MANILA, Philippines — Due to the unbelievable ease of passport controls and customs inspections – make that nonexistent – we were not aware that we had crisscrossed boundaries from country to country.
This is contrary to experiences in the past when we approached the dreaded border crossings, my parents would always remind us kids to be on our best behavior.

The idyllic town of Schegen in Luxembourg.
"We're right on the border triangle of these three countries," Patrick pointed out.
We noticed the signage that spelled Schengen, and unanimously, our group of six requested an abrupt detour for an unplanned pilgrimage, to the namesake of the valuable document Filipinos hoping to travel to Europe need to have in their passports.
Surrounded by vineyards everywhere, we headed straight to the Information Museum, which houses the Musee Europeen Schengen, a permanent triangular exhibition showcasing the importance of the Schengen Agreement through glass-covered display cabinets of documents and signatures, plus several interactive exhibits on the history of European integration.
We learned that the village of Schengen, a quaint wine-making community which has its beginnings only in the 1950s, keeps its homely vibe with today's 4,300 inhabitants within just 31 square kilometers. And yet, its clout reaches 26 member-states and countries, with a total population of almost 420 million, spanning an area of 4.3 million square kilometers.
Just to get an idea on how massive the perimeters are, the entire zone consists of almost 8,000 square kilometers of land and 43,000 square kilometers of sea.
This was all made possible by the Schengen Agreement, signed in 1985 aboard the Princess Marie-Astrid cruise vessel on the Moselle River moored by the village, with the first five signatories being the European Economic Community nations of Belgium, France, Germany, Luxembourg and the Netherlands.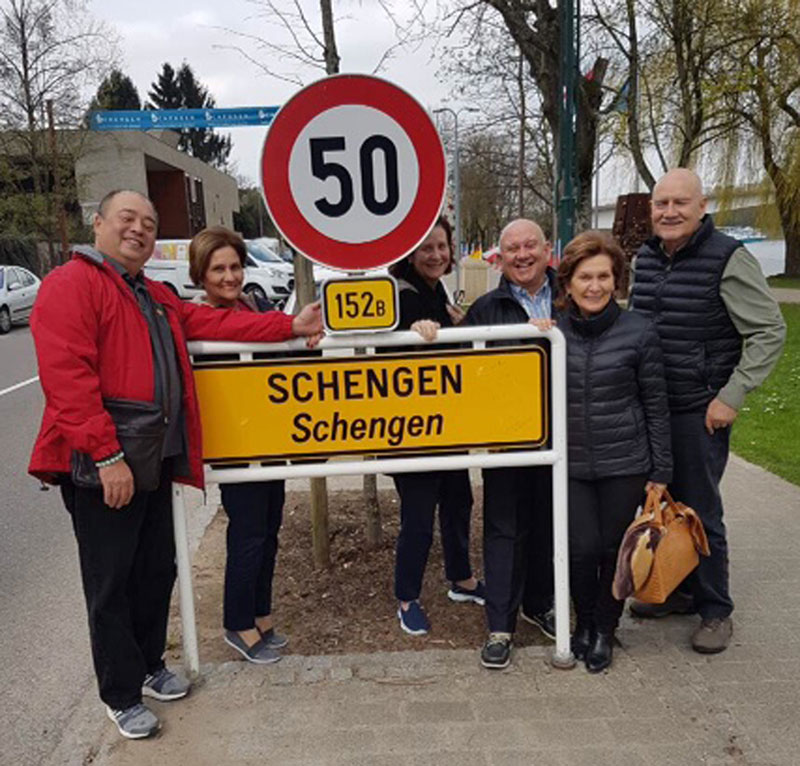 The group just had to make an unscheduled stop at Schengen.
With a single stroke of a pen the majority of the frontier walls within the European region were progressively abolished due to this all-important treaty that promotes the free movement of people and goods across each other's borders.
In time, the list of states expanded through negotiations and concurrences, and now, the Schengen Area is composed of 26 participating countries, to include Austria, Belgium, Czech Republic, Denmark, Estonia, Finland, France, Germany, Greece, Hungary, Iceland, Italy, Latvia, Liechtenstein, Lithuania, Luxembourg, Malta, the Netherlands, Norway, Poland, Portugal, Slovakia, Slovenia, Spain, Sweden and Switzerland.
This monumental contract has likewise given birth to the Schengen Visa, which grants travelers access to all the member-states. In essence, it's a one-size-fits-all entrance to most of Europe – a favored grace for our countrymen.
Gone are the days when passports had to do the rounds – the rigodon – of Manila-based embassies to accumulate the visas required for an extended European holiday.
Today, this tedious exercise has been reduced to one application, usually at the embassy of the country where one's European sojourn will begin.
Continuing our short walking day tour led us to the Colonnes des Nations, three pillars which sport a total of 26 stars, one for each signatory state. Right beside are their respective flags proudly waving in the wind, while bronze name plates are embedded on the pavement next to each other, as a sign of solidarity.
Close by are two original sizable slabs of the Berlin Wall, which serve as testimony to the breaking down of the restrictions within divided Germany.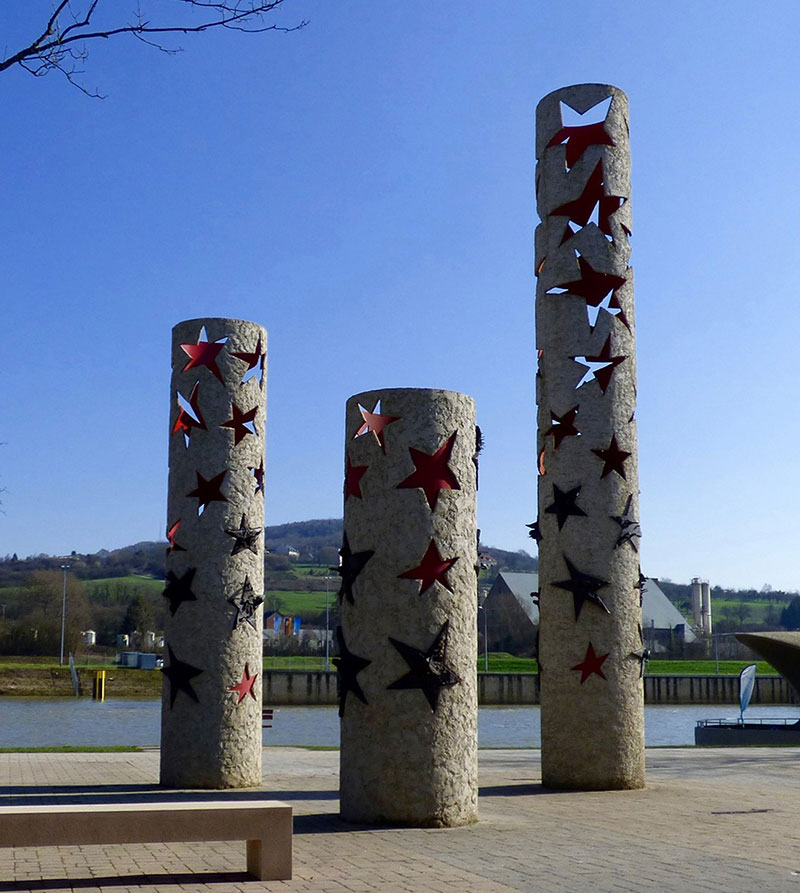 The Colonnes des Nations.
Our last stop was the Schengen Castle, which dates back to 1390, but had been rebuilt in the 19th century. This fort turned manor house is identified by its medieval round central tower, and has since been converted to a luxury hotel and conference center amongst the lush greenery of the countryside.
Resting on benches by the river, we glanced over several brochures and noticed the surrounding wineries of Lucien Gloden, Paul Legill and Domaine Henri Ruppert, which produce full-bodied pinot blanc, pinot gris, riesling, cabernet and gerwurztraminer.
To end our pilgrimage in the midst of some 12.5 hectares of trellises which boast of rows and rows of vines with few buds, which will eventually become the quality product of the establishments, we envisioned a drink or two on a return trip someday – but that's for another time, another story.