MANILA, Philippines — In time for the country's 120th Independence Day, chefs from Luzon, Visayas and Mindanao recently came together to present their traditional and modern takes on cuisines from all regions in the Philippines, using indigenous and rare Filipino ingredients.
This year's celebration was led by F1 Hotel's executive chef, Angelo "Chubby" Timban, who, together with guest chefs, AJ Reyes and Zhe Jacinto, created the sixth annual Filipino food festival, "Luzviminda 6: Timeless Flavors," at the hotel's restaurant, F All-Day Dining.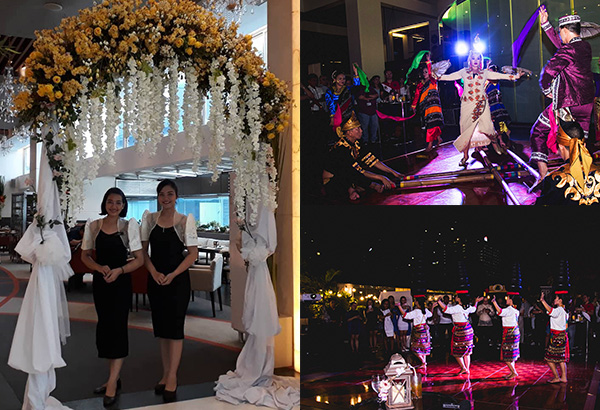 From left: Restaurant staff wearing modern Filipiniana (Philstar.com/Deni Rose M. Afinidad-Bernardo); a folk dance group presenting traditional dances from Mindanao (top right) and Luzon (bottom, right).
"Luzviminda" is the culmination of the chefs' talents and collaboration, bringing their skills and personal recipes to the fore to create the kind of authentic Filipino cuisine that aims to set the palate on a journey around the Philippines.
At "Luzviminda 6," which can be enjoyed at F All-Day Dining until June 30, each chef is able to exhibit his or her own highlight dishes. Chef Chubby's centerpieces were "Insarabasab" and "Kalabasa Flan" from Luzon; other regional dishes were "Bulcachong" and "Pocherong Baka ni Tatay Ipeng."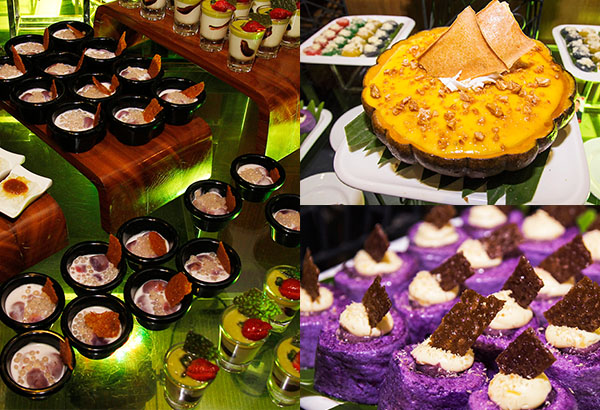 From left: appetizers and desserts such as Kalabasa Flan (top right) and Ube Brazo de Mercedes (bottom right) inspired by dishes from all over the Philippines.
Meanwhile, Vizayas was showcased with Chef AJ's "Kinilaw na Lobster and Sinuglaw." He also served "Adlai and Smoked Corn Salad" and "Tamales Blanca" that stemmed from various regions of the country, where Chef AJ familiarized himself with skills to craft such delectable recipes.
Finally, completing the feast is Mindanao's "Chicken Piyanggang" and "Beef Korma" by Chef Zhe. She also presented her own takes on "Grilled Bicol Express" and "Raspberry Piaya" that she effectively developed through diverse culinary aspects that can only be found in our country's rich and beloved customs.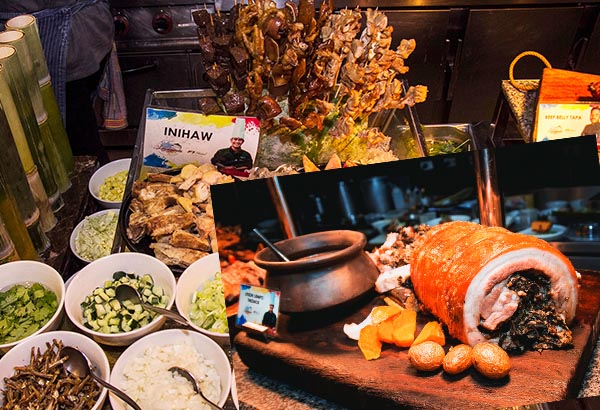 Filipino streetfood and liempo (inset).
Besides featuring rarely or never-heard Filipino dishes, the food fest also introduces to guests native sauces and local produce sourced from different parts of the country, such as vinegar from the recently closed Boracay; "baboy ramo" served in a carving station; "pugo" or quails braised into a "bistek" and "longganisa" (homemade sausages), noodles and dried fish from all parts of the archipelago.
The event commenced with the ribbon cutting ceremony graced by guests of honor Roberto Francisco, Chairman of Hotel and Restaurant Chef's Association of the Philippines; Sharwin Tee, host of "Curiosity Got Chef" and award-winning TV and movie actress Jacyln Jose. They were also joined by Department of Tourism NCR Director Cynthia Lazo; legal counsel Jeff Martinez and F1 Hotel Manila's Hotel Director Cindy Brual. The Philippine Barangay Folk Dancers added more color to the feast.
According to Chef Timban, what sets Filipino food apart from the world's cuisines is unlike other cuisines that are heavy on boiling or grilling, Filipinos love braising, which, he said, is the best way to bring out all nutrients and flavors.
Related video: Angel Locsin, Coco Martin share fondness for Filipino food
To celebrate Mang Inasal's opening of its 500th store in its birthplace Iloilo, the Filipino fast food chain's long-time endorsers Coco Martin and Angel Locsin share how they like to savor Filipino meals.
Coco reveals he likes to eat the Chicken Inasal with his bare hands. Meanwhile, halo-halo enthusiast Angel Locsin shares that she delights in her Pinoy Halo-Halo by taking a taste of the ice cream first before mixing the rest of the cold treat.