Most of us who live in Metro Manila go to Bonifacio Global City (BGC) almost too regularly, but I wondered if there was a way for me to enjoy BGC "from the other side," as a tourist. That's how I decided to take on BGC the way I do any tourist destination, meaning avoiding malls and cinemas while finding food and places only found in that locale. In 24 hours, I ate my way around and saw for myself a different side of BGC.
Stay and eat
F1 Hotel is conveniently located along 32nd Avenue and from there, it is an easy walk to most things you'll want to see, do and eat in BGC. I checked into F1 Hotel at the fifth-floor lobby and quickly found a well-appointed room. It's got everything you pretty much look forward to in a hotel and, as for me, all I need is a comfy bed, a television and a cold temperature. My room had all of that, and I also liked the room's color scheme. I had drawn all my curtains, giving my room a dark, classy feel, perfect for when you want to sleep in late.
I stayed in F1 at the best possible time. Until June 30 the hotel served its Luzviminda Buffet. Featuring Angelo Timban, Zhe Jacinto and AJ Reyes, three young chefs making their mark on Filipino cuisine, the buffet showcased both modern and classic Filipino dishes. Now, we're not talking about the generic Filipino buffet here. As the name suggested, I got to enjoy great dishes from not only Luzon but also Visayas and Mindanao. Of particular interest to me were heirloom dishes like the Tinolang Manok ni Nanay Guelig, plus modern takes like the Adobong Bone Marrow. The chefs clearly had customers like me in mind, with a Longganisa station, Paihaw station, dried fish section and a Sinangag section, meaning you can have things made fresh and your way.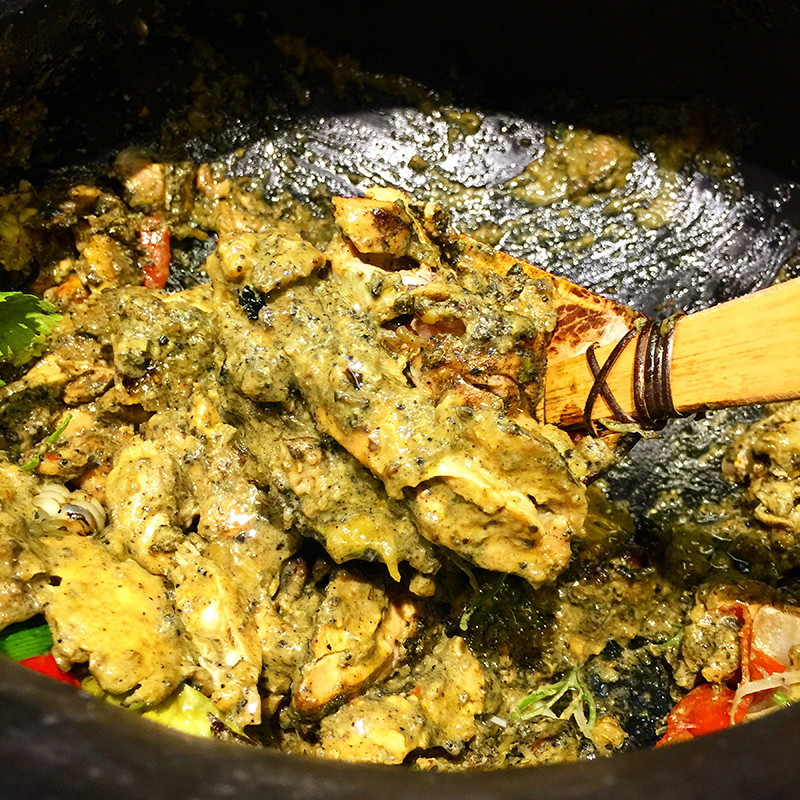 F1 Hotel's buffet featured Mindanao dishes like Piyanggang Manok.
My partly Mindanaoan heart fluttered when I saw dishes like Piyanggang Manok and Bulcachong on the table. I could finally have these Mindanao favorites without having to make them myself. When you travel and eat a lot, hotel buffets can become uniform and boring, but that is not the case at F1. I have to say, I enjoyed myself and my distended stomach was thankful.
Sculpture hunting
With a self-imposed mandate to avoid malls and cinemas, I instead looked for an activity I usually do when I first arrive in a foreign place. I walked. Now, I didn't just want to walk aimlessly, so I did a bit of research. Apparently, there are six pretty well-known public sculptures around BGC, and I thought walking around to visit each one was a pretty fun way of getting my exercise for the day in. Different artists produced the six sculptures, and they are all sights to behold. From F1 Hotel, I walked a couple of minutes along 32nd Avenue. Towards my left was the one known as "Transformation." I have to say this: as with all the other sculptures, I see it when I drive around BGC, but never noticed it until I walked.After a few minutes to take a picture, I continued walking down 32nd to get to 3rd Street and towards the left was another beauty, the one called "Supremo."
Walking down 3rd, I passed the Mind Museum, which I heard is an excellent place to take kids to, and turned right into Burgos Circle. Normally, I would visit one of the restaurants there, but this time, I was hungry for a sculpture. "The Tree" is another beauty to take a picture of. Moving on back to 3rd, I saw a sculpture I had never seen before called "Pasasalamat."
With four sculptures seen, I was surprisingly not out of breath or sweating too much, meaning this sculpture-hunting activity can be enjoyed by the most out-of-shape people like me. "Balanghai" and "Kasaysayan Bawat Oras" are a bit away from the other four sculptures, but they are still just a 10- to 12-minute walk away.
I loved doing this walk. Apart from seeing the six sculptures, you also get to see a lot of the art painted on the sides of buildings, keeping you from getting bored. With the crosswalks clearly marked and each intersection lighted, it's a great bonding activity people can do with their kids as well. Once you find all six, you can compare which one your favorite is. Mine was "Pasasalamat."
From savagery to civility
Just minutes away from the "Kasaysayan Bawat Oras" sculpture is Arya Residences and I took my well-earned (or at least I thought so) lunch break there. Savage is Chef Josh Boutwood's latest restaurant. Not found in any other city, the restaurant fit my criteria and I am so glad it did. The food was delicious. As a hat tip to the name, each of the dishes has a grilled/charred/smoked element to it, but despite the name, each dish is plated beautifully.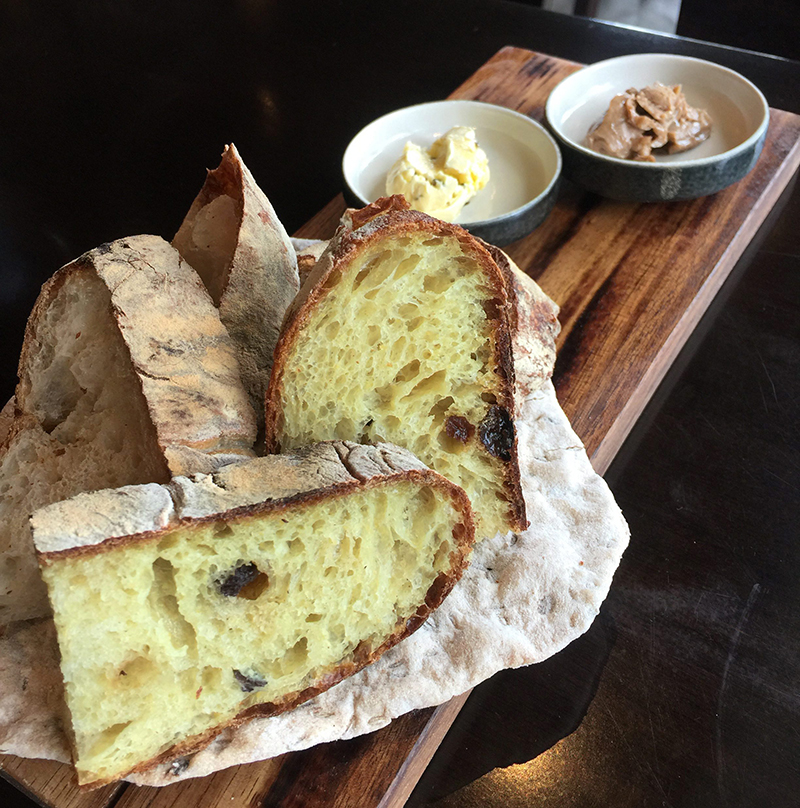 House-made sourdough bread and butter at Savage
Hungry, I ordered the Devilled Eggs, House-made Bread and Butter and Grilled Barramundi. I've been making devilled eggs for over a decade, so I know it's a dish that can easily be boring, but at Savage, they add texture with the breadcrumbs and a hit of zestiness in the yolks. It was a pretty great way to start.
I'm an unabashed fan of sourdough bread and Savage gives you two kinds along with crisp flatbread. The bread was amazing; I particularly liked the turmeric and raisin one and the butters — brown butter and one with kelp — were umami-laden and delicious. If you're a fan of whole grilled/roasted fish like me, the barramundi is a must-order. Fresh, whole local fish is grilled nicely, kept juicy and then topped with lemon, arugula and olives. It's a very simple dish but one most chefs enjoy. I wonder if chef Josh put this on the menu with chefs in mind.
Now full and fully rested, I walked back to F1 Hotel. With no sculptures to look for anymore, it was easy to get bored, so midway through, I dropped in on Caravan Black, a coffee shop only located in BGC, so again, it perfectly fit my criteria. Friends have attested that their coffee is great. Meanwhile, I tested how accommodating they could be, and I was pleased and thankful they could make me an iced tea with lemon and no sugar. While that sounds like a simple request, you would be surprised at how many of our coffee shops here can't/won't do that. Oh, it was refreshingly delicious, by the way.
Back at the hotel, I rested for a bit before packing up. Twenty-four hours in BGC had passed by really quickly and, as a BGC "tourist," I never felt bored at all. It does make me think, however, how many of the other cities in Metro Manila hold a treasure trove of tourist activities and treats when we learn to look at it from the other side.