With its shut down for months of rehabilitation, Boracay has left big shoes to fill for beach-going crowds pining for fine white sand and clear blue-green waters. Thankfully, the Gigantes Group of Islands is up for the challenge.
MANILA, Philippines — Located in Iloilo, the Gigantes Group of Islands is made up of ten islands that offer visitors the white sands and clear waters of Boracay with the quaintness of a yet-to-be-discovered tourist haven.
Since there are not many establishments, one cannot expect a party scene on Gigantes Island. Instead, island-hopping is the main attraction. Booking a tour is the easiest way to explore the islands, though there will only be time to snap a few photos and take a quick dip if you want to fit all of the sites into one day.
The more adventurous visitors can choose to rough it out on the campsite on Antonia Beach. Others can opt for glamping – glamorous camping – in resorts like the recently opened Solina Hotel and Resort in Carles, Iloilo. The boat ride from Carles, where most of the hotels and resorts are located, takes a good hour or so, depending on the weather and currents.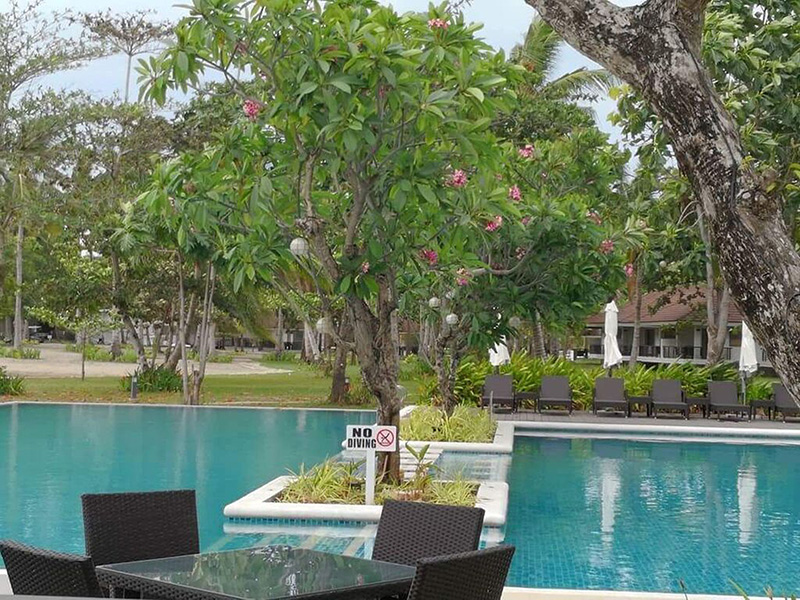 Relaxing poolside at Solina Resort.
The first stop on our island-hopping adventure took us to Cabugao Gamay Island. A short walk up to the viewing deck atop the major rock formation on the island will allow you a breathtaking 360-degree view surrounded by ocean. Don't leave without the quintessential Gigantes Island selfie.
Tinagong Dagat is what locals tout as a mini-Boracay with its fine white sand, though part of the beach area remains a bit rocky.
Light filters from spaces among the boulders of Tangke, creating a picturesque lagoon within the rock formation. The water becomes emerald green under the dim light, making the lagoon seem enchanted.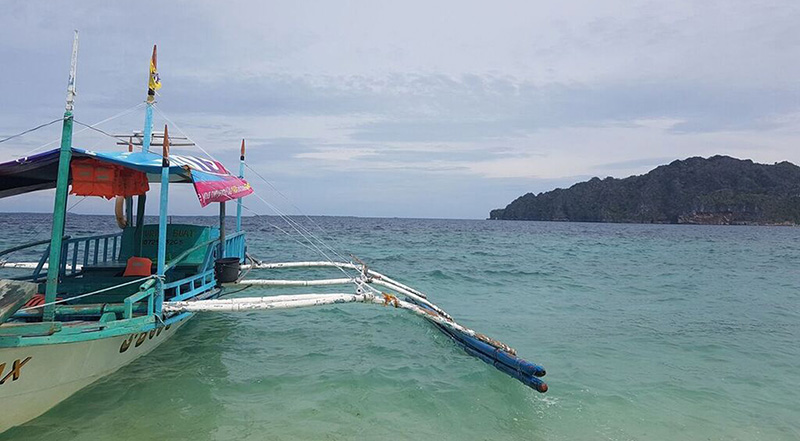 Gigantes Islands' beaches are filling the gap left by the closure of Boracay.
On Bantigue Island, walk along the sandbar that changes shape depending on the current. Take a dip in the cool waters surrounding it. Snorkeling is best both at Bantigue Island and Antonia Beach, where a beautiful underwater world awaits just a little bit off shore. It's best to come prepared, but a small sari-sari store on Antonia Beach rents out snorkeling gear, too.
That same store offers soft drinks, chips and perhaps what Gigantes Islands is most known for: scallops at a cool P1.00 each! The minimum order is 100 pieces, but it's easy to gobble down a whole basket worth – especially if you think of how much scallops cost back in the city.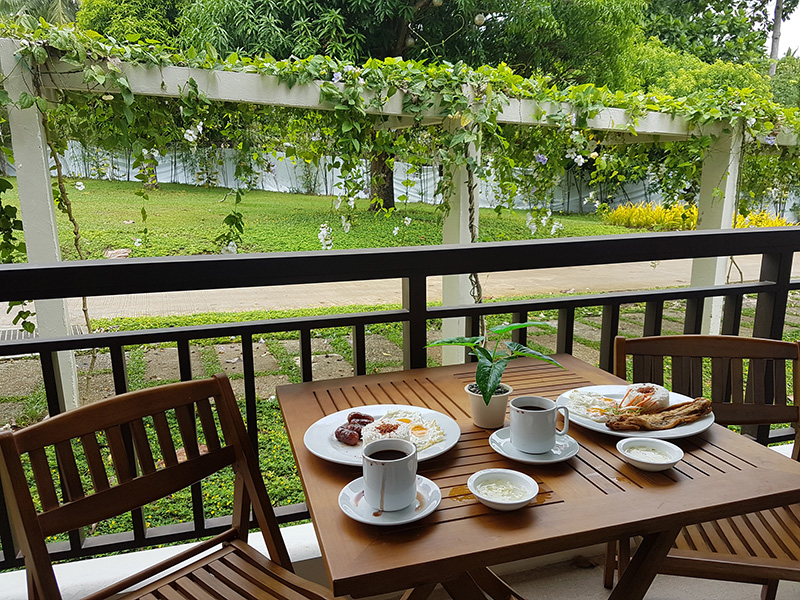 Breakfast overlooking the lush greenery of Solina Resort.
We were also offered wasay-wasay oysters at P200 "per tray" which we decided to indulge in as well. What came out of the sari-sari store's makeshift kitchen was not just a tray, but a whole basket of oysters boiled in the shell.
Translated literally as axe-axe, the wasay-wasay shells are axe shaped – rectangular, with sharp, blade-like edges. Inside, the shells are smooth and shiny. The mussels stuck to the wasay-wasay shells get cooked along with them and are a bonus – and definitely well worth the P200.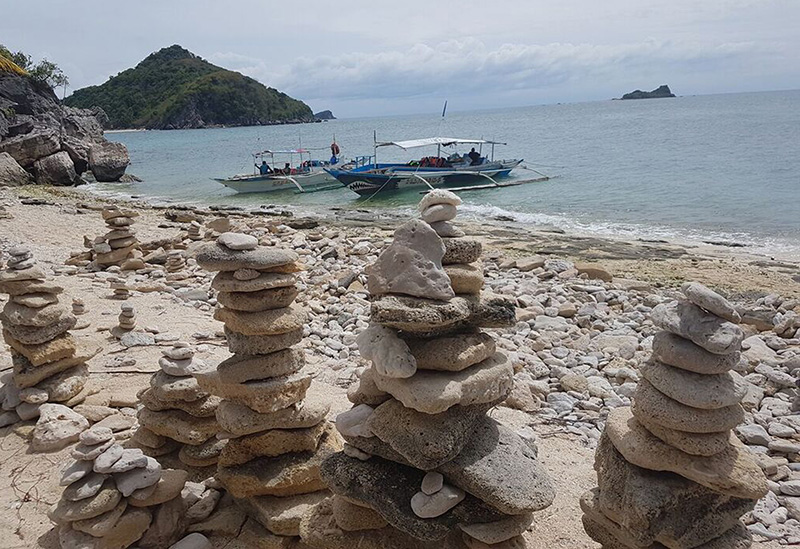 Cairns on Cabugao Gamay Island.
All the seafood at Antonia Beach is simply boiled and served with a vinegar and garlic dip. One can truly taste the simplicity and freshness of the food that comes straight from the surrounding waters – sea to table, if you will. The pork dish that came with our tour package was inevitably ignored. But we did double up on rice.
The meal we had on the rickety wooden benches and tables on Antonia Beach – with our hair wet from swimming and our toes buried in the sand – embodies the Gigantes Islands life.
It is a place that is beautiful in its simplicity and unique for its freshness. What you see – and taste and feel – is what you get, unadulterated.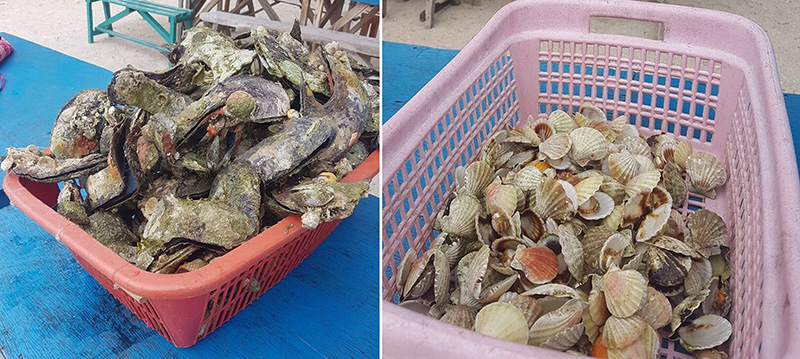 Feast on wasay-wasay oysters at P200 per basket and scallops at Antonia Beach at P1 per piece.
It's not trying to be an upscale island resort. It's not trying to be the next Boracay. It's not trying to become a mega tourist attraction.
It is, simply, the Gigantes Islands – a simple place with big things to offer. No frills, no expensive bells and whistles, just the bounty of the sea and vinegar with garlic – and extra rice, please.