MANILA, Philippines — When Giovanni Cheng started Octoboy on Banawe Street, Quezon City, all he wanted was a hole-in-the-wall outlet of Japanese street food.
"I went to Japan and discovered takoyaki, or a ball of diced octopus, which I loved so much. I decided it was something that the Filipino palate would understand and appreciate," Giovanni, then in his mid-20s, now recalls.
"Of course, more people came, having heard of our delicious dishes," he says. "We were different because we were offering Japanese street food, but our customers could sit down, eat, drink, and have a good conversation. We even attracted showbiz people from the nearby television networks."
Among those who frequented Octoboy were the famous Sex Bomb dancers, who were at the height of their success.
Giovanni would fall in love with Aifha, who became his wife. Thus, what started out as a single proprietorship transformed into a husband-and-wife undertaking.
To Giovanni's surprise, Aifha was not only beautiful and kindhearted, "she could also cook, and so I felt very lucky. I didn't just marry a caring and attractive wife, but also a partner in the food business," shares Giovanni.
"People always ask me how I shifted from dancing to cooking," says Aifha, who is a hands-on chef in the new Octoboy outlet, also along Morato street. "I tell them, this is not something new. I have always loved cooking, although before, my focus was on Filipino food. Besides, I still perform if there's a good offer."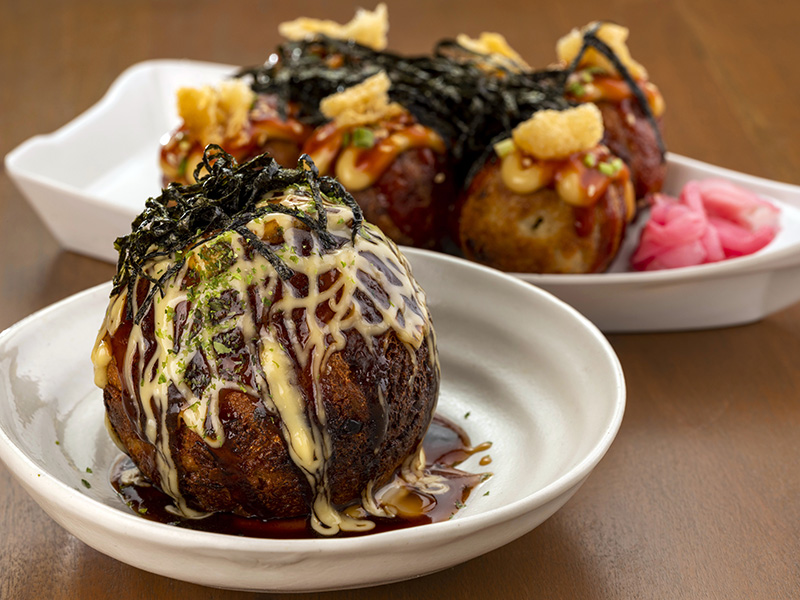 Bestseller: Octoboy is named after its signature takoyaki balls made with diced octopus and other ingredients.
As soon as Giovanni and Aifha went steady, they began to travel to Japan where, she says, "we discovered new dishes, or new versions of the same street food that Octoboy had been serving. The thing about Japanese street food is there are those that have kept their authentic flavor and presentation, and there are those that have been transformed, taking on a modified taste or a new look to adapt to people's fast-changing preferences without completely losing their original essence. They enjoy the best of both worlds."
As soon as they came home from their culinary adventures in Osaka and Tokyo, Aifha would don her chef's outfit and cook the new dishes that she and Giovanni had just tasted, which she had learned to cook in Japan.
Acquiring a certificate in culinary arts has been a big help, too, since she now has a professional knowledge of food. "I used to depend on my taste buds, but now I know the exact measurements. That is why here at Octoboy, we follow a recipe, so that if anyone among the kitchen staff is absent, anyone who takes his place can cook the dish correctly."
The new Octoboy, inspired by Gonpachi, the Tokyo restaurant in the Kill Bill movie located in the Ginza district, combines traditional and modern Japanese artistic design.
Giovanni says, "We have kept the all-time favorite dishes that we used to serve in our former location, but we have new ones that are must-tries."
Octoboy does not intimidate customers when it comes to prices. "It's only our image that we have enhanced," says Giovanni. "And the taste of our food," adds Aifha, "although we have always been known for our delectable Japanese dishes, cooked only with fresh and high-quality ingredients."
She points out one difference: "We have a more attractive way of plating now. We visited many Michelin-starred Japanese restaurants in Japan and other Asian countries, and we have adapted their style of presenting food."
Aifha recommends that diners order the Bakodanyaki, or jumbo-sized takoyaki. "I was inspired by this black-colored bun which we ate in a restaurant in Osaka. It had shrimp stuffing and was served with uni or sea urchin sauce. I really liked it because it was very delicious. I ended up ordering it several times just to make sure I got the right taste of the sauce. That's how we came up with this black takoyaki, which is now one of our best-sellers. But ours is even better because it has a stuffing of shrimp, octopus, kani, crabstick, cheese and veggies."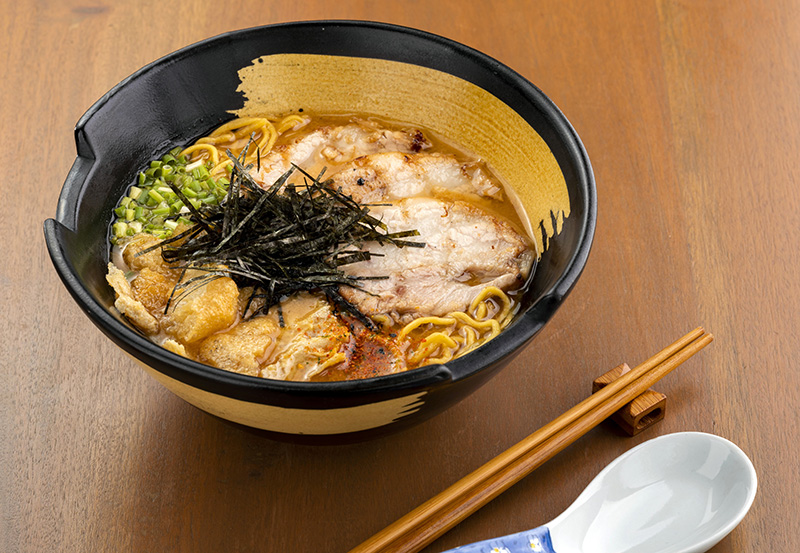 Filipino favorite: Miso chasu ramen
Giovanni hastens to add, "The difference between our takoyaki and other takoyakis is ours has a crusty exterior or shell, with chunks of octopus in the middle. This is exactly how it tastes in Japan. What you eat in Japan is exactly what you eat at Octoboy."
Aifha shares, "our Chasu Miso Ramen, which was originally served in our old restaurant, tastes even better now because I came up with a new recipe for the broth. Our chasu, or pork, is the softest part, which is belly, and a combination of fat and lean, that is why it is both flavorful and healthful. Especially because it is miso-based."
She relates, "A mother of our friend works in a ramen house in Japan, and she taught us the proper way of cooking the broth for ramen, which she learned from the masters. So every time she comes home, she visits us. We get our noodles from a Japanese supplier who makes thinner noodles for us." Children should try the cheesy ramen.
Aifha clarifies that Octoboy is more about sashimi, though. "It is a common street food, typically bite-sized pieces of raw fish dipped into soy sauce and wasabi paste."
Adapting to Filipino taste buds, Aifha concocted Hawaiian Tuna Roll — soy-marinated tuna with Spam and tamago. Salmon Uni Aburi also appeals to the Filipino palate because it is topped with chorizo bits.
Those who want a sushi meal should order Chira Sushi, a bowl topped with soft scrambled egg plus fresh crabmeat, ikura , and crispy salmon skin that never fails to get the nod of diners.
Other healthy dishes at Octoboy include the Salmon Ceasar Salad and Salmon Ceviche.
Barbecue lovers who want skewers to accompany rice or drinks should order the yakitori, of which Octoboy has many, from Grilled Quail Egg with Fried Chicken Skin, to Miso Marinated Grilled Pork Belly Skewers, to Grilled Japanese Sausage and pineapple, brushed with chili oil and garnished with togarashi.
"Our customers want to enjoy good food and relax, so we give them both," Giovanni says. "They do not have to hurry. They can stay up to three in the morning."
Credits belong to : www.philstar.com