These were our most unforgettable meals in Davao. Nothing fancy, but so honestly good and fresh.
Millie: Karla and I arrived in Davao on a Friday night, our flight slightly delayed. We were met at the airport by Carmina del Rosario's driver and whisked off to her newly opened deli called Mindanao Butcher's & Co. They carry a range of specialty items including Wagyu and USDA Angus steaks and other cuts, plus some in-house products such as balcacoa, compound butters, spreads, BBQ sauces and more.
Karla: The event was actually to officially launch the availability of Tierra de España products in Mindanao Butcher's & Co. Tierra de España is a company that manufactures authentic Spanish products in Manila such as all kinds of chorizo, butiffara, chistorra and more. They also carry a curated selection of Spanish charcuterie.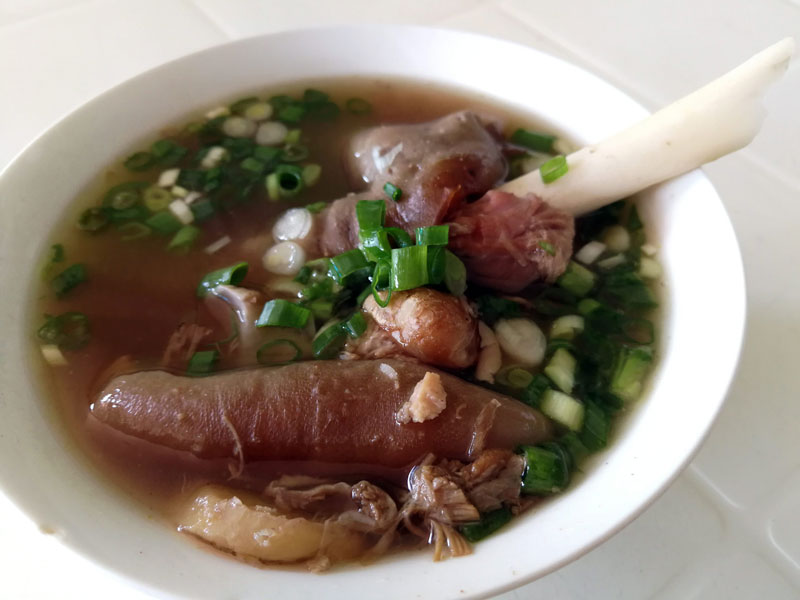 Sinampalukang kambing, one of the original specialties of Dods and Bing
We arrived just in time for cocktails and were immediately given wine glasses and pintxos. The cocktails were a collaboration of chef Miguel Vecin of Bar Pintxos using Tierra de España products and some items from Mindanao Butcher's & Co. They prepared the famous jamon aioli of Bar Pintxos, chistorra queso pintxo and tortilla de patata, charcuterie cones with jamon, Pamplona and Manchego, paella Catalana, an all-meat paella with Angus lomo, butifarra and chorizo paella, penne with chorizo and shrimp in a tomato cream sauce and roast beef with Mindanao Butcher's BBQ sauce.
After an evening of good food and excellent wine, we checked in at the plush Marco Polo Hotel, our home for the next few nights.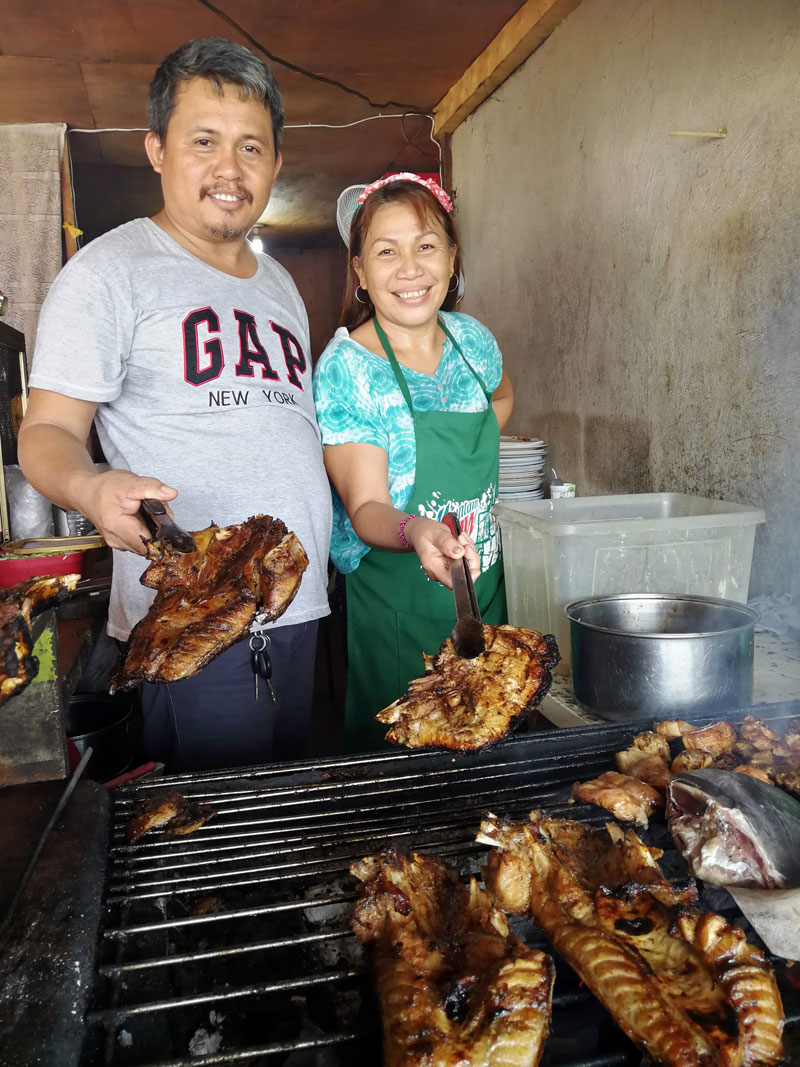 Dods and wife Bing Felix, the dynamic duo behind the meatiest and juiciest tuna jowls
The next day, we were treated to lunch by one of our gracious hosts, Carlo Calma Lorenzana. He said we were going to have brunch at the best place for inihaw na panga ng tuna or broiled tuna jowls. Little did we know that it was just around the corner form our hotel. The restaurant was literally a roadside eatery — no concrete structure and no aircon.
As soon as we sat down to have lunch with chef Miguel Vecin and his business partner Tinchu Gonzalez, we started making our preferred sawsawan. Mom prefers calamansi and soy sauce, while I like mine with calamansi, soy sauce, vinegar and crushed chili. Then the food started to arrive and there was silence. In total we ordered three tuna jowls, two tuna bellies, 10 sticks of barbecue, two bowls of sinampalukang kambing and seven cups of rice for roughly P300 each!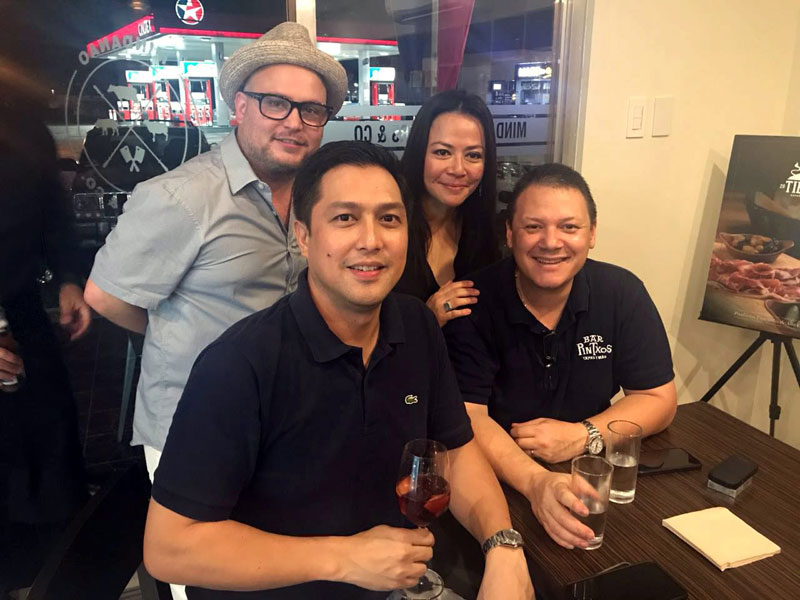 Celebrating the collaboration between Tierra de España and Mindanao Butcher's & Co.: (from left) Tinchu Gonzalez, partner of Tierra de España; our hosts, Carlo Calma Lorenzana and Carmina del Rosario; and chef Miguel Vecin of Tierra de España and Bar Pintxos.
The tuna was cooked extremely well. It was neither overcooked nor undercooked. You know it is freshly cooked because once you cut into it you can still see smoke steaming out and juices flowing. It was very moist, flavorful, and the meat was not dry and flaky. Our favorite part of the tuna jowls is the gelatinous part. It was so good and definitely the best meal we had in Davao that we decided to go again on our last day.
Millie: Dod's (pronounced "Doods") is named after Ranilo Bucao Felix, married to Bing Rodriguez Felix, who helps him run the eatery. It started in 2004 when Dods lost his job at Davaolite. With a starting capital of P700, they ran a carinderia serving sinampalukang kambing.
Dods met a supplier of big-eye tuna from Gen San whom he befriended and was assured of a fresh and constant supply of tuna jowls and tuna belly.
A roadside eatery in all its simplicity: Dod's Ihaw Ihaw & Seafoods Grill
Business was brisk and they found a spot in 2006. As luck would have it, they were offered to buy the spot two years later. They were so successful that in 2010, they offered to buy the exact location where their roadside eatery now stands. They sell a minimum of 50 kilos of tuna daily from 7 a.m. to 11 p.m. except Sundays, when they are closed. A lot of their clients buy to take home, while other passersby stop for a quick and inexpensive meal.
It was our most unforgettable meal in Davao. Nothing fancy, but so honestly good and fresh that we could not help but drop by for a last bite before heading home!
* * *
Mindanao Butchers & Co is located at K7 JP Laurel Avenue, Lanang, Davao City.
Dod's is located at Roxas Avenue corner Ponciano Street.
* * *
Send email to milliereyes.foodforthought@gmail.com and quichethecook.ph@gmail.com. Find us on Facebook: Food for Thought by Millie & Karla Reyes.
Credits belong to : www.philstar.com