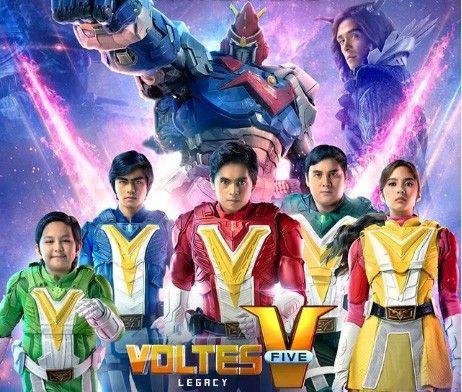 MANILA, Philippines — It took nine years and quite a budget to finally finish the much-awaited live action adaptation of the 1970s Japanese anime "Voltes V: Legacy."
Director Mark Reyes, headwriter Suzette Doctolero and the cast revealed several fun facts at last Tuesday's media conference and screening.
1. Nine years in the making
Director Mark Reyes admitted it was his sheer audacity or ignorance (depending on how one looks at it) that prompted him to pitch the project way back in 2014. He did a pitch tape with Riot Inc.'s Jay Santiago and submitted it to GMA and Telesuccess Productions, and eventually to Japan's TOEI Company, the rights holder of the anime.
"I just had the audacity or ignorance when I did a pitch with the help of Jason Santiago of Riot. Surprisingly, it was serendipity because Riot Inc.'s dream project was Voltes V," said the director.
They also previously worked in other shows, notably in the 2005 and the 2016 versions of "Encantadia."
"The level of the robot then, the graphics, was very impressive already. But then, that was 2014, so it was nine years for this to be developed," Reyes revealed.
Watch: Mark Reyes on 'Voltes V: Legacy' costumes
2. The flight suit costume costs P350,000 each
GMA-7 spared no expense for the upcoming show. Reyes shared an interesting story on how much the network gambled on "Voltes V: Legacy."
Related:Every 'Voltes V: Legacy' flight suit as expensive as a car — director
3. Julie Anne San Jose did a cover of the original Japanese OST sung by Mitsuko Horie
Julie Anne and Dennis Trillo are sort of reunited just months after starring as the engaged couple in "Maria Clara at Ibarra."
They both appear in special roles in the series, with Dennis playing Baron Hrothgar/Dr. Ned Armstrong and Julie Anne covering the Japanese OST (original soundtrack) originally sung by Mitsuko Horie.
Watch: Japanese YouTube creator reacts to Julie Anne's cover
4. Miguel Tanfelix was chosen to play the role of Steve Armstrong
While many of his co-stars auditioned, Miguel said he never expected himself to be chosen to play the leader of the Voltes V team.
He explained why in this video. His co-stars Ysabel Ortega, Radson Flores, Raphael Landicho and Matt Lozano also share their audition experience.
Watch: Voltes V team audition experience
5. Over 300 Filipino visual grahics artists/animators worked on the '100% gawang Pinoy' series
Reyes had reason to be teary-eyed when he looked back at the years he spent working on his dream project. As a fan of the original anime, he worked on trying to stay true to the material as much as possible.
It took three years in production while a pandemic was raging on, testing his team's resourcefulness and perseverance in finishing "Voltes V: Legacy."
"The GMA Video graphics team alone, 250 (people). At Riot, that's another hundred artists. So when you see the graphics of 'Marvel' or 'Star Wars'? You see a very long graphics? Gano'n po ang 'Voltes V: Legacy.' Ganon karami ang nagta-trabaho sa behind the camera.
"And then we have 200 people on the set with staff and crew. Three years in the making 'yung actual production. That's how big it is and proudly 100% Filipino-made. From costume to visual effects (VFX) to everything," Reyes shared.
Watch: Reyes on animating 'Voltes V: Legacy'
RELATED: 'Voltes V: Legacy' review: Finally, a Filipino movie that could rival Marvel, DC
*****
Credit belongs to : www.philstar.com