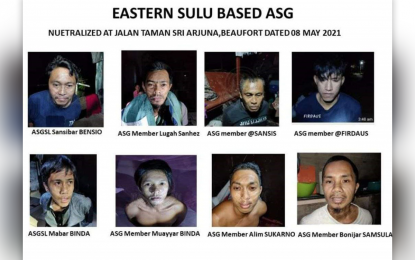 ZAMBOANGA CITY – Two Abu Sayyaf Group (ASG) mid-level leaders and six followers were arrested in Sabah over the weekend, an Army official said.
Lt. Gen. Corleto Vinluan Jr., commander of the Western Mindanao Command (Westmincom), said Monday the arrest was the result of the strengthened collaboration between the Armed Forces of the Philippines (AFP) and the Eastern Sabah Southern Command (ESSCOM).
The ESSCOM is a Malaysian security area that covers 1,400 kilometers of the east coast of Sabah from Kudat to Tawau. Its headquarters are in Lahad Datu.
Vinluan said the ASG bandits were arrested after the ESSCOM launched a police operation around 3 a.m. Saturday in Jalan Taman Sri Arjuna, Beaufort, Sabah in response to information provided by the Joint Task Force (JTF)-Sulu.
Vinluan said the arrested mid-level ASG leaders are Sansibar Bensio, around 40-45 years old, and Mabar Binda, believed to be 25-30 years old, both of the Eastern Sulu-based ASG.
Maj. Gen. William Gonzales, JTF-Sulu commander, said Binda succeeded his father, Hatib Munap, who was killed in a clash with Marine troops in November last year in Bud Bawis, Barangay Kawasan, Panamao, Sulu.
The arrested ASG followers are Muayyar Binda, around 30-35 years old; Lugah Sanchez, 45-50 years old, Bonijar Samsula, Alim Sukarno, a certain Sansis, and a certain Firdaus.
"Due to the sustained intelligence, focused military operations, and civil-military cooperation in the province of Sulu particularly in the second district, the now-apprehended personalities escaped and transferred to Sabah and established an ASG cell based thereat to conduct spotting and casing of probable kidnap victims and facilitate the Foreign Terrorist Groups operating in the Southeast Asian countries conducting terror activities in the Philippines," Col. Hernanie Songano, commander of the Army's 4th Marine Brigade, said.
Gonzales said the arrested ASG bandits were involved in series of armed confrontations with the military, including the encounter in July 2011 in Sitio Tubig Magtuh, Barangay Panglayahan, Patikul, Sulu, during which the late Marine 2nd Lt. Michael Baladad was beheaded.
Gonzales said Bensio was also involved in the kidnapping of the foreign nationals identified as Lorenzo Vinciguerra (Swiss), and Ewold Horn (Dutch).
He said both Bensio and Binda were involved in the kidnapping of three Indonesians — Samiun Bin Maneu, Maharudin Bin Lunani, and Muhammad Farhan.
Among their Filipino victims were Ronnie Sandagon, Jerel Pepito, Eddie Reubal, Marcial España, Arvin Sabaduquia, Rufino Bustillo, Joseph Bani, Hajan Terong, Joshua Bani, and Michelle Tolentino Panes.
"The arrest of these terrorists is a big blow to the ASG," Vinluan said. (PNA)
*****
Credit belongs to : www.pna.gov.ph