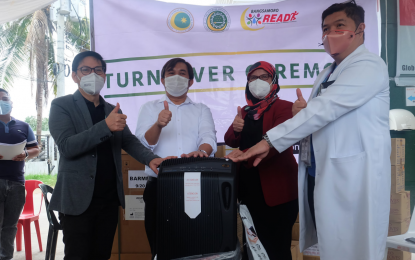 COTABATO CITY – Two major hospitals in Maguindanao have received mechanical ventilators from the Bangsamoro Autonomous Region in Muslim Mindanao (BARMM), and five more health facilities in the area are set to receive the same medical devices.
BARMM Interior Minister Naguib Sinarimbo and BARMM Health Minister and Dr. Amirel Usman led Monday's turnover of two mechanical ventilators to the Maguindanao Provincial Hospital, and Datu Blah Sinsuat (DBS) District Hospital in Upi, Maguindanao.
"The BARMM, through its Bangsamoro Rapid Emergency Action on Disaster Incidence (READi), provided the ventilators and will soon provide the same to five other hospitals in the region," Sinarimbo said.
Sinarimbo, who also heads the BARMM-READi, said these hospitals include the Dr. Serapio Montañer, Al-Haj Memorial Hospital in Malabang, Lanao del Sur; the Amai Pakpak Medical Center in Marawi City; the Lamitan District Hospital in Lamitan City, Basilan; the Integrated Provincial Health Office – Sulu in Jolo, Sulu; and the Datu Halun Sakilan Memorial Hospital in Tawi-Tawi.
He said the turnover of ventilators forms part of the region's effort to continually increase hospitals' capacity to respond to the demands of the fight against coronavirus disease 2019 (Covid-19).
"We will try to work together with the Ministry of Health to bring about increased focus in the health facilities of these hospitals as well as its personnel," Sinarimbo said.
Usman noted that the Department of Health (DOH) and the World Health Organization (WHO) had projected the rise of Covid-19 cases in the middle of January next year.
"This is in preparation for another spike of Covid-19 cases by next year," Usman said.
Aside from the ventilators, the MOH also provided medical and hygiene supplies containing surgical gloves, face masks, face shields, alcohol, and air purifiers to the two hospitals. (PNA)
Credit belongs to : www.pna.gov.ph