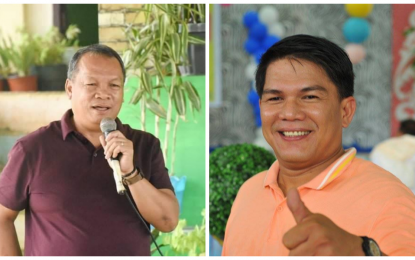 KIDAPAWAN CITY – Two town mayors in North Cotabato have been rushed to separate hospitals Friday, with provincial medical authorities still to issue official findings on the two local executives' conditions.
Mayor Russel Abonado of M'lang, North Cotabato has been rushed to a hospital after complaining of severe back pains, fueling speculations he might have been infected with coronavirus disease 2019 (Covid-19).
Barnardo Tayong, M'lang municipal disaster management officer, said Saturday Abonado has close contact with Tulunan Mayor Reuel Pip Limbungan, who on June 4, admitted in a radio interview that he was Covid-19 positive.
Limbungan, an asymptomatic, is now isolated and will soon return to work when his physicians give him the green light.
Among those he had close contact with was Abonado but the latter's antigen tests showed he was negative of symptoms associated with the virus.
"He (Abonado) went on self-quarantine and expected to complete his isolation today, Saturday," Tayong said.
However, on Friday, the mayor complained of excruciating back pain and was rushed to a hospital.
Tayong said Abonado may be transferred to a hospital in Davao City for further medication.
He denied reports in social media purporting that Abonado has suffered a mild stroke.
Meanwhile, in Magpet, North Cotabato, sketchy reports have been circulating that Mayor Florenito Gonzaga has contracted Covid-19 after he did not show up for the past three days at the city mayor's office.
But no one confirms nor denies the report.
With no official word coming from the town mayor, Vice Mayor Rogelio Marañon assumed the office of the mayor in an acting capacity to prevent a vacuum.
"I was informed by a source that he was rushed to the hospital in Kidapawan City and he remained in the facility, thus, by law, I will assume the mayor's office," Marañon said.
Magpet Municipal Councilor Godfrey Acupan also assumed the office of the vice mayor and as presiding officer of the town council. (PNA)
*****
Credit belongs to : www.pna.gov.ph