MANILA, Philippines — The Department of Tourism (DOT) continues to promote culinary tourism with a food and travel festival in Cagayan de Oro, "Kaon 'Ta," the Northern Mindanao leg of its Kain Na! food and travel festival.
Over 30 exhibitors, including hotels and restaurants, farm resorts, agro industry groups, eco-farm adventure parks, transport operators, universities and local government unit (LGU) tourism offices presented specialty food products, coffee, vegetables, juices, handicrafts and culinary tour packages.
Among the featured CDO chefs and their special recipes were: Benjie Gaviola, beef rendang; Chiko Arvin Cacanindin, chicken surol; Pat Sabay III, humba de oro; Cyril Balbuena, sinuglaw and inun-unan na pidlayan; Albert Chiu, roast beef and binaki; Roseller Fiel II, chicken piaparan (Halal).
The event also highlighted the region's unique coffee blends, local herbs, concoctions, organic vegetables and crop-based delicacies.
DOT Region 10 Director Marie Elaine Unchuan explained that the region is known for its abundance of agricultural products, especially lanzones, pineapple and organic peanuts, on top of producing 31 varieties of banana.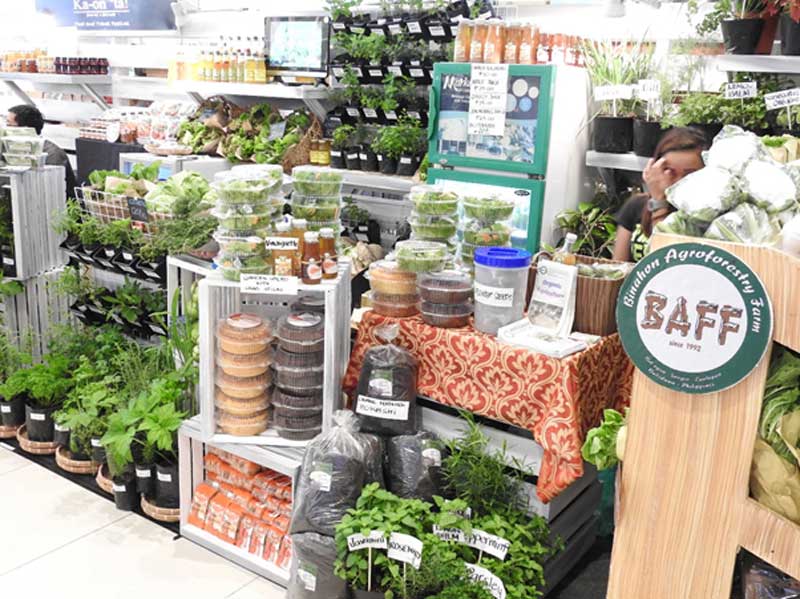 Fresh local greens on display.
Meanwhile, host city CDO exhibited cakes made of ground rice and coconut milk, and the famous binaki, a local delicacy made of yellow corn, cream, butter, milk and sugar.
Other provinces in the region presented their best food offerings, such as Camiguin's classic pastel and Iligan City's wide selection of coffee blends, among others.
Tourism Secretary Bernadette Romulo-Puyat said the food and travel festival showcased the country's "widely-diverse culinary culture, to create awareness and interest on distinct Filipino cuisine and tourism destinations."
"Travel experience is really more fun when served with the fusion of unique Filipino hospitality and delectable Filipino food," Puyat said.
DOT Assistant Secretary for Mindanano and Palawan Myra Paz Abubakar who represented Puyat, emphasized that the DOT's continued push for culinary tourism is because food will always be one of the things people consider when they travel.
The DOT earlier launched Kaon Na! Food and Travel Festival in Legazpi City, Albay and Cebu City.
It is set to launch the Davao leg of Kain Na! next week, which will simultaneously happen with launches in Pampanga and Laguna.
Credits belong to : www.philstar.com