You remember Lisbeth Salander. She's the Girl with the Dragon Tattoo, the one with hacker skills that — in the hands of Noomi Rapace and Rooney Mara in earlier incarnations — left a trail of abusive males in tatters. She is #MeToo on steroids, bent on righting female injustices, with a host of cool gadgets and motorcycle skills that would make Jason Bourne jealous.
Yeah, she's back. In The Girl in the Spider's Web, a new chapter directed by Fede Alvarez (who made the inside of a blind old man's house a dark torture chamber in Don't Breathe), the plucky, gender-fluid girl from Stockholm, Sweden in Stieg Larsson's trilogy is still haunted by her past, still sporting a drive-by updo haircut and various piercings. She's still in the web of her earlier storylines, in other words, which is understandable since author Larsson died before he could pen any new stories.
Here, the beady-eyed stare of Rapace and Mara is replaced with the big-eyed gaze of Claire Foy — yes, best known as a young Queen Elizabeth in The Crown on Netflix — and she seems well up to the task.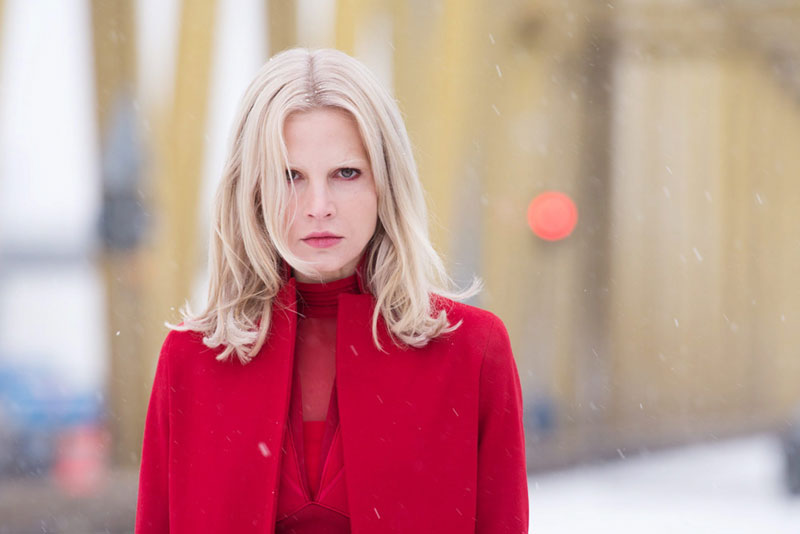 Sister act: Sylvia Hoeks as Camilla, Lisbeth's twin sis.
We meet up with Lisbeth this time in flashback, as she remembers her Daddy's old Swedish homestead, where she and sister Camilla fend off paternal advances while strange naked women adorned in body-length tattoos strut around from room to room. You know this is not a healthy, nurturing environment for young girls to grow up in, but in Scandinavian-set cinema, what is?
Flash forward to the present, where Lisbeth, set up in her gal pal-friendly roost, is contacted by computer programmer Frans Balder (Stephen Merchant) to retrieve a program called Firefall that bad guys want to use to steal nuclear codes and the National Security Agency wants to steal back. In short order, her apartment is blown up, she's being hunted by Swedish authorities and the NSA, and she's on the run, left to shelter Balder's young son from harm.
In the absence of Larsson, a new chapter has been penned by Alvarez and Stephen Knight, and while it does little to advance Lisbeth's story or relieve her unhappiness, it does contain lots of well-paced action scenes, and a ripping performance by Foy.
There are many standout sequences, such as the one where Lisbeth leaves her police pursuers behind on a dock by plowing her revved-up motorcycle onto a frozen river, skidding off across the ice (Alvarez is as skilled at shooting open-air chase scenes as he is tracking claustrophobic old houses). Lisbeth's high-tech tools are fun (she has a "guy in the chair" hacker friend who feeds her data in real time). Watch her hack into a villain's smart car to take control of the wheel, or rig up one abusive businessman's apartment to dangle him from the ceiling in a quite literal spider's web. Alvarez is skilled at devising intricate action scenarios that unfold logically, then snap shut, like a mousetrap.
Gotcha: Lisbeth springs a fitting trap for a Swedish businessman who's been abusing his wife.
That opening apartment sequence also provides the first "reveal" of Foy as Lisbeth — white war-paint makeup and all — and it's effective enough. Foy can clearly do a lot of things well (though her accent is a bit tentative), but saving a half-baked script is not one of them. Naturally, Lisbeth's love interest from the original trilogy, journalist Mikael Blomkvist (Sverrir Gudnason), has to pop up again to feed her clues and "save" her at least once from her emotional dead zone. (This is a little strange, as Lisbeth clearly prefers women as company and as lovers, yet apparently rarely trusts them.) Also on her side is an NSA agent (LaKeith Stanfield) sent to track her down and retrieve the Firefall program. But he's not given much to do. Nor is Luxembourg actress Vicky Krieps, so effective in P.T. Anderson's Phantom Thread, here reduced to playing Blomkvist's ignored love interest.
The action keeps things jumping along, but all these web-like contrivances do not obscure the fact that the story is fairly lazy, simply drawing on the things we already know from Lisbeth's past, tightening up some loose ends here and there. What might have been better is a real new adventure that doesn't involve her icky past and family. We learn that her pedo-dad, kingpin Alexander Zalachenko, also headed a crime web called The Spiders (not to be confused with The Spiders From Mars), and that Lisbeth's twin sister Camilla is… well, enter grown-up Sylvia Hoeks, reprising the psychopathic robot tics she displayed so well in Blade Runner 2049.
Hoeks is menacing, and her ingenious way of wrapping up her foes almost justifies the movie's title, but… come on. An evil (blonde) twin sister? A chess-playing kid to protect? Another tainted Swedish homestead burnt to the ground? Another escape on motorcycle? Will this be the end of Lisbeth Salander, or just the end of this slow-to-untangle franchise?
Credits belong to : www.philstar.com