MANILA, Philippines — The Cotswolds, a picture-perfect vista of idyllic villages and heritage cities in the south of England – neatly bordered by Bath, famed for its ancient Roman thermal spas, and Stratford-upon-Avon, the birthplace of Shakespeare – is a universal favorite.
At over 770 square miles, this vast magical garden is the second largest protected landscape in England, hailed as an Area of Outstanding Natural Beauty. There is no end to what's in store for travelers, as the Cotswolds absolutely changes one's perception of untouched beauty.
The name Cotswold originates from the phrase "sheep enclosure in rolling hillsides" and there is no better way to describe it.
Rolling hills and wide, sprawling plains, visible till the horizon, are interspersed with a solitary tree here, a mini-grove there, broad valleys and fruit-bearing orchards, acres of wild flowers, even personal gardens planted in the style of equidistant army positions.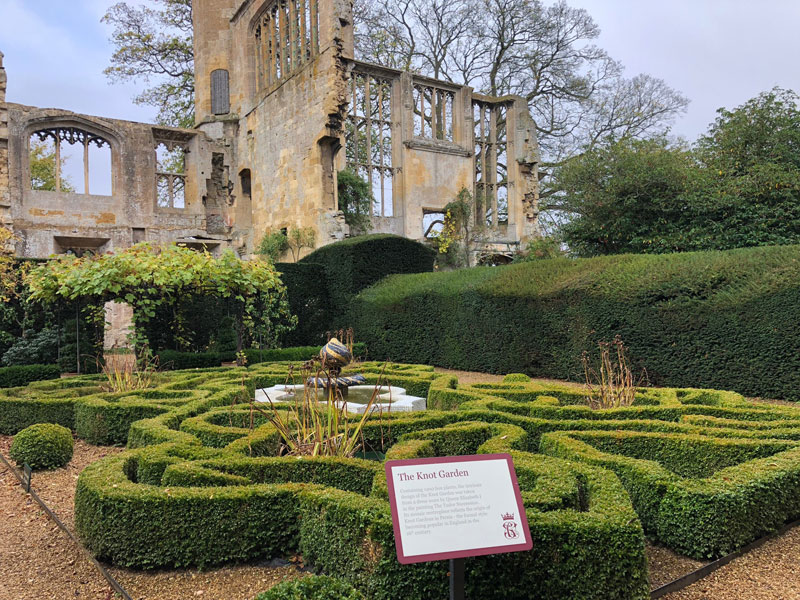 Sudeley Gardens amidst ruins.
Among the most frequented areas is the enigmatic rock formations of days gone by, the origins of which still continue to baffle scientists and even those we call spiritistas.
The trees of the royal forests were mostly uniform in height, perfect shooting grounds for recreational geese hunters equipped with official permits.
The protected woodlands were peppered with blooms, with foliage of autumn leaves on the ground, colors shifting from blood red to gold yellow and then burgundy brown. We admired the waterways – clear and flowing canals alive with life – with narrow boat-homes moored by waterside parks.
Through the long, winding country roads, soon squeezing into narrow lanes, we passed quaint rural towns filled with timber and stone houses with creeping vines, where we leisurely roamed cobblestone paths of quiet hamlets and olden market towns.
We were amazed by nearby royal residences, manor-castles of fabled historical figures, country mansions and county homes, all open to the public.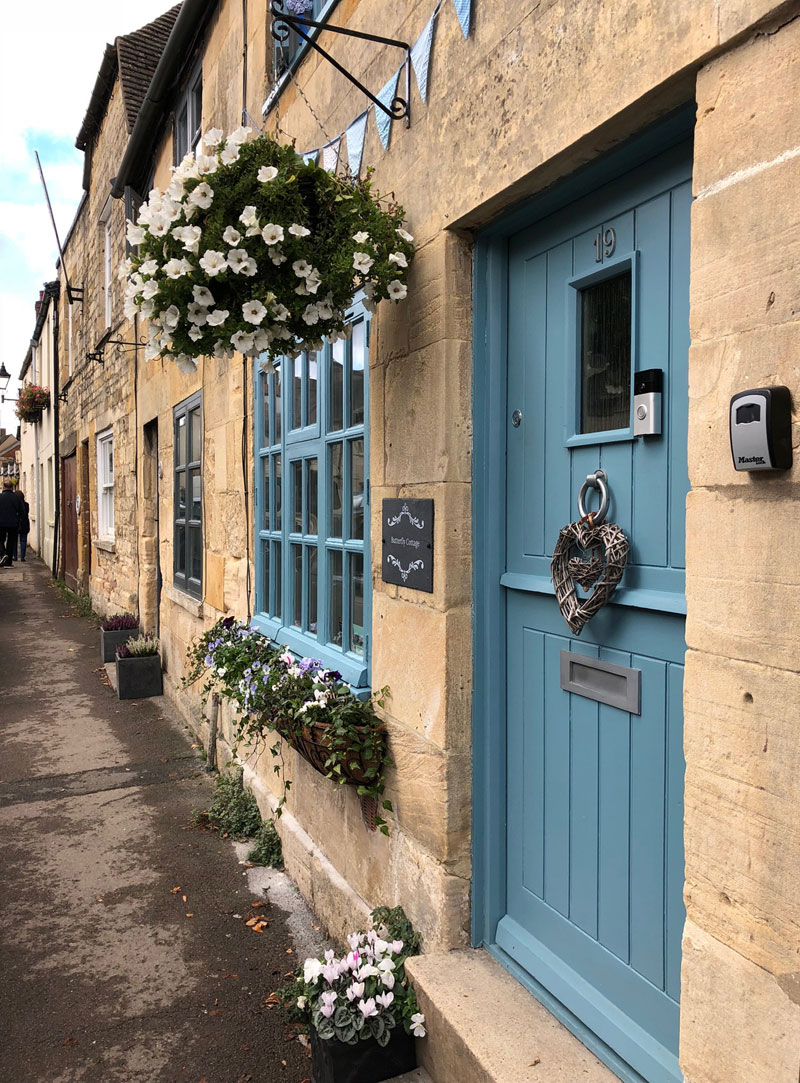 Colorful doors and hanging plants add personality to each residence.
There were jolly pubs and inns, fancy restos and cafés featuring recipes passed on for generations, and rustic mom-and-pop shops that carried one-of-a-kind artisanal items.
By the way, most scenes of the Harry Potter series were filmed around the periphery.
Of all the villages we visited, Winchcombe won us over – it had all the elements previously mentioned and is the sterling example of the best in the area.
Nestled some 100 miles from London, with slightly over 5,000 in population, it exuded a homely yet regal feel, as there was no shortage of stone-timbered homes and inns, medieval churches, hidden chapels, local stalls with the freshest produce and quality goods, and specialty shops of independent artisans, all lorded over by a castle and its spectacular gardens.
We started from our temporary home, The Lord High Admiral, one of six fairytale-like residences at the enclave that was the Sudeley Castle Country Cottages, and followed a brisk walking path into the center of town. We bumped into The Ramblers, the largest walkers' rights association in Great Britain, who promote urban walking in the national heritage of Britain's network of paths.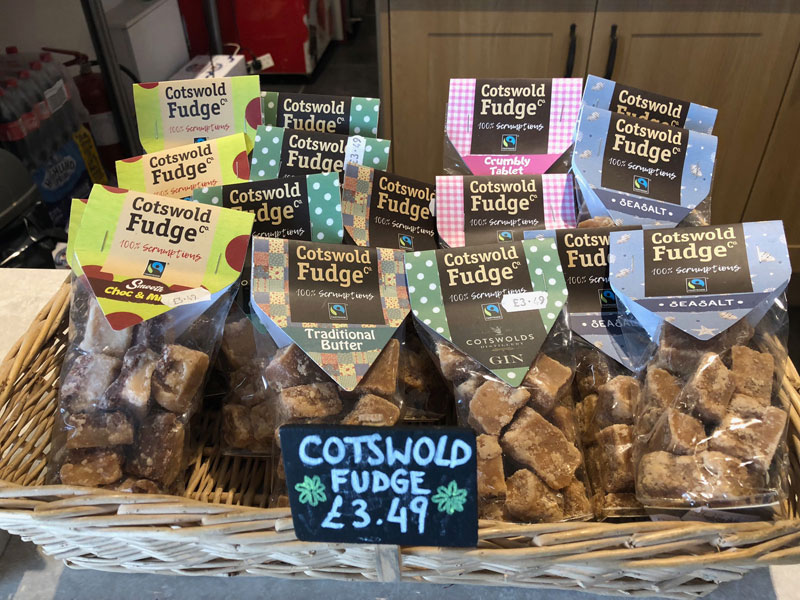 Cotswold fudge for pasalubong.
We indulged in a hearty English breakfast – even this tasted better in Winchcombe – at the White Collar Hart Inn that consisted of bacon, sausage links, grilled tomatoes, fried mushrooms, our choice of eggs, baked beans, buttered toast and rolls, and some good old traditional tea, freshly-brewed coffee or thick hot chocolate.
The next stop was the Winchcombe Museum, with an interesting subsection dedicated to the police force, featuring British and International police uniforms and other military paraphernalia.
As we continued our leisurely amble, we noticed timbered houses with names such as Thyme Cottage, Lower Park Cottage, Roil Muse and Butterfly Cottage, with not-so-common hues of doors, and doorknobs that reflected the trades of the owners. Some had blue plaques and commemorative placards on when the buildings were erected –always surrounded by hanging pots of flowers, windowside flowerboxes and patches of greens. We sighted quirky signages such as Sing like no one's listening or Dance like no one's watching, all adding to the charm of the place.
Even cars drove very slowly, way below the minimum speed limits, as homeowners greeted all the pedestrians passing by.
We took a detour to St. Peter's Church, built in the 1450s. The tower featured 40 grotesque stone faces, half of which represent demons, the other half based on dignitaries from the 15th century. The top of the spire housed a gilded weathercock which has been ingrained into the low Winchcombe skyline.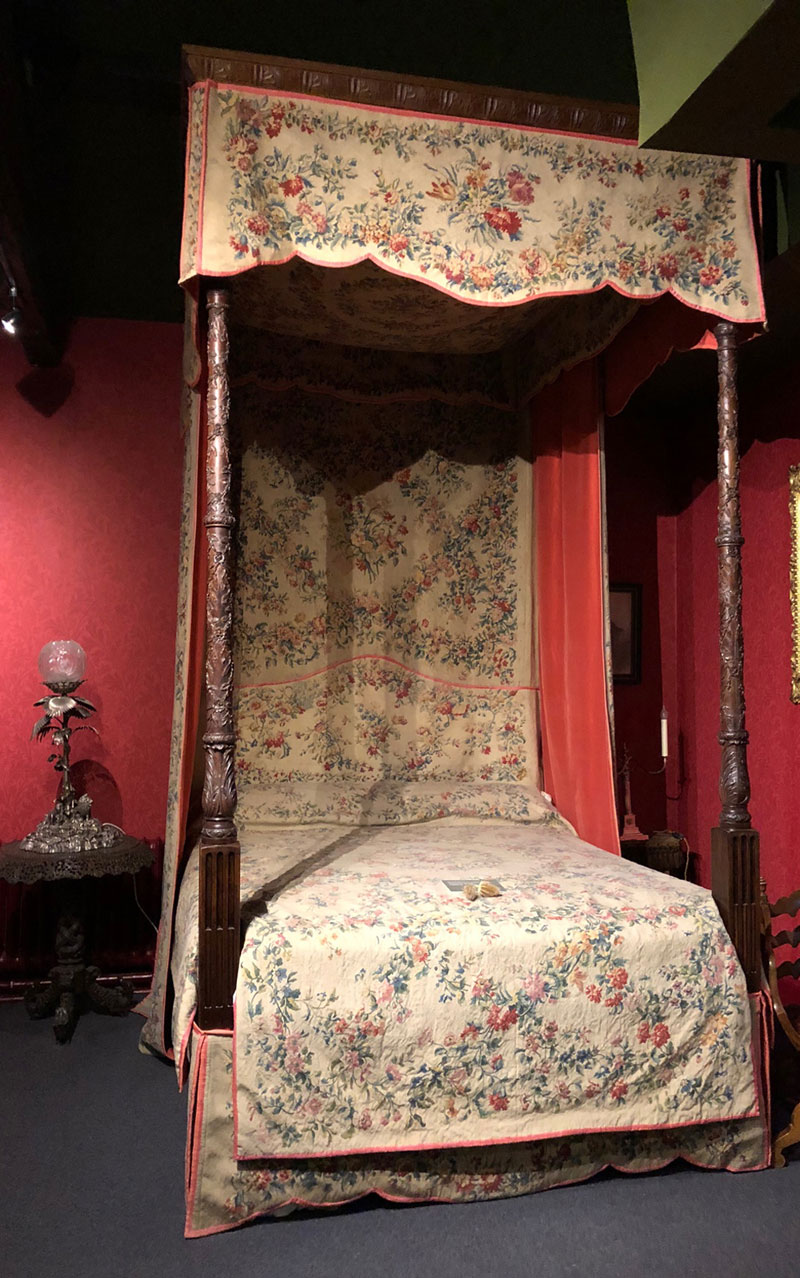 The four-poster bed of Charles I.
Our attention was called to an altar cloth said to have been embroidered by Catherine of Aragon of Spain, the first of King Henry VIII's wives.
The epitaphs at the adjacent graveyard were difficult to read, but the lines were among the most poetic we have ever seen. We contemplated on how young they all were, and whispered a prayer.
We took refuge on restful benches and happily noticed garbage cans which looked exceptionally clean, blending in with the general aesthetic of the vicinity, before we headed to the main attraction – the Sudeley Castle and Gardens.
The castle has played an integral role in England's history for over a millennia, one of the few in England which has remained a residence of an aristocratic clan. Faithful and successful restoration efforts lasted 45 years.
The endless halls, cozy bedrooms, barrel- and keg-filled cellars, plus staircases surrounded by stained glass windows boasted of several fascinating treasures, some dating back to Roman times.
There were fine art and objects associated with royalty, such as a canopy crafted by Anne Boleyn, a carved four-poster bed said to have been made for Charles I, Tudor miniatures and ceremonial wardrobes.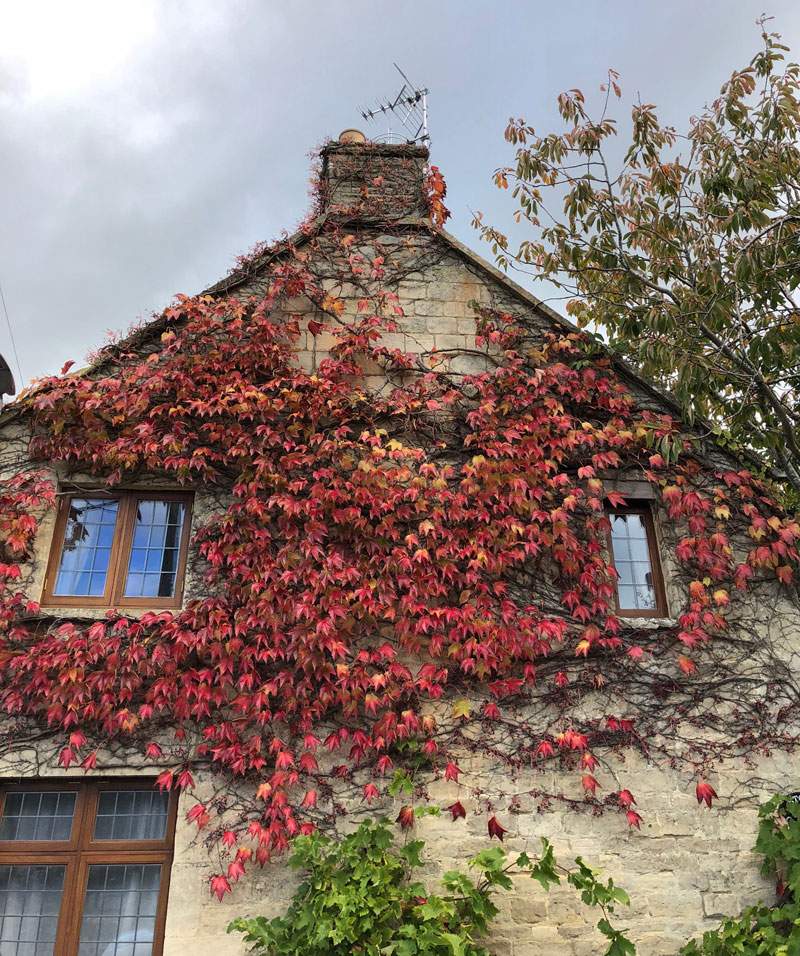 Vines in shades of autumn dominte the façade of several cottages.
A popular pause was in front of the wax sculptures of Henry VIII with his six wives – Catherine of Aragon, Anne Boleyn, Jane Seymour, Anne of Cleves, Catherine Howard and Katherine Parr – plus a written narrative of everyone's destiny.
We spent ample time at the award-winning 1,200-acre Sudeley Gardens, designed to complement the elegance of the castle and its ruins, all surrounded by sweeping views of the Cotswold Hills.
A leisurely walk around the grounds provided us with surprising encounters with ten different gardens, all independent of each other yet seamlessly blended and woven into one another. The main attraction, however, was the Queens Garden, where four of England's queens once set foot.
The entrance to Saint Mary's Church had two heads flanking the west door, believed to be Henry VI and Queen Margaret, while the top section is guarded by Victorian statues representing the same king, beside Queen Victoria.
Its interior was bathed with light filtered through stained glass windows. It is the final resting place of Katherine Parr, the last of Henry VIII's wives, in an illustrious Victorian marble tomb, with sigil embellishments.
Though we were just fleeting visitors, the visit touched our hearts. This must be so true, especially for those who have sought refuge in the Cotswolds and have since called it home, as the environs have brought out the best in them, all to create a better world.
Credits belong to : www.philstar.com