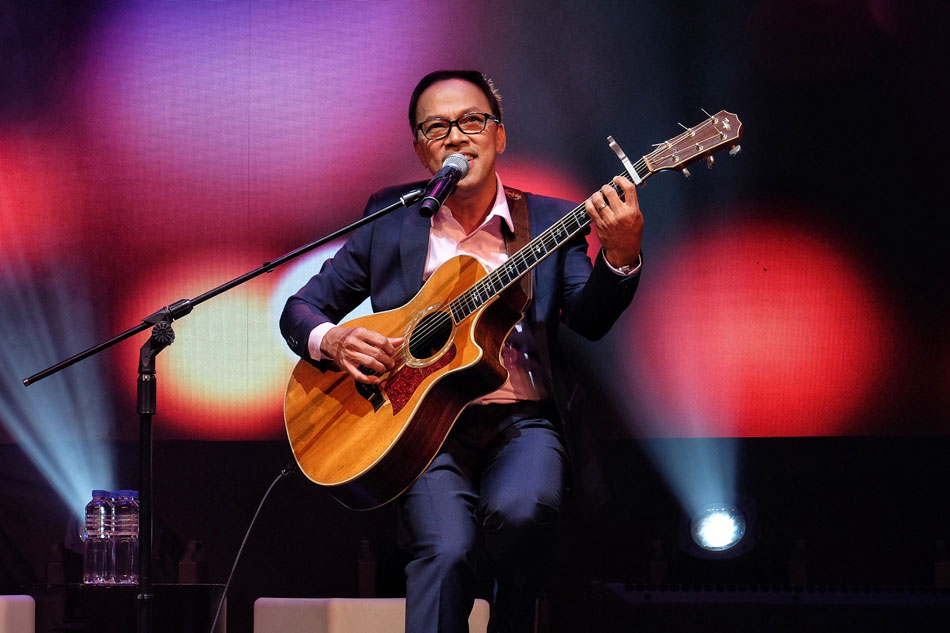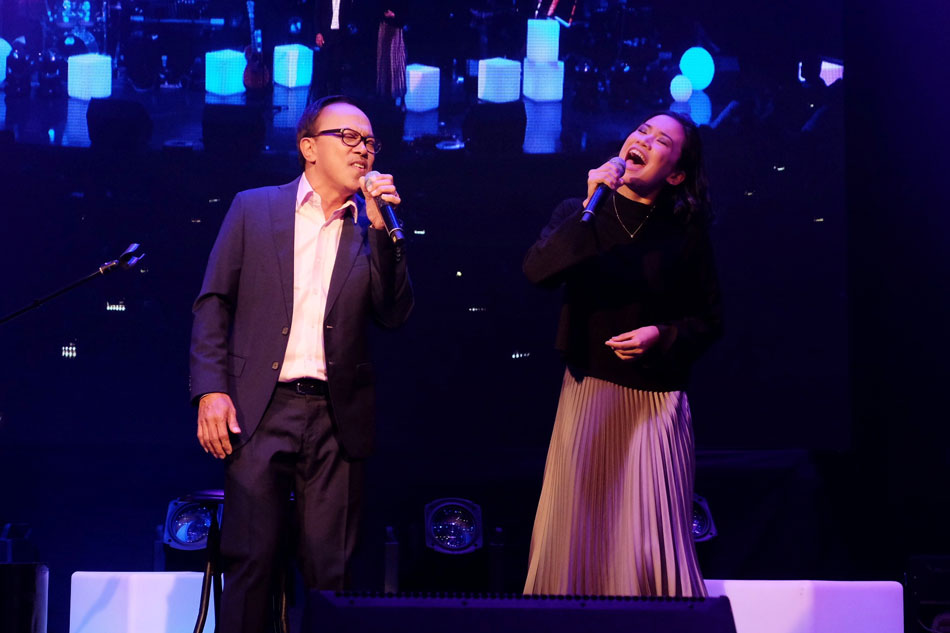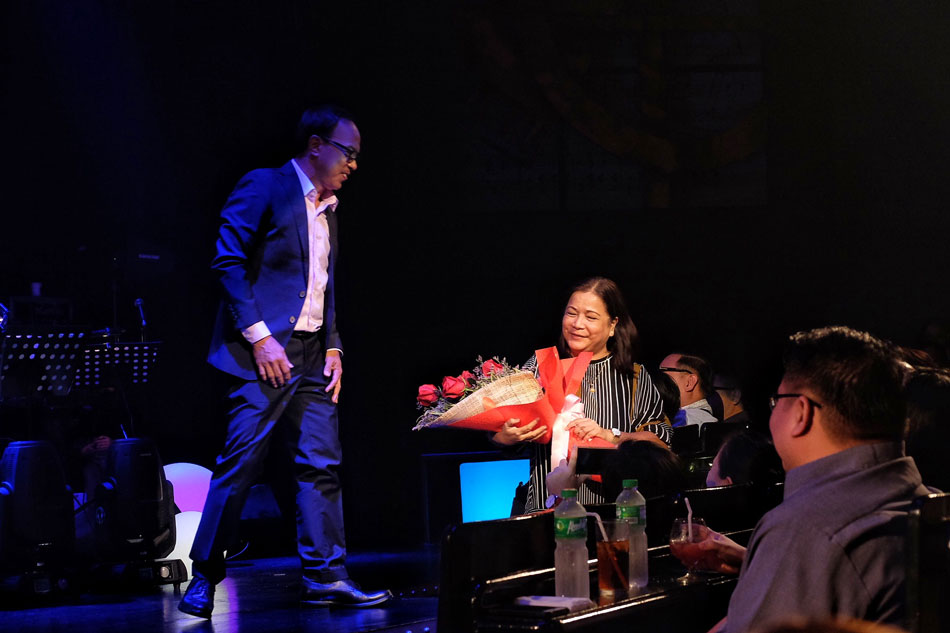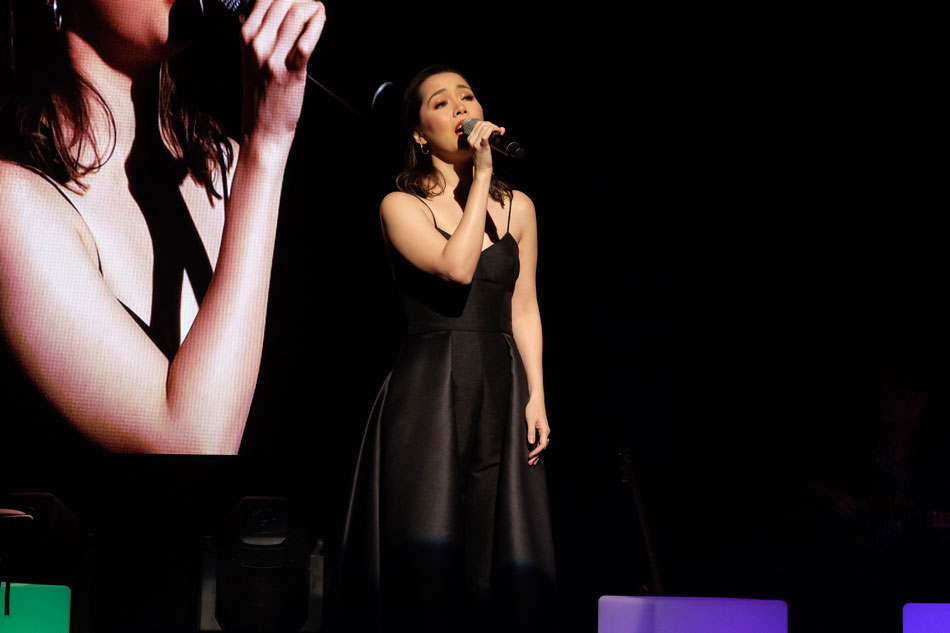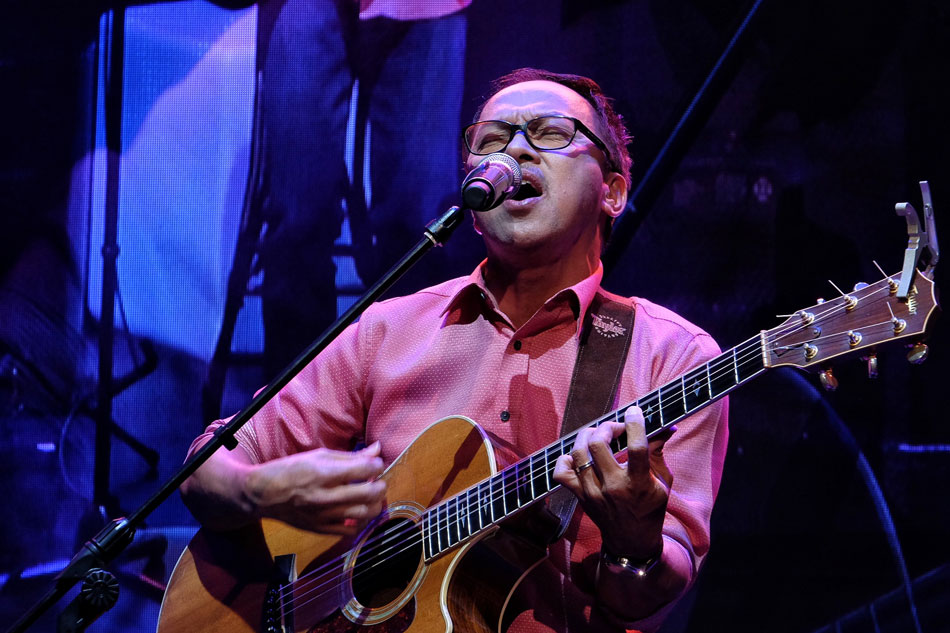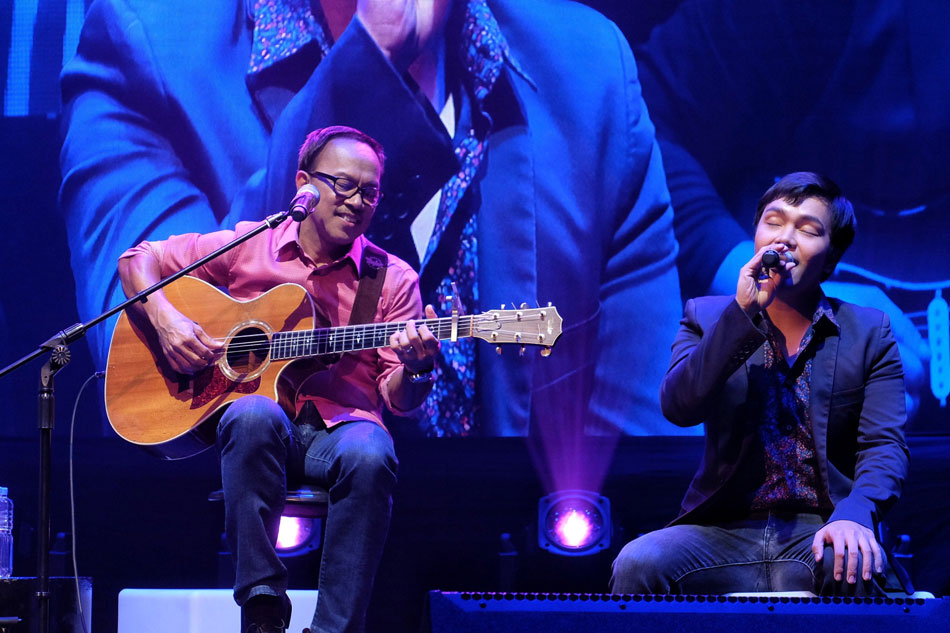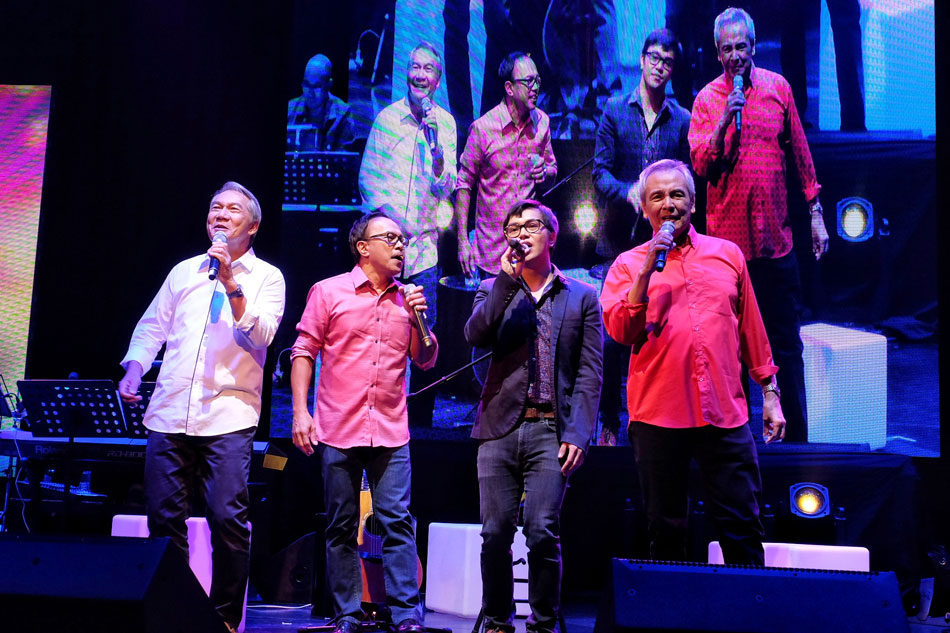 Scenes from Noel Cabangon's concert at the Music Museum. Gian Carlo Vizcarra
Scenes from Noel Cabangon's concert at the Music Museum. Gian Carlo Vizcarra
Scenes from Noel Cabangon's concert at the Music Museum. Gian Carlo Vizcarra
Scenes from Noel Cabangon's concert at the Music Museum. Gian Carlo Vizcarra
Scenes from Noel Cabangon's concert at the Music Museum. Gian Carlo Vizcarra
Scenes from Noel Cabangon's concert at the Music Museum. Gian Carlo Vizcarra
Scenes from Noel Cabangon's concert at the Music Museum. Gian Carlo Vizcarra

MANILA — Seeing singer-songwriter Noel Cabangon in a suit for his "Himig Ng Pag-ibig" concert and you immediately know that you are about to witness a different musical experience. The jampacked pre-Valentine's Day show was held Wednesday, February 13, at the Music Museum.
"This is my first ever Valentine show," mused the multi-platinum recording artist, whose colorful career spans more than three decades. "And, I want to thank everyone for choosing to spend this night with me."
Though looking a bit more dapper than his usual casual outfits, Cabangon's sincere vocals and timeless musicality were still in full display during the concert, produced by Ogie Alcasid's A Team.
"Himig Ng Pag-Ibig," according to Cabangon, is a celebration of the many faces of love through timeless, memorable love songs.
He opened the show strongly with a string of OPM iconic hits – Basil Valdez's "Nais Ko," and "Ngayon At Kailanman," Rico J. Puno's "Sorry Na, Pwede Ba," and Rey Valera's "Kahit Maputi Na Ang Buhok Ko," also one of Cabangon's biggest hits from his super successful "Byahe" album.
He then performed two duets with promising singer-songwriter Bea Lorenzo, who impressed the audience with her powerful pipes and talent in playing the kalimba, an African musical instrument. Though coming from two different generations, Cabangon and Lorenzo sounded good together in their stirring duets "With You, I'm Born Again," and "How Do You Keep The Music Playing."
The singer-songwriter then became sentimental recalling, his love story with his wife Beng, who is also the executive director of the Philippine Educational Theater Association (PETA). He dedicated a medley of songs for his "north star" – "Your Song," "Dahil Nariyan Ka," and "Ating Awitin."
As a tribute to his musical roots, Cabangon then shared the stage with theater actress and "Rak of Aegis" star Sheila Valderrama- Martinez, who previously jammed with him during a party at PETA. They performed "Somewhere" from "West Side Story" and "All I Ask Of You" from "The Phantom of the Opera."
Cabangon talked about vocation and love for God when he segued into his soulful rendition of Simon and Garfunkel's "Bridge Over Troubled Water."
No Noel Cabangon concert is ever complete without a James Taylor song, so he dished out "Shower The People." Cabangon is, after all, dubbed as the "James Taylor of the Philippines."
"It has been a while, since I've written an original song," declared Cabangon before singing his new song "Pipiliin Pang Maghintay." "This is inspired by the works of Willy Cruz, George Canseco na may magandang mga titik at melodiya."
The past years has solidified Cabangon's track record as a multi-platinum recording artist with the hit "Byahe" series, and tribute albums to Ryan Cayabayab and The Apo Hiking Society. These albums feature him giving his own flavor to previously released hits.
Fittingly, two members of the legendary Apo Hiking Society, Boboy Garrovillo and Jim Paredes, were called in to perform a medley of some of their biggest "love" hits – "Nakapagtataka," "Tuyo Nang Damdamin," "Pag-ibig," and "Ewan." This number was warmly welcomed by the appreciative audience.
It was followed by perhaps one of the show's highlights – the sentimental "Batang Bata Ka Pa," which featured the APO, Cabangon and his son Gab, a promising musician himself. They also jammed to an updated version of "Salawikain."
The father-and-son duo then sang a highly charged number – Cabangon's original anthemic song "Tatsulok," followed by Cabangon's flawless interpretation of Juan De La Cruz band's "Ang Himig Natin."
Cabangon surprised everyone with the inclusion of "The Greatest Love of All," which, of course, talks about self love, in the repertoire.
For the encore, he obliged to perform his signature song "Kanlungan" to the delight of his fans.
Known for his advocacies and love of country, Cabangon closed the show on a very high, positive note with "Ako'y Isang Mabuting Pilipino."
"Himig Ng Pag-Ibig," with stage direction by Paolo Bustamante and musical direction by Marlon Barnuevo, was a sentimental celebration of the immense power of love and music.
Credit belongs to : www.abs-cbn.com