HOKKAIDO, Japan — "Everything under 10 degrees feels just about the same, give or take wind chill," a friend told me. I was asking for tips on how to survive 11-below-zero-degree weather before my trip to Hokkaido with Japan Airlines and Japan National Tourism Organization. Not knowing what to expect, I prepared for the worst — neck warmers, winter gloves, winter gloves with detachable mitten-tops, snow boots that could withstand up to -32… I even bought two aluminized polyester emergency blankets (one for the trip, another for a zombie invasion) just in case. I've only seen snowfall once, in Fukuoka, about seven years ago, but I've never seen an entire island completely blanketed by snow and ice. This trip showed me a lot of firsts, including my first time to fly JAL, and my first time to try their famous beef curry.
In case you're curious, my friend was wrong. In Hokkaido, I discovered different degrees and varieties of freezing. Frozen in the mountains and frozen by the lake are two different types of torture — and it would have been actual torture if not for the activities that JNTO prepared for us. Snow has the ability to bring out the inner child in anyone, and the five-year-old in me was just way too excited to feel cold.
Smelt fishing on Lake Abashiri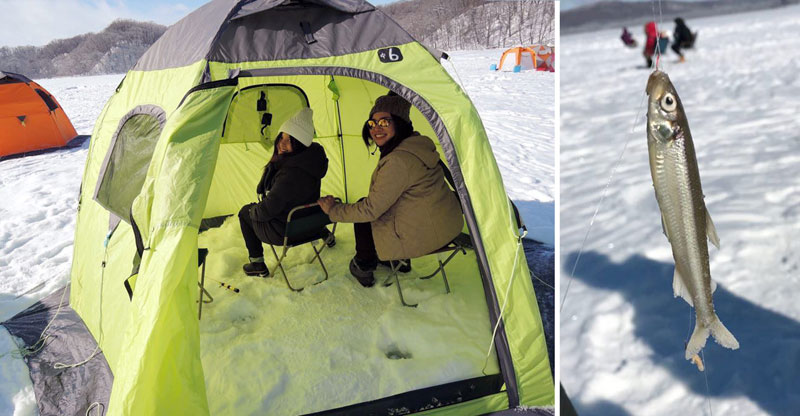 Hanging out on Lake Abashiri, waiting for a fresh catch
JAL flew us in via Haneda, and we took a domestic flight to Memanbetsu to our first stop, Lake Abashiri in Hokkaido. After seeing the Parts Unknown episode where Anthony Bourdain went smelt fishing in Quebec, I had always wanted to try it. It was almost noon and the sun was high — Lake Abashiri, which is covered with up to one meter-thick ice from December to April, is the go-to destination for smelt fishing. It was nice-cold, the kind that still allows you to take your hand out of your pocket to take a selfie. We went in the tent, which already had pre-drilled holes and pre-baited hooks. All we had to do was wait for something to bite. Fishing was a sport for Hemingway but not for me, because I have neither the patience nor the luck it requires, although I can imagine how sitting for hours waiting for a catch could yield deep thoughts. Meanwhile all I could think of was, What's for lunch?
Drift ice walking at Utoro District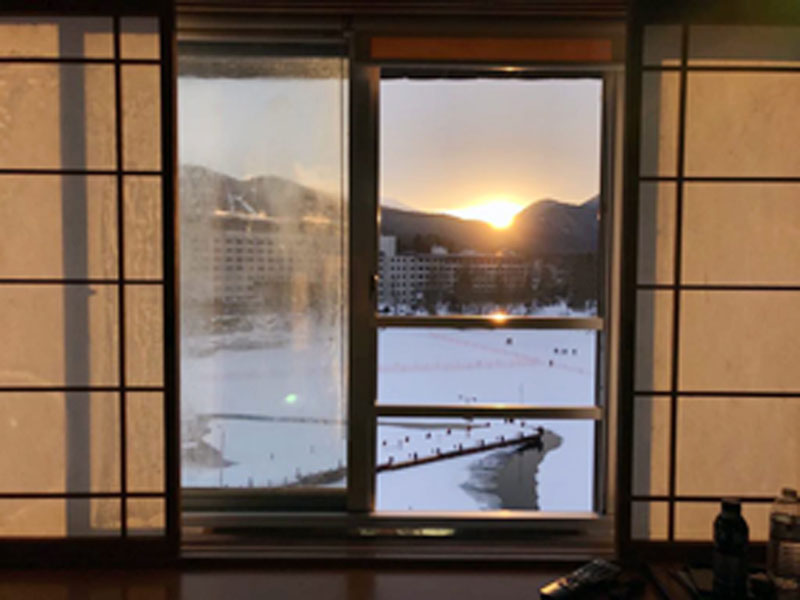 My favorite view: sunset at Lake Akan from my tatami room at Hotel Akanko-so.
The Shiretoko Peninsula is a popular venue for drift ice walking, an activity I'd never heard of before. Because I'm inclined to getting chills and terrified of hypothermia (thanks a lot, Titanic), most of my fellow travelers advised me to join the "injured" lot and not go on the activity. Drift ice walking involves the following: 1) Getting into a super-tight dry suit, which means taking off all your layers by the roadside; 2) Walking on a frozen sea for an hour; and the best part, 3) Taking a dip — butt-first — in the freezing ocean all while trying not to get water in the armholes and neck area of your dry suit. Knowing how clumsy I am in water (I just lost a toenail, RIP, on a previous beach trip), I opted out but enjoyed watching my friends wobble about in the open frozen sea. It's ideal for thrill seekers who are not particularly prone to getting cold. As one of our guides advised: when in doubt, don't.
Ainu Cultural experience at Akankohan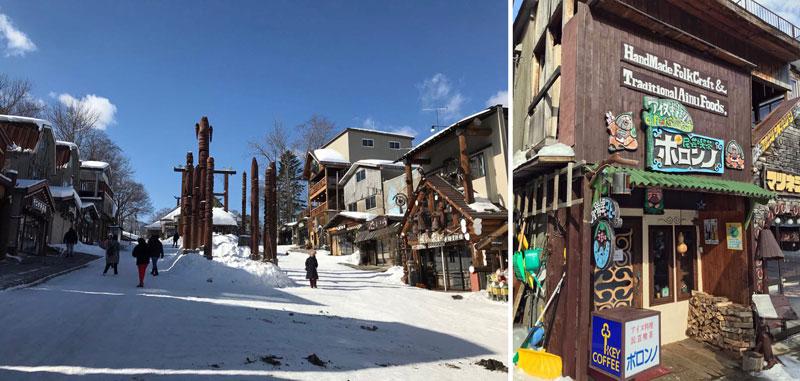 Try wood carving and deer meat at the Ainu Village in Akan.
The Ainu Kotan or "settlement" in Akan brings to mind the Oaken's trading post in Disney's Frozen. Hoo-hoo! Big summer blowout! The quaint-looking village is actually one of the biggest kotans in Hokkaido, and is the home of the Ainu tribe indigenous to Japan and Russia. Located in Eastern Hokkaido, it includes a shopping district of more than 30 restaurants and souvenir shops selling Ainu handicrafts. We went to a wood carving class where we unleashed our competitive streak, and then sampled Ainu cuisine for lunch. Hot tip: Ask before you eat, especially if you are picky. We had vegetable soup with deer meat at a local restaurant. I've had venison before in our province, but that was tapa. Cooked like nilaga, it was a good way to warm up in Akan's biting cold — no breeze, but we could feel the chill in our bones — and get us ready for our next adventure.
Driving a snowmobile on Lake Akan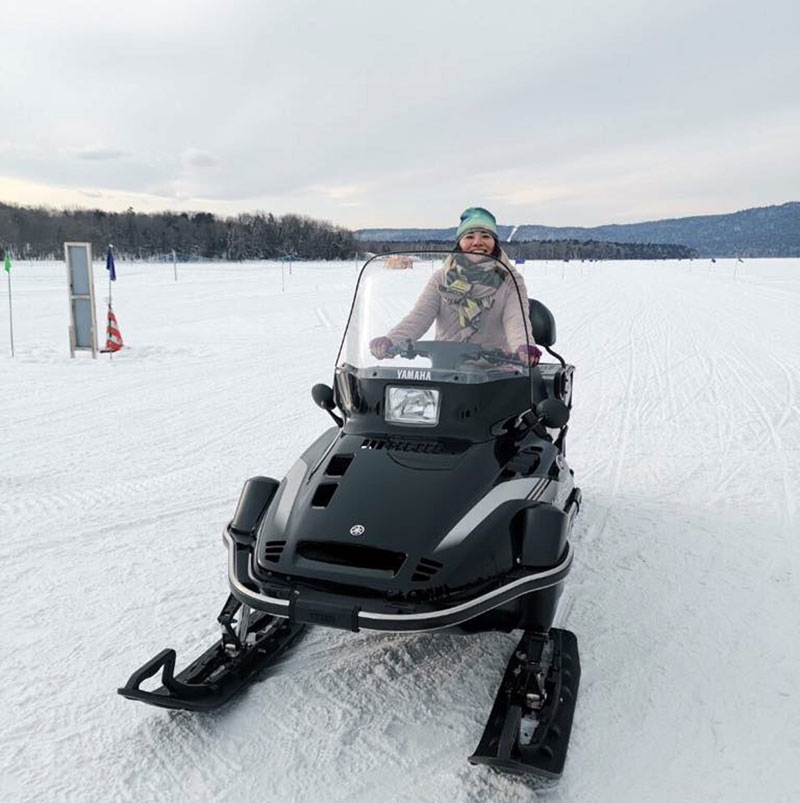 Drive a snowmobile around frozen Lake Akan — no cameras allowed so make sure to give your phone to a friend who doesn't take blurry photos.
My favorite activity was driving a snowmobile. Full disclosure here: I cannot drive. So when I arrived at the snowmobile parking lot late because I had to add more layers of clothing, I was petrified to discover that I was going to drive it myself, alone, when almost everyone in our group went in pairs. Hesitant, I put a helmet on and hoped for the best, which was that I wouldn't fall through thin ice and get trapped underneath it. How to drive a snowmobile according to the instructor? Just press on the gas slowly and only halfway, and instead of hitting the brakes, simply release the gas button. It was the coolest thing I've ever done so far. For a while, I was afraid the exposed parts of my body (nose, fingers) were going to fall off, but the rush of speeding on a slippery frozen lake took over and I forgot all about potentially losing certain extremities. Snowmobile driving is very affordable at 1,500 yen per person for a two-kilometer drive. Longer 4km, 7km and 10km routes are also available for anyone over six years old, while children aged 1-5 can ride a buggy.
Lake Akan Ice Festival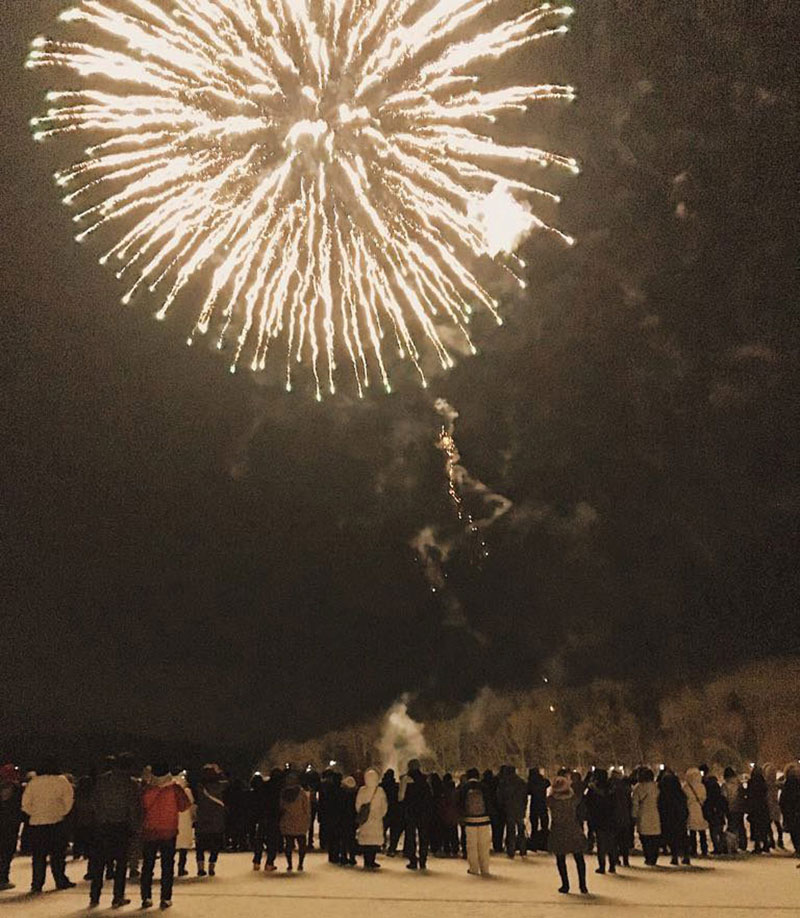 A tale of fire and ice? See it up close at the Lake Akan Ice Festival.
On Lake Akan, tourists and locals celebrate the cold in the middle of the frozen landscape at the Ice Festival, where fuyu-hanabi or winter fireworks are set off daily. The venue of the festival is in the middle of the lake, just five minutes from our hotel, Hotel Akanko-so. We checked into our tatami rooms after lunch and had a few hours to rest before dinner. When checking into a tatami room, don't be surprised if you don't see a bed — the hotel staff assembles the bed during dinnertime.
After dinner, we put all our layers back on (four on top, three on the legs, plus neck warmer, gloves, headgear and an oversized windbreaker courtesy of the hotel) and walked to the Ice Festival. Hot milk was being handed out for free. People were playing mini ice hockey, or keeping themselves warm by ice sawing. There were several highly Instagrammable areas that drew crowds, but the highlight of the event was the short but amazing fireworks display. Sparkly flames against an icy backdrop? It's quite a sight. This year, the fireworks display runs until March 17.
Crane-watching at Tsurui-ito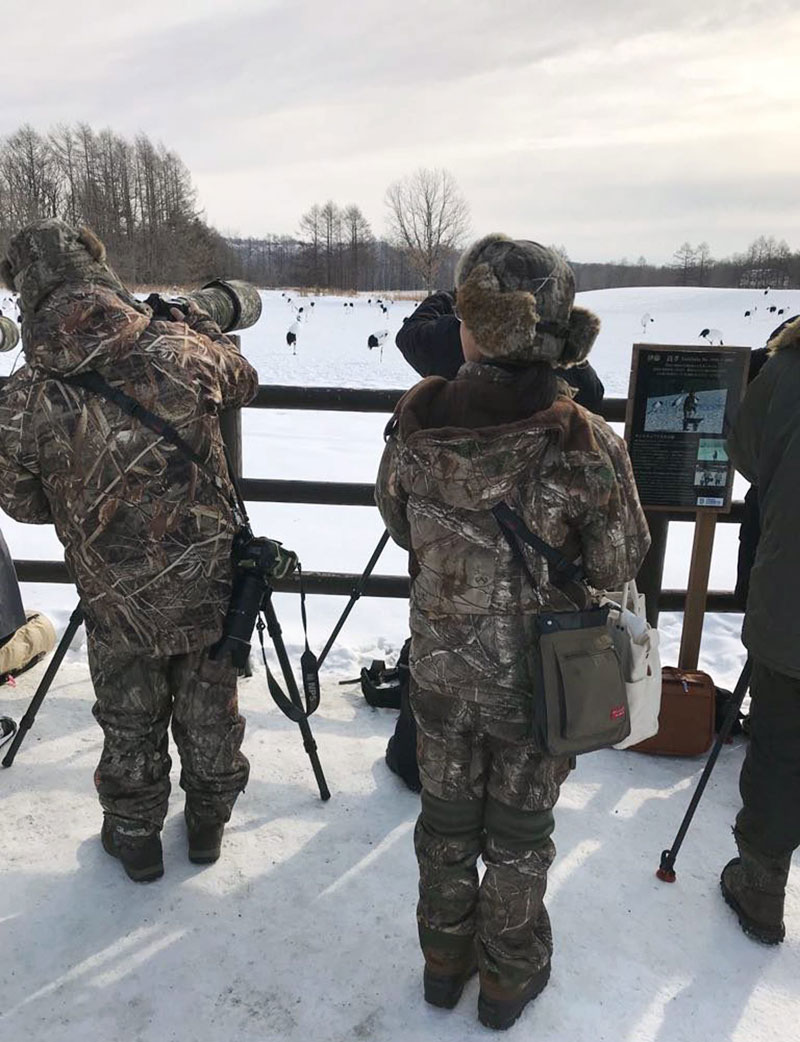 Crane watching at Tsurui-Ito Tancho Sanctuary
The Japanese crane or tancho is an endangered bird found mostly in the Hokkaido region. They are said to symbolize longevity, luck and happiness. Wildlife photographers flock to Tsurui-Ito Tancho Sanctuary in Tsurui, about an hour's drive from Lake Akan, to get a glimpse and a NatGeo-worthy photo of these graceful birds. My humble point-and-shoot Nikon camera cowered in the presence of giant lenses, helmed by men and women in head-to-toe fatigue winter gear, but I was able to capture one respectable image through the lens of one of the photographers. Lunch was at Ikeda Wine Castle, where we sampled rum ice cream, sweet wines and had our first taste of steak for the trip.
Winter Wonderland at Hoshino Resort

Spend a night in real-life winter wonderland, the Ice Village at Hoshino Ski Resort.
Ninety kilometers from Ikeda (or 90 minutes by train from Sapporo) is Hoshino Resort Tomamu, an upscale ski resort that is home to the Ice Village, a winter-only spectacle that is only possible in Tomamu, where the temps reach -30. An arc made of ice bricks welcomes guests. If you touch it with your hand (touch, don't lick), you'll notice it's not even wet. Everything is frozen. For a walk-in fee of 500 yen, guests can explore the Ice Village library, frozen bar, theater, and even the exclusive ice hotel rooms where guests can sleep overnight on a bed of ice (wearing a special onesie that looks like a polar bear). At the peak of winter, temperatures can go as low as -30 degrees, which only amplifies the unique Ice Village experience, if you're prepared.
To Tokyo we go

Japan Airlines now has daily flights to Haneda, a domestic hub with flights to different regions of Japan, such as Hokkaido. Don't forget to try their beef curry at the JAL Sakura Lounge.
We ended our trip with a short stop at Shinjuku in Tokyo, flying from Sapporo to Haneda via JAL. One of my favorite spots in Tokyo, Shinjuku for me is a grittier Shibuya, full of interesting side streets and colorful characters. From there, we went to Narita Airport, enjoying, once again, the beef curry at JAL's Sakura Lounge — the perfect bookends to our winter adventures in Hokkaido.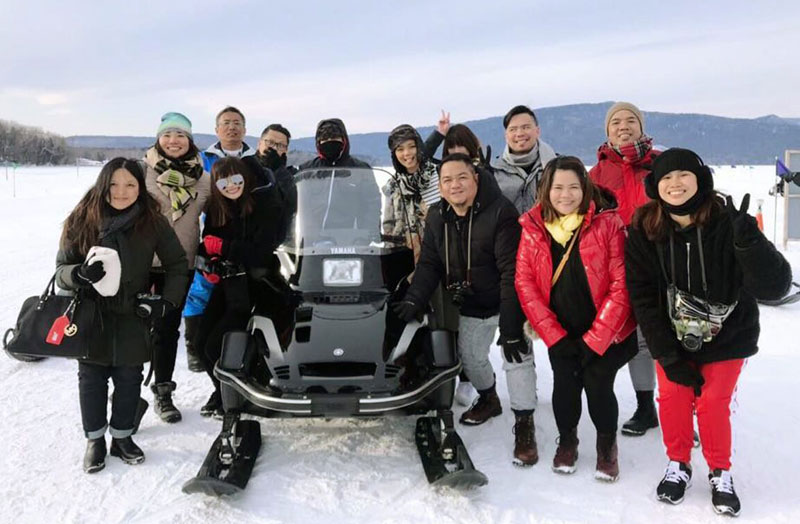 Friends through thick ice and thin: Sam Beltran, the author, Shaira Luna, Ed Uy, Jayvee Fernandez, Rica Garcia, Mika Soya, Melo Villareal, Luis Carlo San Juan, Jookie Radoc, Cid Santillan and Ana Gonzales.
* * *
Japan Airlines now flies from Manila to Haneda, with an early morning arrival that allows travelers to seamlesly connect with flights throughout JAL's domestic network. Together with flights from Narita Airport, JAL operates three flights to Manila daily. For information, visit www.ph.jal.co.jp or www.jal.co.jp.
Credits belong to : www.philstar.com