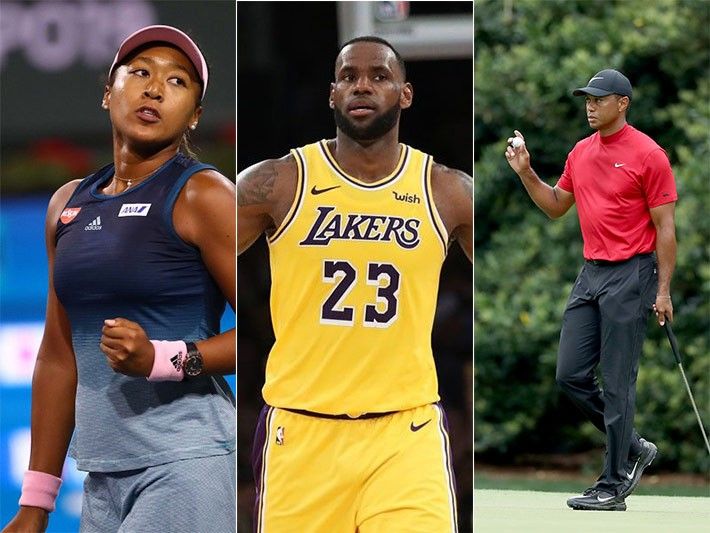 Naomi Osaka, LeBron James and Tiger Woods are all included in Time's 100 Most Influential People of 2019.
MANILA, Philippines — Being an athlete is more than excelling in your sport, especially in today's society.
With young people looking up to them as role models, athletes need to be a good example both on and off the court.
Athletes not only affect change within their sport but also in other areas of society.
From breaking barriers and affecting positive change, being a good athlete simply does not end when the buzzer sounds.
And the sports figures included in Time's 100 Most Influential People of 2019 know it by heart.
Check out which of your favorite athletes made it to the prestigious list:
1. Naomi Osaka
.@ChrissieEvert on @Naomi_Osaka_: "No one represents our more globalized, multicultural future better than this honest, polite, self-deprecating tennis life force, a potential champion for years to come" #TIME100https://t.co/vnmTnpwyC6

— TIME (@TIME) April 17, 2019
The 21-year-old World No. 1 gets the nod following her Australian Open final win.
Osaka, who won her first Grand Slam title in an infamous US Open final against Serena Williams, became the youngest woman to be ranked No. 1 since Caroline Wozniacki in 2010.
2. Caster Semenya
Olympic track-and-field champion @caster800m has "already made a singular historical contribution to our understanding of biological sex" #TIME100https://t.co/E33KRdq6E5

— TIME (@TIME) April 18, 2019
World and Olympic track-and-field champion Caster Semenya has fought battles in and out of the track.
As she continues to battle controversy concerning her biology, Semenya's success and influence could open the door for a more equal and nondiscriminatory treatment in the sport.
3. Mohamed Salah
.@MoSalah: "People always have big expectations from you. You see the kids, they're wearing your shirt and they say they wish they could be like you one day" #TIME100https://t.co/WS9zrIKhKFpic.twitter.com/EshT5V3anQ

— TIME (@TIME) April 17, 2019
Mohamed Salah is one of the best football players, but this hardly gets into his head.
Despite playing in high pressure matches, the Egyptian footballer continues to play with a humble and joyful demeanor.
4. LeBron James
.@WarrenBuffett "Early heroes will mold a person's future. LeBron @KingJames has justified the adulation of millions and millions of young people" #TIME100https://t.co/vbkDGP7wlr

— TIME (@TIME) April 17, 2019
To say that LeBron James is the most influential basketball player is far from hyperbole.
But James doesn't limit himself to the hardcourt.
Giving back to his hometown in Akron, Ohio, James built his I Promise school for disadvantaged kids.
5. Tiger Woods
.@jtimberlake celebrates @TigerWoods for "arguably the greatest comeback in sports history" #TIME100https://t.co/nMUSw7BlLv

— TIME (@TIME) April 17, 2019
Golf phenom Tiger Woods gets the nod after his show of resilience.
Woods, who had his own share of struggles in recent years, won his 15th career major last April 14. It was his first since 2011.
It will go down as one of the greatest comebacks in sports history.
6. Alex Morgan
.@MiaHamm on soccer champion @alexmorgan13: "I am incredibly grateful that the future of our game is in such good hands" #TIME100https://t.co/paufwiKULw

— TIME (@TIME) April 20, 2019
Alex Morgan plays for the best women's soccer team in the world, and she's having the best year of her career.
Being a leader in women's soccer, Morgan makes a significant impact on young girls.
7. Ninja
".@Ninja is an absolute legend, and someone to whom we owe a lot for making gaming what it is today" #TIME100https://t.co/aj7lXVglAo

— TIME (@TIME) April 17, 2019
With the popularity of E-sports on the rise, it's difficult to ignore Fortnite player Ninja's influence in today's world.
Being the best in his craft, Ninja may be the push E-sports needs to breakthrough the barriers.
8. The Rock
Dwayne @TheRock Johnson "is the true embodiment of the idea that people may forget what you said, people may forget what you did, but people will never forget how you made them feel," @GalGadot writes #TIME100https://t.co/TAMH4CRvn9pic.twitter.com/5OKxrzso09

— TIME (@TIME) April 17, 2019
Meanwhile, former WWE superstar Dwayne "The Rock" Johnson also gets a nod in the prestigious list.
Although Johnson was listed as an artist, his impact on the wrestling world is not one to ignore.
Credit belongs to : www.philstar.com