ANAHEIM, Calif. — There's nothing quite as welcoming as a Wookie embrace. This I learned upon entering Galaxy's Edge in Disneyland through the Frontierland portal and seeing the six-foot-something Chewbacca there, head cocked, ready to greet guests. As soon as you get a large furry arm wrapped around you, the inner Star Wars fan melts; you feel like you're home.
We were there on the eve of D23, the massive Disney fan convention held in Anaheim every two years. This year marked even more surprises from Walt Disney Company chairman Bob Iger, as not only did Galaxy's Edge theme park open to immense fanfare last August, Disney was about to drop details about its streaming service, Disney Plus, at this weekend's D23 convention.
Media guests from around the world, including the Philippines, were invited to a pre-dawn behind-the-scenes visit to Galaxy's Edge before the park even opens at 8 a.m., including a ride on Millennium Falcon: Smugglers Run, the current centerpiece of the $1 billion, 14-acre Star Wars-themed attraction inside Disneyland.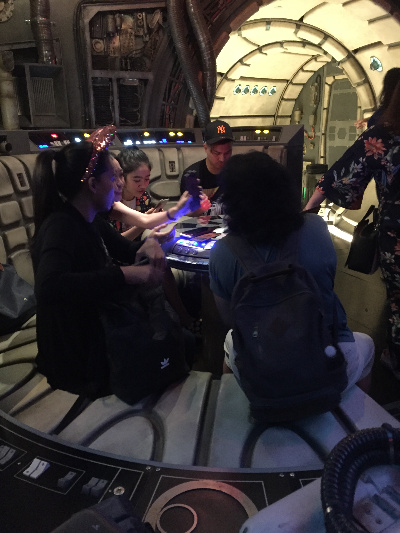 Inside the Millennium Falcon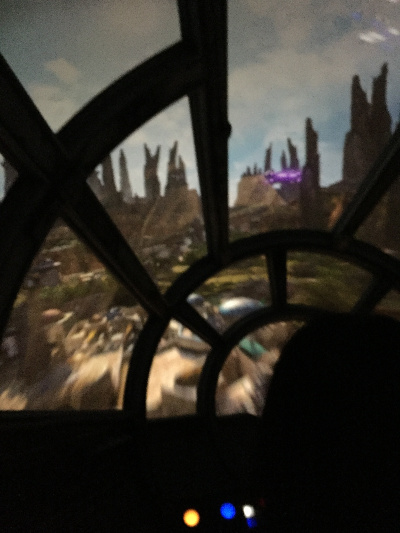 Inside the cockpit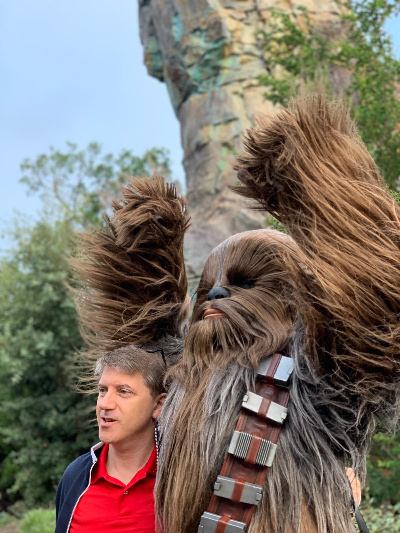 Me and Chewie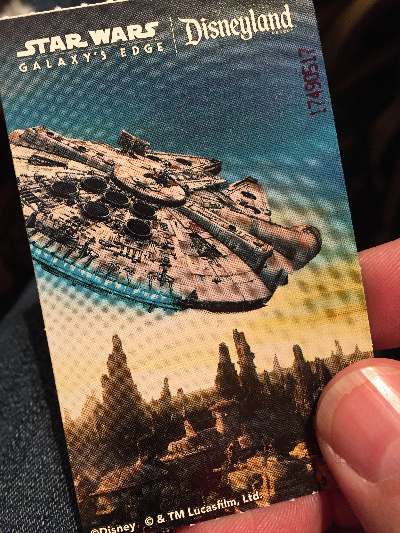 Galaxy's Edge day pass.
Han Solo's old ship is parked there at Smugglers Landing, and it's a faithful replica from any angle (the one used for the movies was only seen from certain sides). Inside, guests are given one of three roles — pilot, gunner, or engineer — and get to hang out in a detailed recreation of the Falcon's interior, down to the circular Dejarik board game — the one Luke and Chewie famously played in Episode 4: A New Hope, though without the holographic creatures battling to the death.
In Smugglers Run, you're assisting Hondo Ohnaka, a Clone Wars character who wants you to fly the Falcon to Corella to retrieve a certain coaxium to help the Resistance. After you strap into a dead-on recreation of the Falcon's cockpit (worn leather seats and Chewbacca growling in the background and all), your job is to "protect this pile of bolts at all costs," according to the guide. Blast into hyperspace, shoot Imperial vessels, and help keep the ship from falling apart mid-mission — all these assigned roles actually make it a very immersive, interactive ride.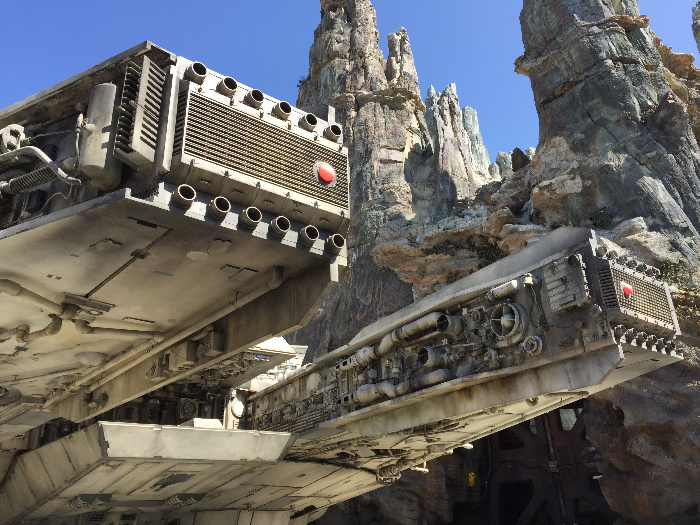 The MIllenium Falcon up close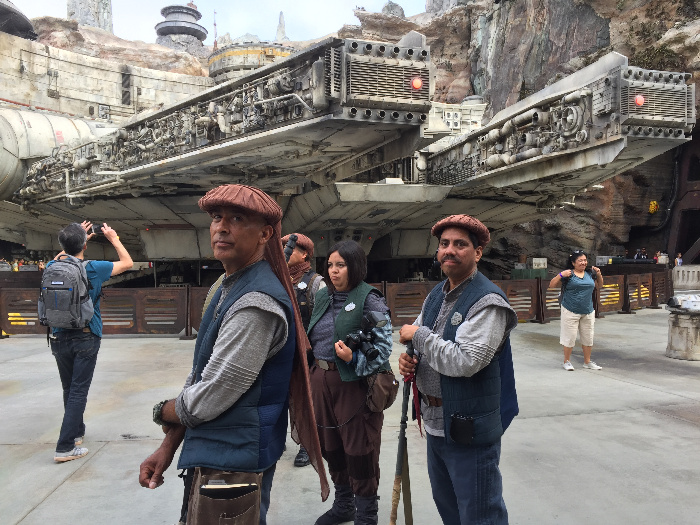 Daytime Smugglers' Run
Also interactive are the Stormtroopers, who roam the park warning guests ("citizens") to fess up about any "resistance" activity they've seen in their midst. Just as bumblingly officious as they tend to be in the movies, they're as likely to tell you to "move along" as they are to stop and take a selfie.
It could take days and days to absorb all the little details inside Galaxy's Edge, from the carefully etched blaster holes in the city's walls to the park employees' chirpy greeting ("Bright suns!") whenever you approach them. According to Kirstin Makela, Walt Disney Imagineering art director, "We went a step beyond, almost like anthropologists" in designing Galaxy's Edge. With Iger's plans to develop not one, but two parks (the second will open in Florida later this year), Makela's team truly delivered on capturing how the people in Black Spire Outpost on remote planet Batuu might live in a real space, down to every last detail. It has the feel of an old marketplace, with a handmade, worn-and-torn quality.
We got a bit of lowdown on the second attraction which opens Jan. 17, 2020: Not a ride per se, Galaxy's Edge: Rise of the Resistance will feature a more interactive platform on an Imperial cruiser deck, where Kylo Ren is said to make a scary appearance.
For the time being, for your own interactive experience, start by entering the Droid Depot, where (for US$99.99) you can construct a remote-controlled R-series or BB-series droid with custom colors and parts. (They're so cute and reactive, if you turn them on in the park, they might start to squeal and beep when approached by Stormtroopers.)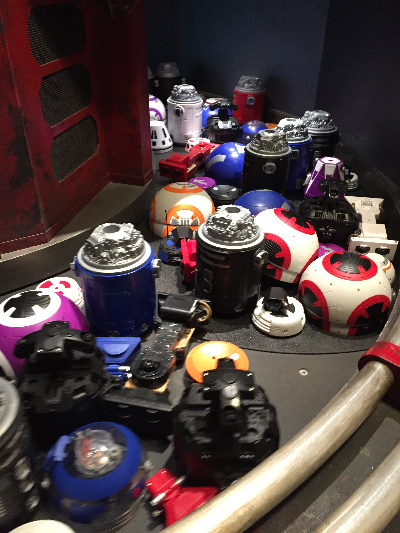 Droid Depot parts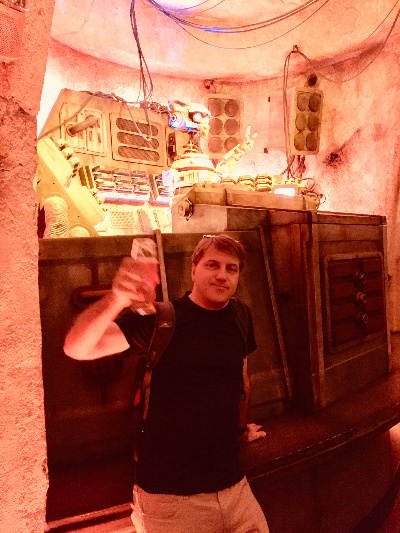 Dranks DJ Rex booth
For a real taste of the Force, enter Savi's Workshop, and build a custom lightsaber (US$199): choose your own kyber crystal (green, blue, purple, red), each with its own energy stream, and select colored scrap metal parts guided by your inner power (bright silver is peace and justice; dark metal is power and control). Pick it up: it's made of metal, so it has real heft; turn it on and it woooshes! when you swing it.
Savi's Workshop probably comes closest to capturing the essence of the Force that SW fans have long craved since Luke Skywalker first picked up Ben Kenobi's lightsaber. "It's the most epic of all spaces in Galaxy's Edge," says Makela. "A lot of people come close to tears when visiting Savi's Workshop." (It's also hugely popular, so you may need to make an appointment on the Disney Play app before getting inside.)
A wretched hive of scum and villainy
If you're in need of libations, Oga's Cantina is a place with a story to tell. Inside, it resembles Mos Eisley Cantina, though mostly packed with Disney guests. On the night we visited, Chewbacca actually dropped in and slipped behind the bar to "fix" some power generator with a thump of his fist. There's a two-drink minimum that's also a maximum if they think you've had enough; after all, it is the kind of place where aliens and shady deals might go down anytime — a real "wretched hive of scum and villainy," as Obi-Wan would put it.
Oga's Cantina menu coaster
We tried the Outer Rim (a mix of Patron Silver tequila, Cedilla Acai Liqueur, lime juice and black salt on the rim), followed by a Bad Motivator (a tropical Indian Pale Ale concocted specially by Sierra Nevada Brewing Co.) with a side order of Batuu Bits (a mix of salty crackers and wasabi peas). Keep the cantina coasters they put the drinks on — they make nice souvenirs. There's also a DJ named REX (we hear Paul Reubens, aka Pee-wee Herman, supplied the voice), a droid imported from Star Tours to spin cantina hits while ratcheting his robot head to the Mos Eisley Cantina theme.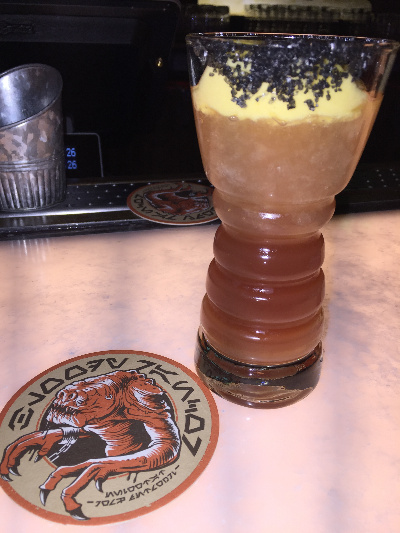 Outer Rim souvenir coaster
And of course, there's Blue Milk. Luke drank it on Tatooine, and you get to try some too, at Bubo Wamba Family Farms, a stand selling both Blue and Green smoothies (like the stuff Luke milked from the thala-sirens of Ahch-To in The Last Jedi). Both are actually a mix of coconut and rice milk, so the lactose intolerant need not fear.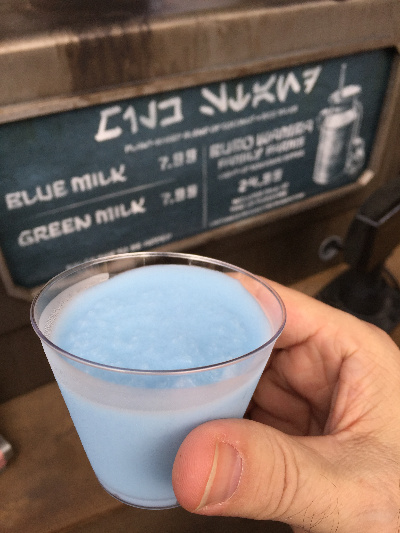 Blue milk
Another treat is a breakfast wrap from Ronto Roasters snack shack: ostensibly cooked from Ronto meat over the flame of a pod racer's engine, it's actually a yummy pita packed with scrambled eggs, pork sausage and shredded cheese. Pair it with a Coke or Sprite "hydration orb" — complete with carefully crafted Aurebesh symbols instead of the Earth-based symbols — designed in partnership with Coca-Cola.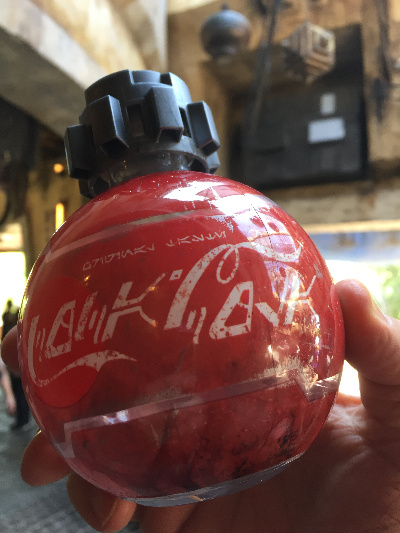 Hydration Orb with Coke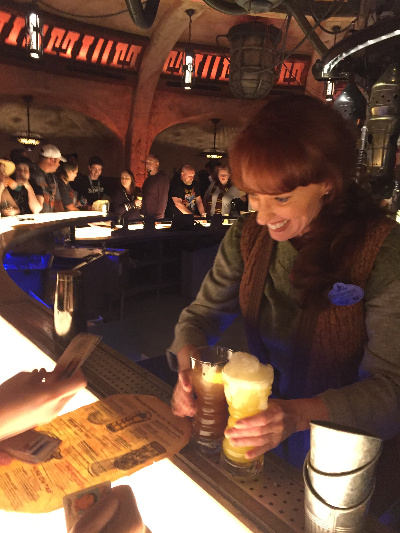 Our server, Carrie
Space dranks! They think of every angle at Galaxy's Edge.
Credits belong to : www.philstar.com