MANILA, Philippines — A few hours before dawn on Thursday last week, my college buddies and I were awakened by deafening silence and a humid climate due to a power outage at the apartment where we stayed in Dumaguete City for this year's short break from the hustle and bustle of Metro Manila.
Instead of getting annoyed, we were actually thankful that it happened because it served as a "wake-up call" or an alarm of sorts, as we had to check-out and catch the early trip to Bais City – a third class city in Negros Oriental.
We visited Bais City to experience for the first time the city's outdoor activities such as dolphin watching and visiting the Manjuyod sandbar, which is known for its pristine white sand that appears inch by inch when the tide recedes.
After checking out, we hailed two tricycles for our group of four on our way to the terminal where we rode an ordinary (non air-conditioned) bus bound for Bais City, which was seven pesos cheaper than the air-conditioned buses.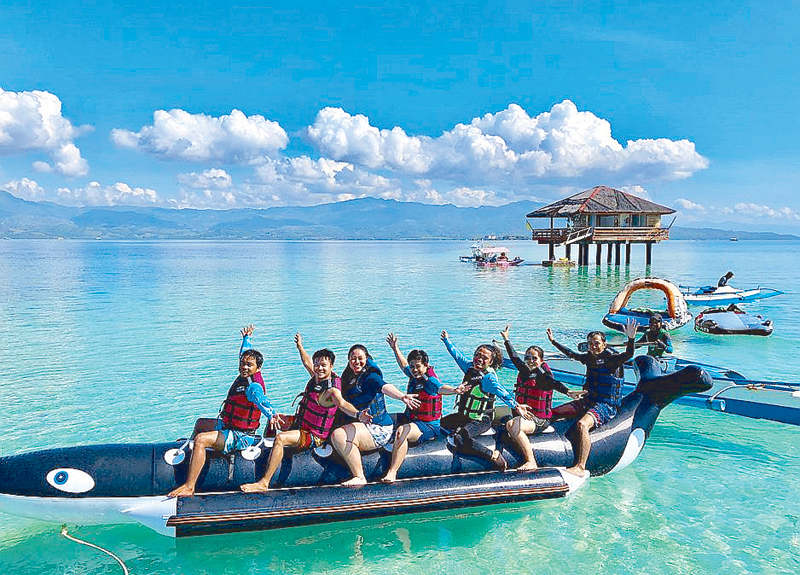 Adventurous visitors try the banana boat ride
While inside the bus, we were delighted by the bountiful agricultural land of Dumaguete as fresh air touched our faces while our eyes were treated to picturesque trees, green fields and huge mountains of different shapes, as we chased the sun rise and blue skies.
After more than an hour we got off near the police station in Bais City where we met Kim, who organized our land and sea transport and prepared our breakfast on the sandbar.
We rented a motorized bangka that ferried us to the Manjuyod sandbar and to the dolphin watching spot.
The dolphin watching activity and the Manjuyod sandbar is open daily from 6 a.m. to 5 p.m.
As we got closer off the coast in the Tañon Strait, we were mesmerized as we were greeted by groups of dolphins diving just a few meters away from us.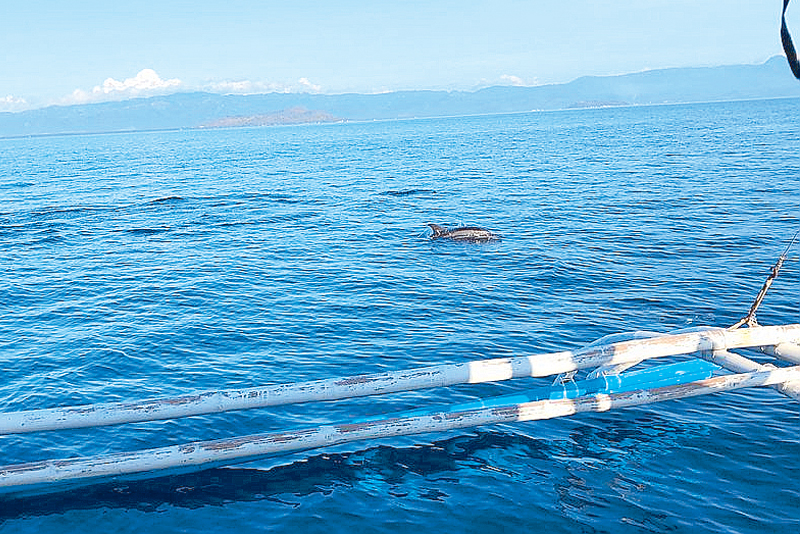 Dolphin watching from the bangka
Dumaguete City's website states that spinner and bottlenose dolphins are the most common species that appear in the Tañon Strait and they usually come in big numbers from March until October.
It was not only the dolphins that we spotted on the sea, but also a few sea turtles that rarely appear on the surface of the seawater along with some big fish of different species and more.
After about an hour – enough time for us to enjoy the dolphins – the bangka then ferried us back to the Manjuyod sandbar that is located just about 15 minutes away from the vibrant port of Bais City.
Kim says, the Manjuyod sandbar was opened to the public about six to seven years ago. Since then, both foreign and domestic travelers have flocked to the destination, especially during summer and vacation season.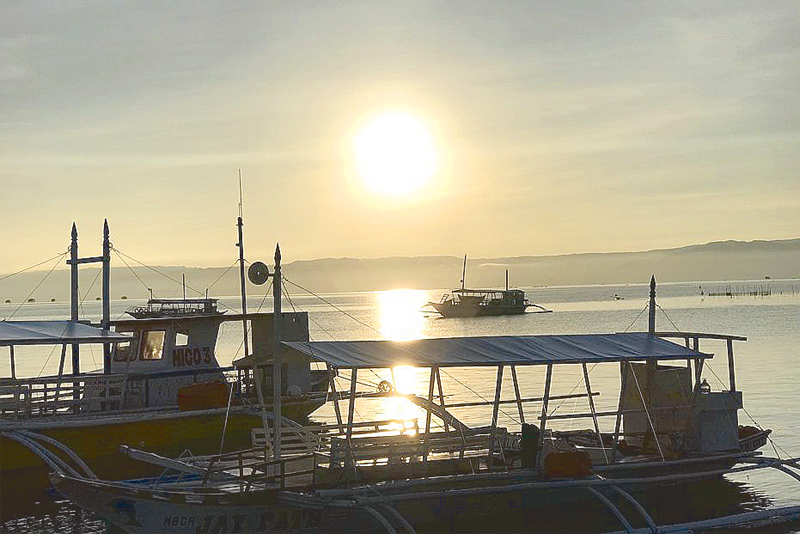 A calming sunset over the water in Bais
Unfortunately, we failed to see the sandbar – described to us by some locals as captivating and seductive – as it was high tide when we arrived at the area, and according to the locals and the vendors there, it usually appears in the afternoon, during low tide.
But the crystal clear waters and the pristine white sand underneath surprised us sans the sandbar.
Even if the sandbar did not show up, we still enjoyed the snorkeling activities. Gear can be rented for unlimited use. Adventurous visitors can go for a banana boat ride and other extreme rides on the floaters.
If visitors get hungry on the sandbar, food is not a problem as there are options nearby at very reasonable prices. Locals sell fresh seafood such as sea urchins and scallops, among others. Some sell freshly harvested coconut juice.
There are five cottages available for rent for an overnight stay, but our merry groud headed back to Dumaguete City before 3 p.m. to catch our flight back to Manila as we bid adieu to summer.
Credits belong to : www.philstar.com