First of two parts
MANILA, Philippines — Once a year from July to August, major thoroughfares all over Jakarta are festooned with red and white banners and well-designed drapes. In homes and buildings, flags of the same bicolor, representing courage and purity, are proudly hoisted. This festive and contagious mood permeates all over the country as Indonesians commemorate their national day. I felt a tinge of envy and a deep sense of yearning at the thrill of anticipation and profound admiration at how people here honor their Independence Day, which is every 17th of August. One month, it seems, is not enough.
More than five years ago, we relocated to Jakarta for the hubby's posting at the Permanent Mission of the Philippines to the Association of Southeast Asian Nations (ASEAN). There's no better time than these days to wax nostalgic at how life had been and how to make the most of our remaining months in Jakarta.
As our Indonesian sisters observe their freedom month, I revel at the incredible experiences we have had while living in this country. I delight in the wonderful places we have visited and explored, savor once more the distinctively delectable cuisine beyond nasi goreng or fried rice. Most of all, I celebrate the incredible encounters we have had and continue to have with our Indonesian friends, many we have regarded as family.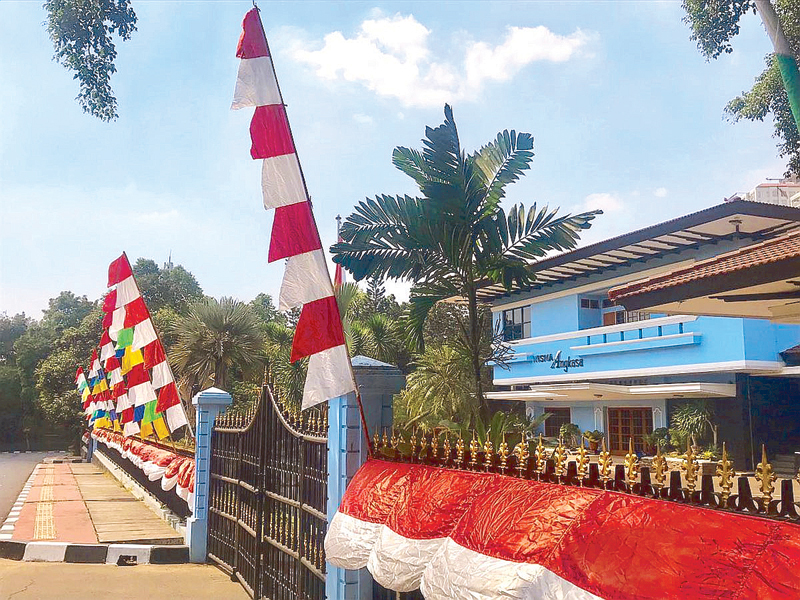 Buildings are festooned in red and white to celebrate Indonesia's National Day.
Jakarta in two days
Family and friends have come and continue to visit us, some on extended stays, others on limited time. Either way, over the years, I managed to draw up itineraries that have been proven efficient, interesting and fun, leaving our guests satisfied with the sights, sounds and tastes of Jakarta, sometimes extending to nearby Bogor and breezy Bandung or a short flight to the ancient capital Yogyakarta or to the holiday destination Bali.
When touring the capital, we usually start the day at Monas, short for Monumen Nasional. Indonesia's National Monument, which took more than 10 years to build and was opened to the public in 1975, symbolizes the Indonesian people's struggle for freedom. A gold-coated "flame of independence" crowns the 137-meter high tower. It is grandly positioned at the center of Merdeka or Freedom Square, in Central Jakarta amidst a sprawling open field bordered by patches of towering trees, whose shades serve as resting places for tired promenaders.
Beneath the tower is a series of more than 50 glass-encased dioramas that vividly tell the colorful history of Indonesia. The narratives – from pre-historic times until the end of the Soekarno regime – are in English and Bahasa Indonesia. On his first visit here, my father, who is a history buff, patiently read the diorama descriptions for almost two hours. He was awed at how much more he has learned about Indonesia's history. A couple of friends have likened the place to a smaller version we have at the Ayala Museum in Makati and wished we had a bigger showcase in our National Museum.
My daughter, on the other hand, preferred to ascend the Monas view deck, accessible by a high-speed elevator. Atop the tower, one gets a splendid view of the city from different angles. The first time I went up to the observation deck was on an early morning, shortly after the park opened. At this time of the day, the queue to the view deck is a lot shorter.
Not too far from Monas are two structures that speak symbolically of what living in this country is all about. Where else in the world can we find a city where two edifices representing two of the world's most recognized religions face each other?
The Istigal Mosque, known as the largest mosque in Southeast Asia as it can accommodate more than 200,000 worshippers all at the same time, impressively stands like a big, protective brother to the nearby Jakarta Cathedral or the Church of the Lady of Assumption.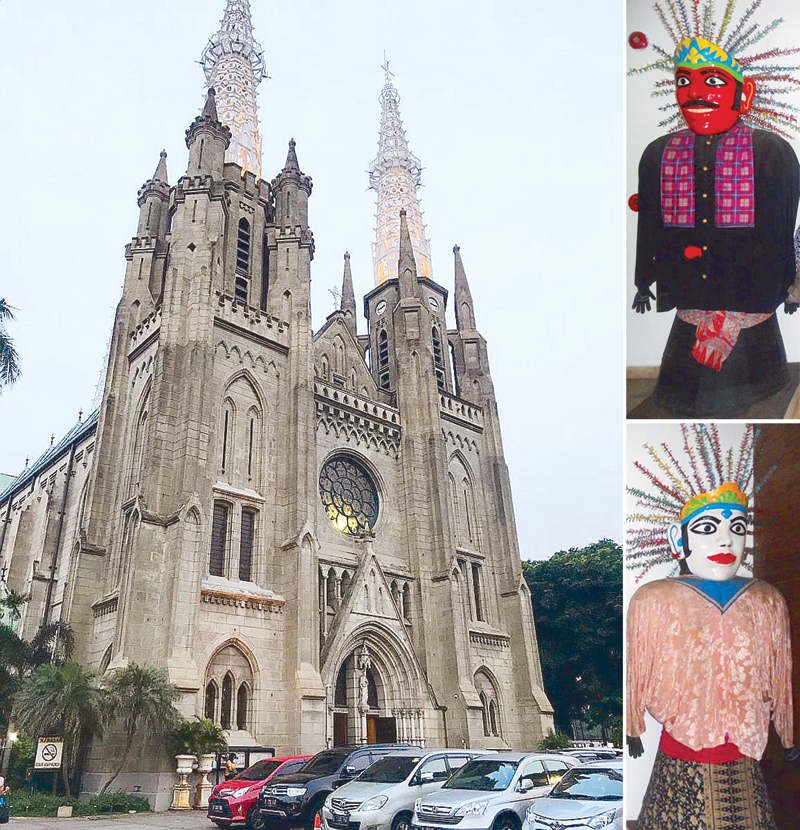 Lady of the Assumption church or Jakarta Cathedral (left). Ondel ondel or giant puppets (right).
The neo-gothic cathedral, with its spires mounted like a pleased and supportive sibling of the Istigal, is the seat of the Roman Catholic Archbishop of Jakarta.
On a particular Friday a few years back, two of my high school friends and I happened to be in the area. Gazing at the ornately polished dome of the mosque, we heard chants of worshippers as we headed towards the entrance of the century-old cathedral for first Friday Mass.
I thought of how powerful prayers were on that day when the faithful of two inspiring faiths lifted up their petitions in harmony.
Kota Tua or Old Town north of Jakarta reminds me of our own Intramuros. I love bringing friends to the Fatahillah Square of this once walled city. It's best to come on weekdays, except Mondays when museums are closed, in order to explore the adjacent galleries.
Places of interest such as the Wayang, Fine Arts and Ceramic, Jakarta History, Banks Indonesia and Mandiri Museums never cease to fascinate me. Inside these historical edifices are showcases of ancient artifacts or contemporary pieces reflective of Indonesia's rich and vibrant culture.
The Wayang Museum is one of my favorites, having watched few abridged, yet entertaining versions of a wayang kulit performance in Bali and Yogyakarta.
Wayang kulit or shadow puppets are described as "crafts of very finely cut and carved untanned leather which are then beautifully painted over." A wayang performance is accompanied by a live gamelan orchestra.
A gamelan is a traditional ensemble of music from Java and Bali, mostly made up of percussion instruments. Wayang kulit is usually performed in village settings and depicts themes on love, war, marriage or birth and politics.
An Indonesian friend told me she once watched a wayang performance in their kampung or village from dusk to dawn. Anticipating that the show could last for more than eight hours, they brought along mats and blankets while old folks brought tea in thermos bottles. I have yet to watch a complete wayang show.
The whole Fatahillah Square pulsates with life on weekends when locals and tourists alike mingle amid the imposing backdrop of another Dutch colonial building, the old post office.
Children biking, teenagers taking selfies or vendors selling their ware fill up the whole square from morning to midnight.
Cling-clangs from an ondel ondel, a giant puppet featured in folk performances, which is an icon of Jakarta, sometimes add to the symphony. Once in a while the aromatic waft of grilled saté coming from street food vendors pervades the air. When dining in Kota Tua we usually choose between Historia, an old building turned into an artsy dining place that serves mostly Indonesian cuisine, or the historical Café Batavia with its fine and sophisticated interiors, which has a wider selection of Indonesian, Continental and European dishes.
Taman Mini
One whole day is not enough to explore Taman Mini Indonesia Indah or the Miniature Park of Beautiful Indonesia. My first time in Taman Mini took me back to Nayong Pilipino of our childhood.
Set in a much larger scale, the 250-acre park impeccably presents Indonesia's opulent culture and tradition.
The various pavilions – from Java, to Sulawesi, Papua etc. – are appealing showcases of the rumah or houses in each distinct province of the archipelago. Of these structures, the most popular, therefore photogenic or instagrammable ones, are the kaleidoscopic houses of West Sumatra.
While there are more than 10 museums inside the park – ranging from insects, Komodo, soldier to oil and gas museums – the Balinese style, four-story Indonesia Museum is home to exhibits such as the wedding costumes of more than 30 provinces of the country. Neatly encased on the ground floor is an extensive selection of colorful, flamboyant attires of the bride and groom representing the provinces of Indonesia.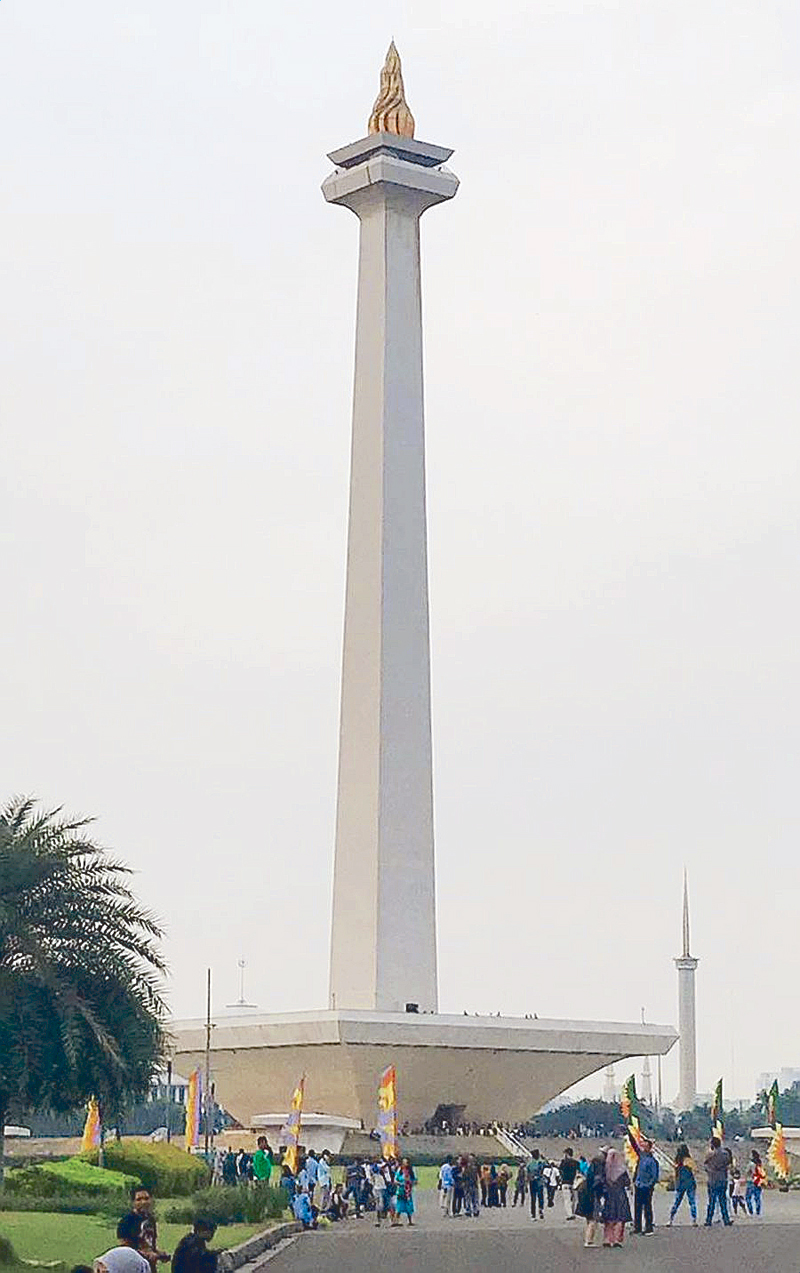 Indonesia's national monument symbolizes the Indonesian people's struggle for freedom. people'sstruggle for freedom.
Mannequin brides are clothed in traditional batik, others are clad in elegant kebaya while some wear the intricate tenun or hand woven textile. On the same floor is a display of a complete gamelan and a set of angklung, a musical instrument from this country crafted from bamboo with varying number of tubes attached to a frame.
Curious and enthusiastic tourists can learn to play the angklung on the spot by simply following the instructions for an easy musical piece posted on the wall.
The remaining upper floors present a vast collection of artifacts such as weapons like the ethnic keris or kris, early bank notes or farm and fishing implements. A lone becak or three-wheeled rickshaw like our pedicab, parked in one corner, is a reminder of one of the modes of transport in the country, pre-taxi, buses and MRT days.
In one section are life-sized dioramas replete with descriptions of long held Indonesian customs such as a boy's circumcision, tooth-filling or a pregnant woman's bathing ceremony.
A friend told me some of these unique rituals are still practiced in villages as they form an essential part of the fabric of how it is like to be genuinely Indonesian.
To be continued.
Credits belong to : www.philstar.com