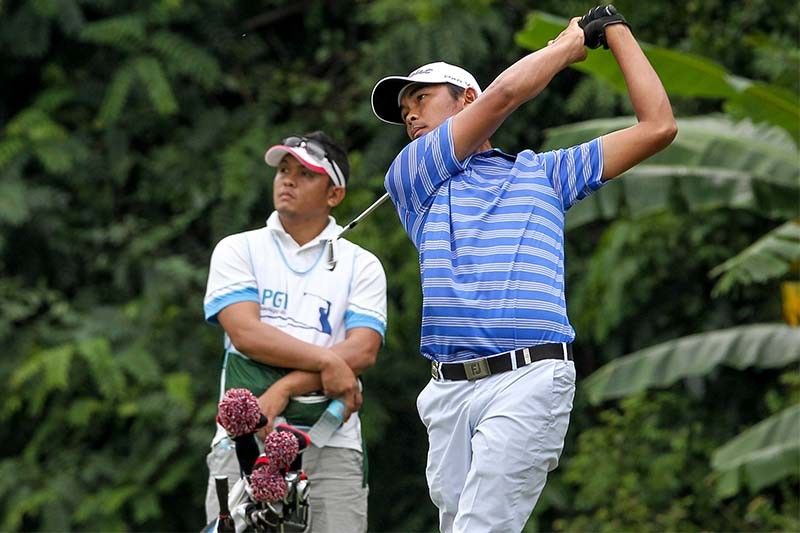 Enjoying top form, Reymon Jaraula looks forward to a successful campaign this time
CAGAYAN DE ORO – Driven by desire to do better after a foldup last week, Reymon Jaraula extended his impressive run of under-par cards to two with a another 66, putting himself back on a place as he was at Wack Wack after 36 holes of the P2.5 million ICTSI Pueblo de Oro Championship.
But this time, he vowed to go all the way.
"I feel I can go all the way. I've been hitting it pretty well and playing without pressure at all," said Jaraula after outdueling fancied Jay Bayron in their hunt for birdies that came like rain again Thursday on the up-and-down layout he calls home.
As erstwhile leader Guido Van der Valk finished with flourish at the front to save a 70 in one of the late flights, Jaraula and Bayron slugged it out shot-for-shot and putt-for-putt for the second straight day with the rising Del Monte star coming out a bit better with another pair of 33s to stay unscathed for two days and go one-up on the veteran Davaoeño shotmaker with a 12-under 132 total.
What made Jaraula's round impressive was he gunned down those six birdies on entirely different set of holes on Nos. 1, 4, 7, 13, 15 and 16 inside six feet. He birdied Nos. 2, 3, 8, 11, 12 and 17 in the first round.
Bayron, who hit two eagles to match Jaraula's first 66, also shot six birdies but bogeyed the tough par-4 No. 15 for the second straight day to settle for a 67, remain at second at 133 and on track at redemption after missing the cut at Aboitz Invitational.
"Magaling talaga (He's really good)," said Bayron of the 27-year-old Jaraula, whom he'd play with for the third straight today (Friday) and possibly up to the final round of the P2.5 million tournament sponsored by ICTSI fast shaping up to be a two-man affair.
Make it three as Van der Valk, who took command in the first round with a 65, rebounded strong from a triple-bogey mishap on the par-4 11th where he hit the green but the ball bounced and rolled into the bunker and into the hazard. He made two birdies against a bogey for a backside 38 start but racked up four birdies at the front to salvage a 70 and a 135.
"I was a bit unlucky (on No. 11) and didn't deserve a 7. But I was able to finish strong," said Van der Valk, back in the hunt for a second crown in the 10th season of the Philippine Golf Tour after ruling the Club Filipino de Cebu Invitational last June.
Ira Alido birdied three of the last seven holes at the front to shoot a second 68 for solo fourth at 136, while Jhonnel Ababa fought back from a mediocre 72 with a flawless 65 highlighted by a three-birdie binge from No. 6 as he jumped to solo fifth at 135, five shots behind.
Johvanie Abaño, Michael Bibat and Zanieboy Gialon, meanwhile, pooled identical 138s after a 67, 68 and 71, respectively, while Ferdie Aunzo fired a 69 for a 139 and Albin Engino (66), Sean Talmadge (66), Tony Lascuna (70), Magno Arancon Jr. (71) and Aussie Fidel Concepcion (71) assembled similar 140s in another day of torrid scoring at the up-and-down layout with sloping fairways and sleek putting surface.
But no player came out better than Jaraula, a Del Monte native who honed his skills and talent here at Pueblo where he also used to be a teaching pro.
"Sort of very familiar with the course. But I'm really playing well lately," said Jaraula, whose best finish was third in his maiden pro tournament at Palos Verdes in 2013.
Credit belongs to : www.philstar.com