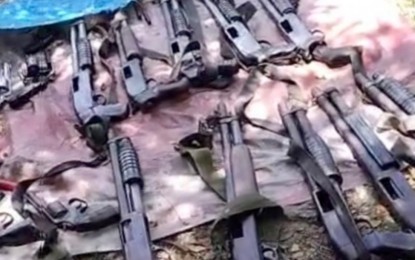 CEBU CITY – Agents of the National Bureau of Investigation-Central Visayas (NBI-7) on Monday arrested 21 security guards manning a prime lot in Sitio Tambis, Barangay Umapad in Mandaue City for carrying their firearms without Comelec gun ban exemptions.
Arnel Pura, NBI-Mandaue field office head, said they confiscated from the security guards of Menirose Security Agency 10 shotguns, 11 revolvers, and a number of bullets.
Pura said the guards were hired by a certain "Jerome" to watch over a property near the proposed location of the approach of the 4th Mactan-Mandaue Bridge.
The bridge project is now under a feasibility study and according to reports, it will be funded through the Japan International Cooperation Agency.
Pura said a complainant, lawyer Gregorio Batilier, wrote a request to the Department of Justice in Manila and asked for assistance, saying the guards entered the premises of his property sometime in January and started harassing him and other people living in the area.
"These security guards were harassing them, they were not allowed to enter in the area, especially after the onslaught of Typhoon Odette, the (residents) were even barred to bring in construction materials for the repair of their houses," Pura told reporters.
After receiving the lawyer's complaint, the DOJ forwarded it to the NBI central office in Manila which, in turn, forwarded it to NBI-Mandaue's office.
After conducting surveillance, NBI agents were able to gather evidence and established complainants on the ground through the documents showing their acts of harassment, coercion, and threats.
Pura said they will invite the management of Menirose Security Agency and probe the identity of the person who actually paid for the stationing of security guards in the lot which, he claimed to be covered under titles and tax declarations.
In the meantime, the guards will be detained for illegally carrying firearms during the gun ban without securing a certificate exemption from the Commission on Elections (Comelec). The gun ban in relation to May 9, 2022 elections started on Jan. 9, the start of the election season, and end on June 8.
The NBI agents in Mandaue City will also check the shotguns and revolvers if they are duly registered with the Firearms Explosives Security Service Agency and Guards Supervisory Section (FESSAGS) in Central Visayas, after noticing that the serial numbers were defaced.
Pura warned that carrying a gun with defaced serial numbers is tantamount to illegal possession of firearms. (PNA)
*****
Credit belongs to : www.pna.gov.ph