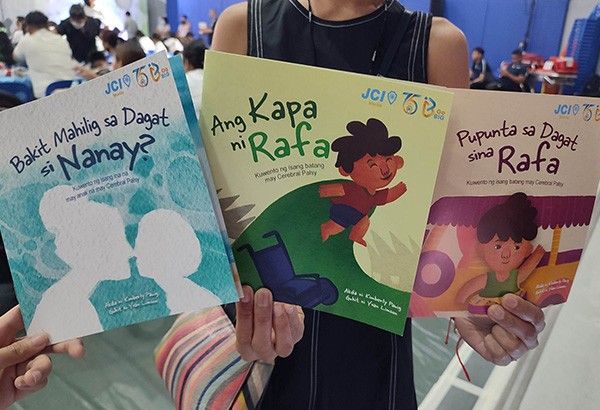 MANILA, Philippines — Premiere development leadership organization JCI Manila has strengthened its support for Cerebral Palsy (CP) awareness by launching a three-series book that would help more people understand the condition and provide support for families of those born with it.
The three books, written by Kimberly Pauig and illustrated by Yvan Limson, were launched during a symposium hosted by JCI Manila at the San Andres Sports Complex.
During the event, speakers discussed the Bobath method, developmental pediatrics, and the rights of Persons with Disabilities (PWD). JCI Manila has supported the advocacy for increased Cerebral Palsy awareness through its own Project-CPAG (Cerebral Palsy Awareness Group) since 2015.
"The main objectives of this event are for CP warriors (patients) and their families to have access to relevant medical practices and practitioners through the publication of a book highlighting the Bobath Approach," said Bobbit Castro, JCI-Manila CPAG Chairman.
The event attendees included 100 CP warriors and their families, Manila's local city health office, representatives from local government hospitals, and JCI Manila officers and members.
The symposium was a Discussion on Bobath Method approach, Developmental Pediatrics, and the rights of Persons with Disabilities (PWD). Bobath is a physiotherapy treatment which aims to improve movement and mobility in patients with damage to their central nervous system (brain and spinal cord). Many physiotherapists use Bobath in the rehabilitation of patients with CP.
For the symposium, the panelists were Dr. Pablo Beleen, a renowned international specialist in treating CP and pediatric rehabilitation; and Dr. Alexis De Leon Reyes, a pioneering developmental and behavioral pediatrician.
JCI Manila is launching the easy-read three-series book in collaboration with Dr. Pablo Beleen, a renowned international specialist in the treatment of cerebral palsy and pediatric rehabilitation, and CP Cares, an empowered CP community composed of patients (CP Warriors) and their families.
The first book, "Ang Kapa ni Rafa," focuses on raising awareness about CP and showcases the daily life of a patient. The second book "Bakit Mahilig sa Dagat si Nanay?" is told from the perspective of the families of patients while the third one, "Pupunta sa Dagat si Rafa," narrates how it takes a village and a lot of compassion to help provide the best life CP patients could have.
The CP Warriors and their families got to listen to experts talk about CP, developmental and behavioral pediatrics, and meet other families who are going through the same situation. They also took part in a book reading and were entertained by a short and fun program. After that, they visited the Manila Zoo.
"We'd like to thank JCI Manila and our panelist doctors for doing this in the City of Manila. Increased awareness about cerebral palsy is very important because it helps improve the quality of life of our CP warriors," said Manila Vice Mayor Yul Servo Nieto.
RELATED: Common summer ailments: Symptoms, prevention, treatment
*****
Credit belongs to : www.philstar.com