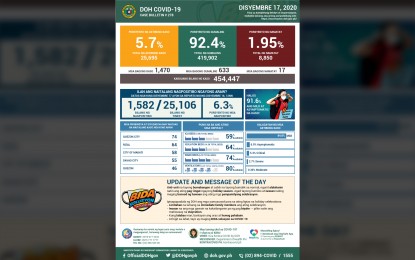 MANILA – The Department of Health (DOH) on Friday reported 633 new recoveries from the coronavirus disease 2019 (Covid-19), bringing the total number of those healed to 419,902 or 92.4 percent of all Covid-19 cases in the country.
In its daily Covid-19 bulletin, the DOH reported 1,470 new infections, with active cases now at 25,695 or 5.7 percent of all Covid-19 infections.
Of the new cases, it said most were reported in Quezon City with 74, followed by Rizal province with 64, Makati City with 58, Davao City with 55, and Quezon province with 46.
Of the active cases, those exhibiting mild symptoms remain the majority at 84.8 percent followed by the asymptomatic at 6.9 percent, those in critical condition at 5.4 percent, those with severe symptoms at 2.7 percent, and those with moderate symptoms at 0.30 percent.
The DOH reported 17 new fatalities from Covid-19 bringing the country's total casualties against the disease at 8,850 or 1.95 percent of all cases.
To date, 59 percent of the country's 1,900 beds at intensive care units (ICU) are available, 64 percent of 14,300 isolation beds unoccupied, 74 percent of 6,700 ward beds unoccupied, and 80 percent of 2,000 ventilators are not in use. (PNA)
Credit belongs to : www.pna.gov.ph