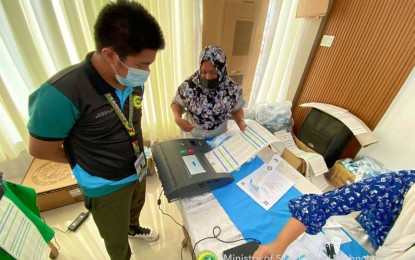 COTABATO CITY – At least 9,132 public school teachers in the Bangsamoro Autonomous Region in Muslim Mindanao (BARMM) are participating in a monthlong training to become Electoral Board Members (EBM) in the May 9 elections.
The Electoral Board Certification Program aims to ensure the EBMs are "capacitated" to properly administer the balloting, Ministry of Science and Technology (MOST) Minister Aida Silongan said Thursday.
Silongan said the training is being jointly conducted with the Department of Science and Technology (DOST) and MOST.
Teacher Mashod Sulayman underscored the importance of the training, saying it has given him confidence in "administering a digital election at the voting precinct level."
Together with 17 regional offices nationwide, DOST is solely mandated by law to implement the EBM certification program, in line with the country's Automated Election System (AES).
AES requires at least one member of the Board of Election Inspectors shall be an information technology-capable person trained or certified by the DOST to use the digital voting system.
Silongan said her office has conducted the electoral board practical or hands-on examinations to equip the teachers in partnership with the Commission on Elections (Comelec) and the Ministry of Basic, Higher and Technical Education.
Currently, there are 27 MOST certifiers deployed in Maguindanao, Cotabato City, Lanao del Sur, Marawi City, Basilan, Sulu, and Tawi-Tawi to administer the certification process.
Silongan said there are three EBMs per precinct, and MOST would at least certify one to two members in operating the vote-counting machines (VCMs).
The chairperson is the head of the three-man electoral board with the two others acting as poll clerk and secretary.
Only the electoral board chairperson and poll clerk are authorized to operate the VCMs.
The training that started on March 13 will end on April 12. (PNA)
*****
Credit belongs to : www.pna.gov.ph