Last March 24, the Jesuit community woke up to the sad, shocking news that Fr. Salty de la Rama SJ, headmaster of Ateneo de Manila Grade School, was found dead in his office early that morning by the roving security guard. Just weeks before, another Jesuit, Fr. Joaquin Bernas, passed away on March 6. Hearing news of Jesuit priests passing is heartbreaking for me, having grown up in a family of Ateneans that includes my grandfather, dad, uncles, brothers, cousins, nephews and son. I also have a cousin, Fr. Gabby Gonzalez, who is a Jesuit as well.
I did not know Fr. Salty personally, but after reading the posts of several friends, I feel as if I knew the man. A video of him using a water pistol to sprinkle holy water on Ateneo Grade School (AGS) boys during Mass went viral. In the homily delivered by Fr. Ro Atilano SJ during the Mass mourning Fr. Salty, Fr. Ro said that whenever Fr. Salty made his rounds in the AGS campus, the boys would run to give him their "little big" hugs. Because of this, the teachers advised Fr. Salty not to walk near the classrooms during exams for fear that an affectionate disruption would take place. Imagine the students running out of their classrooms during an exam to greet and hug their beloved headmaster. Fr. Salty was also the lector and commentator of Radyo Katipunan's daily Masses.
Rapa Lopa fondly remembers Fr. Salty as a happy-go-lucky fellow when they were in the same barkada in college. "Academics was not Fr. Salty's main thing at the time," recalls Rapa. "If he took his studies seriously, Salty would have graduated two years earlier than all of us in the batch."
Though mischief was in his bloodstream, Fr. Salty transformed those immature, fun-loving years into the gift of a child-like humility. This is probably why his last assignment before he was called home by the Creator was to be headmaster of Ateneo Grade School.
For first cousin Butch Ledesma, Fr. Salty was the brother he never had. Their mothers being sisters, they grew up in the family compound. Butch, who has five sisters, never knew what it was like to have a brother. Salty, being a couple of years older, was always caring and open, and became a brother to him. One of the many things they had in common was that they were both naughty when they were kids.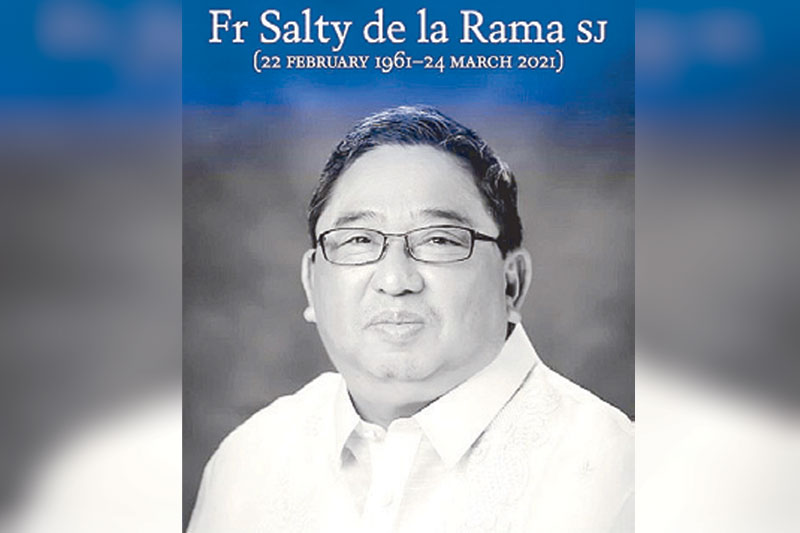 When Butch met his future wife Titat in 1987, it was important for him to introduce her to Salty. They drove all the way to Sacred Heart Novitiate in Novaliches, only to discover Titat and Salty shared the same birthday. Even Yaya Mimi, who has been with Butch's family for 24 years, also has the same birthday. And so, for many years, Fr. Salty would drop by Butch's home every 22nd of February (Fr. Salty just turned 60) to pray with them and bless them. This year, he blessed each of them separately with a long and meaningful blessing that won't be forgotten.
For Fr. Salty's sister, Maricar de la Rama, her brother was "the friendliest, most charming and the funniest of all the siblings." She recounts how the family would get various requests from him, including pleas to fund a project or to host an event in Vista Valley, the family compound. This was so that the parishioners, teachers or friends he made in all the places he was assigned could have a delicious dinner or a place to stay for a weekend to save on their traveling allowance.
Maricar says people would be surprised to discover where Fr. Salty grew up. After all, who readily gives up a life of comfort and luxury to be a servant of God? "When he announced that he was entering the seminary," Maricar recounts, "my lola was happy but worried that he wouldn't be able to take on the rigors of the Jesuit formation. But my mom was adamant, she believed the Jesuits would take care of one of their own. After all, he was with them from prep to college. After 11 years of Jesuit formation, he prevailed. He was ordained in 1998 and professed his final vows in 2018. He enjoyed his assignments."
"When he was assigned as AGS Chaplain," she continues, "he'd ask me to buy lollipops to give to the kids. The gesture became so popular that he always had a line of boys waiting to be given a lollipop. But we knew his time with AGS would soon be up. He was preparing to leave, making plans for life after AGS. After our Zoom Mass last March 19 for our parents' wedding anniversary, we asked him if there was any news. He said, 'None.' Like always, when he was waiting to know his next assignment, I prayed that he be assigned where he was most needed. Where he'd make a difference. Where he would become a better priest, fulfilling God's mission for him. Last March 24, God answered my prayer."
*****
Credit belongs to : www.philstar.com