Tuloy ang Pasko!
Nothing, not even the pandemic, can stop the family of Maricel Laxa and Anthony Pangilinan and their five children (Ella, Donny, Hannah, Benjamin and Solana) from celebrating Christmas, unlike the seeming doubt expressed by Maricel's TV5 show titled Paano ang Pasko in which she plays the mother of three daughters aptly named Love (Julia Clarete), Hope (Beauty Gonzalez) and Joy (Devon Seron).
The Pangilinans come from a big clan (with members coming from here and different parts of the world) but unlike in Christmases past when they were all accounted for (no need for a roll call), they won't be together due to the unusual times.
In this exclusive Conversation, Maricel reminisces about their Christmases of yesteryear and how her family keeps alive the spirit of the season.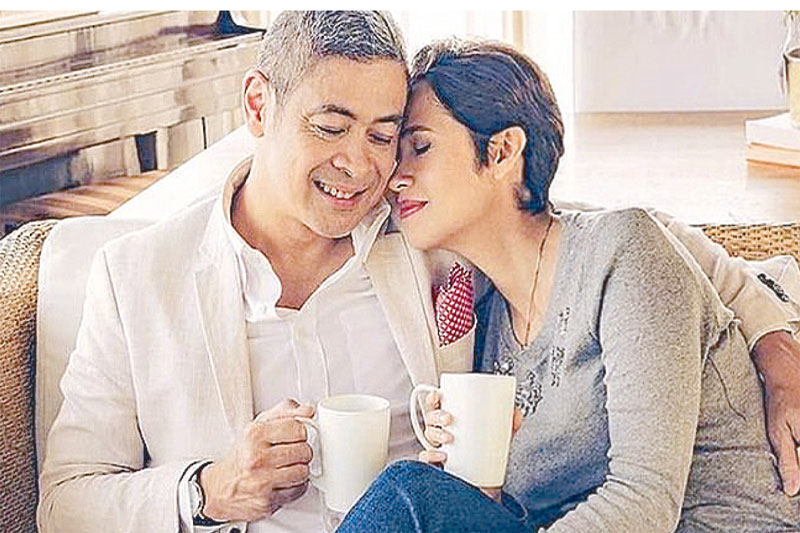 How different is your family Christmas this year?
"This year is definitely bound to be a very different Christmas considering we are a big clan on the Pangilinan side and when we gather yearly for Christmas, that would be easily around a hundred people!
"For my mom's side (Mom is retired actress Imelda Ilanan. — RFL), as well Christmas is a time of having family come home from abroad and all the relatives come together.
"Given the current situation, we will miss the large gatherings and all kinds of food from members of both sides of the family. But this year will prove to be very special just the same because we will celebrate Christmas in the most intimate and special way we can whether by batches or smaller groups (depending on geography!), on or offline. We will leave all the planning to the young ones as they seem to know much about how to navigate in this 'new normal'."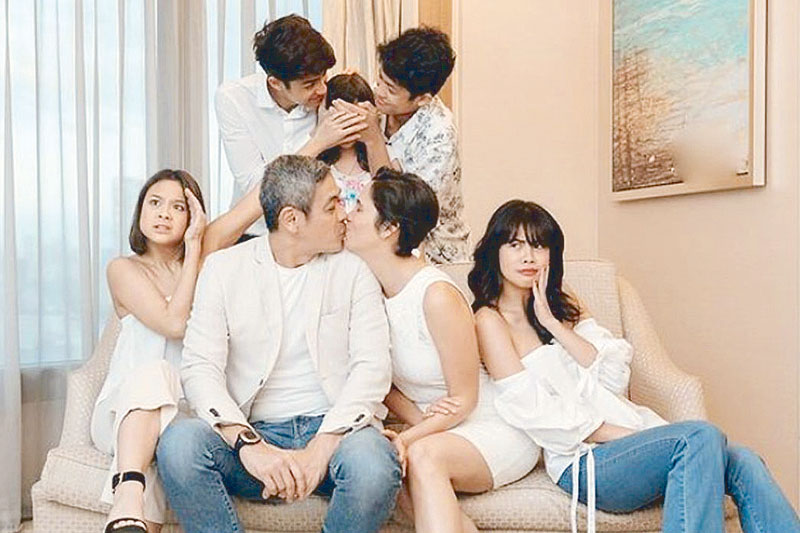 How are the children adjusting to the "new normal"?
"Our bunso, Solana, used to greet people this way, 'Merong Christmas!' Kids so get it, and she is right. No matter what we are going through, no matter what the circumstances are, there is no stopping Christmas. Tuloy ang Pasko! It is during this time that we have to go out of our way to make a big deal of this season when we remember how blessed we are to be healthy and whole and to remember the very reason Christ came…to bring healing and deliverance to those broken areas of our lives."
Sana other families will celebrate the same way.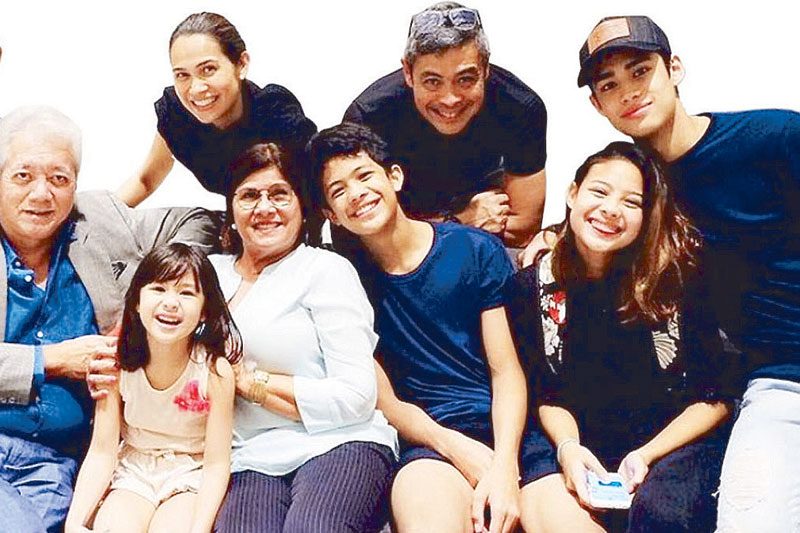 School Manila. Left: The Pangilinans with Maricel's mom Imelda Ilanan and stepdad Ben Avanceña.
"The Year 2020 has proven to be a very challenging year for everyone and we all need something to hold on to for hope and restoration. That is the very reason Christ came and the very reason to celebrate His birth.
"To rephrase the words of Pastor Rick Warren of Saddleback Church where we are members, we may all be in the same storm but we are not in the same boat. Some of us got hit by this storm while in our yachts, others in small boats while others are still lucky enough to just be hanging on to their dear lives on floating barges. Then there are those who have sunk and sunk deep."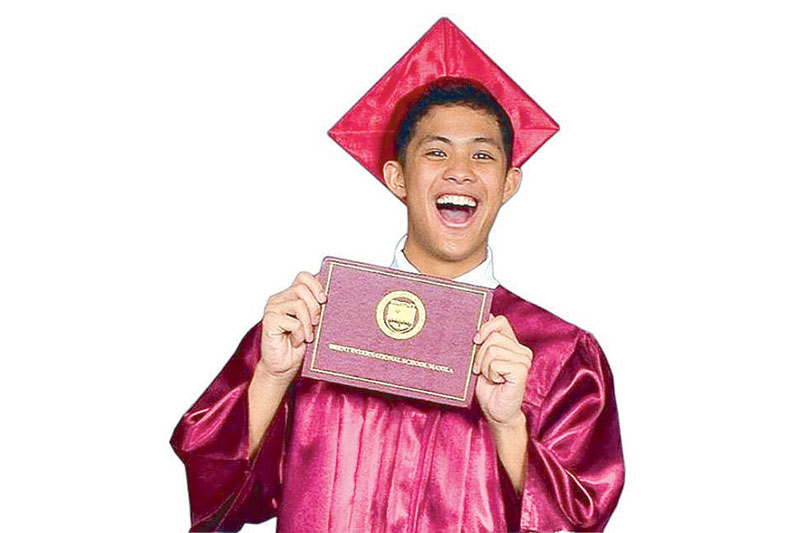 Benjamin just graduated (with honors) from high school at Brent International School Manila.
How were your past Christmases?
"Christmas Eve has always been just for the seven of us. Anthony cooks Noche Buena and each of our children will help out whether in food preparation or table styling. I normally have my time of just relaxation because by the 24th, I would have been already so tired from arranging all the needs of the family for the season. Oh, and I reserve my energy for cleaning up the mess after!"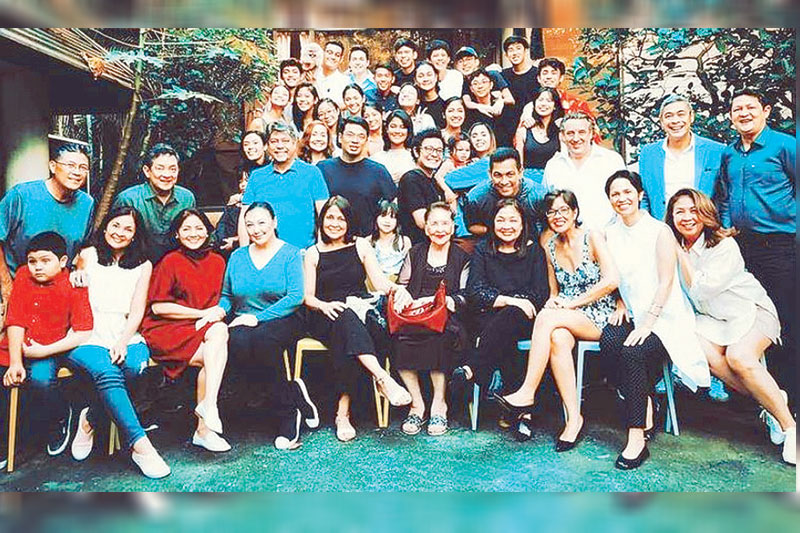 Members of the clan were all accounted for in past Christmases but not this year due to the pandemic.
Aside from the festivities that comprise much of our time during the holidays, it is when we are able to reconnect and bond with friends and family who have been away from home.
"Since the Pangilinan clan comprises a lot of creative people who are in the entertainment industry, we would have a lot of singing and dancing. The most awaited part is the exchange gift-giving where the grandchildren, yes all 32 of them, would reveal who their Santa Baby is and then hand their gift with a touching message. Anthony is part of a family of nine siblings, all with families. Kaya siya 'Barangay Pangilinan.'
"My mom's side is more of the laid-back type because my stepfather is a laid-back person. The past couple of years though, we have included games and a simple program to spice things up and I am so glad we did that because that is our last memory of having spent the season together.
"While I share this, it is evident that while we can as much as possible, we should make each moment count when we have the chance to come together. Every day is indeed a gift!"
How has 2020 been with your family?
"2020 has been quite a whirlwind ride for our family. We had grand plans when the year started.
"Hannah was finishing her second year in Sydney where she was taking Film and Television at Hillsong College. She decided to come home to finish her schooling online to be with family. Since her return, she has had more time to pour into creating more content not only for her platforms but helping all the rest of us in the family improve our own content.
"Benjamin graduated from high school online as well so that was quite unusual and a first in history. It was quite sad that he couldn't personally celebrate with his batch but stuff happens and we just have to make the most of what we have.
"Because he had much time in his hands for his gap year, he has been able start his own burger business and to also work on a musical project he has been dreaming about: His first EP! With Christmas as his theme, he has three covers and one original song! It's a passion project he and his siblings invested in, and he hopes it will add more hope at a time of great challenge for many.
"Solana also started her online schooling and this was most challenging because we all had to take turns trying to get her acquainted with a new way of learning. The hardest part for her was not being able to be with her friends.
"While there have been many setbacks with our plans, we realized that the lows of 2020 have also been the major source of our gains. For example, we are more united as a family having had the chance to sort things out while in lockdown for so many months. We faced the good, the bad and the ugly head on and took time processing them together. Though there were tough times of facing issues, we also had many times to celebrate milestones together like the chance to come together for an extended period of time eating together, having lengthy discussions, being more flexible and becoming open to what the Lord's plans are for our lives. So I see this verse in Proverbs 19:21 at work in these times, 'Many are the plans in a person's heart but it is the Lord's purpose that prevails.'"
You have been so productive.
"The year 2020 also opened new doors for us as we found ourselves getting more fit, having more time to continue learning (yes, not only the kids are doing their online classes, I too have had the chance to earn my doctorate degree while on lockdown).
"Career-wise, Donny spent a lot of time in reflection given the changes in his Kapamilya network. It was tough for him for awhile, and then he 'leveled up!' He got to direct his own music video, activated his YouTube channel, and got busy with projects online. The stint with SNL (TV5's Sunday Noontime Live) was quite a revelation for many who have acknowledged his hosting skills have greatly improved.
"But he is back in ABS-CBN now to complete his teleserye and to re-start doing movies. Meantime, on the home front, Donny invested in a 'man cave' here in the family home, turning it into a gym and lounge area. His physical training, workouts and long-distance biking have been a major priority these past months.
"Ella, the artistic one among the brood whose inclinations are more in branding and marketing, has been one of the busiest this 2020. In fact, when the rest of us had some sort of a break from work, hers never stopped as their sales increased even more for the online export business of my sister, Mutya called Spinkie Baby where Ella is a big part of. She is into various design projects and also a volunteer at an NGO that we run, Called to Rescue."
Yours is among the few solid showbiz families. Aside from God at the center of it, how do you keep a balance and harmony between family and career?
"Yes, God is a major ingredient in keeping our family together all these years. From the day Anthony and I got married (in 1993, 27 years ago), we have been guided by this, 'We Love because He (Jesus) first loved us' from 1 John 4:19.
"First and foremost, we love each other with God's inexhaustible love, and that is really the foundation of everything! Our vows are something we keep to heart and every time we are faced with challenges, we remind each other that going separate ways is not an option. On the other hand, because we made a vow to God and each other to be one, we strive to keep our marriage alive by working hard at it. One of our mottos is: We should fight together and not each other.
"We don't have a perfect life and we do face challenges but we choose to face them together and ask help from our inner circle of mentors to guide us, and show us how to do things better. Because we are accountable to these mentors, they help keep us in check and on the right track.
"For the most part of our married life, I focused on supporting Anthony in our management consultancy and media business, the home and our children. I learned a lot from the principles Anthony taught companies on how to succeed and we practiced those principles at home."
I understand that you and Anthony come from different families.
"I grew up in an unconventional home and life was tough for the most part of my growing-up years while my mom who was a single parent tried her very best to raise me and my brother and provide for the rest of her family. My mom instilled in us to make the most of the opportunities given to us so we could have a better life so all her hard work would be worth it. She also was big on helping improve the lives of others so early on, we were conditioned that that was the definition of success, is when we have accomplished much and then able to use that so others can also live better lives and continue this cycle for the generations to come.
"Anthony grew up in a traditional home where both his parents were big on family and togetherness. They spent a lot of time pouring in to raise leaders and they did this by engaging them in everything that allowed their talents and abilities to shine."
What has been your most challenging experience as parents?
"One of the most challenging times in our lives would have to be Benjamin's open-heart surgery when he was four years old. Diagnosis to the procedure was fast. We spent our Christmas in the Ronald Mcdonald House beside the Lucile Packard Children's Hospital in Stanford, California, where the surgery was done. We made sure all six of us (at that time) were together and though it was a daunting task to have everyone come, we are so happy we made that decision. Each one of us was involved in chores, errands, recovery and our road to wholeness. It was tough and one of the best things our family could ever go through. We have never felt so loved and cared for as a family. All our needs were provided for by pooled in resources from family and friends."
What was that Christmas like?
"It was the first and only Christmas we spent away from our family in Manila but it was a Christmas we will never forget. The Ronald McDonald House was a wonderful facility that provided care for kids and their families who needed to be attended to at the nearby children's hospital. Since it was Christmas time, we had Santa read stories to us while we enjoyed our hot chocolate. We were also asked to go into the 'Elves' room to get all the books we can read and all the stuffed toys we could bring home."
(E-mail reactions at rickylophilstar@gmail.com. For more updates, photos and videos, visit www.philstar.com/funfare or follow me on Instagram @therealrickylo.)
Credits belong to : www.philstar.com