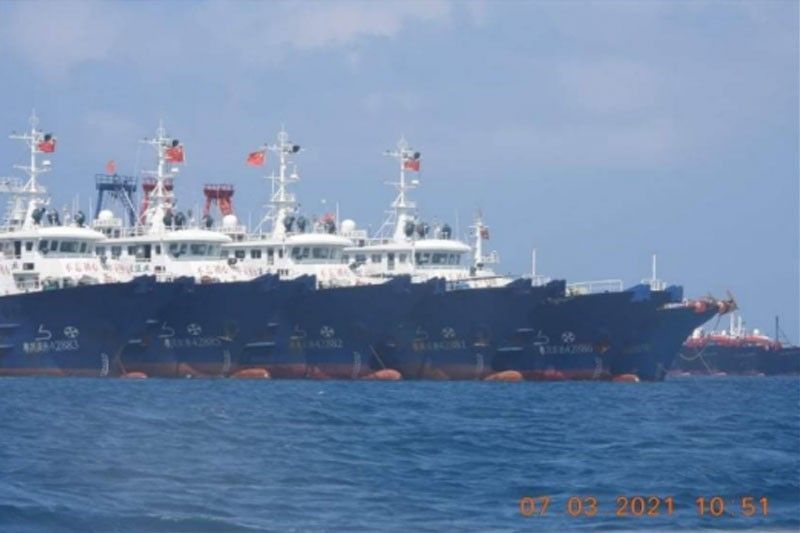 MANILA, Philippines — Armed Forces chief Gen. Cirilito Sobejano on Monday said Chinese ships continue to be seen in the West Philippine Sea based on their patrols.
Two months have passed since Chinese vessels were spotted in the Julian Felipe (Whitsun) Reef which is part of the country's waters. Their prolonging stay in the area has led to Manila filing a series of diplomatic protests against Beijing.
Despite this and some strongly-worded statements from officials, the presence of maritime assets from the latter continue in Philippine waters.
"I should say there are still Chinese vessels from their coast guard [and] their navy," Sobejana told "The Source" on CNN Philippines. "Some are militias and some are fishermen."
The AFP chief refused to say how many vessels were seen, and instead deferred to the National Task Force on the West Philippine Sea to disclose the information.
But, he said some 10 Philippine Navy ships take turns in patrolling the area, per orders of Defense Secretary Delfin Lorenzana.
Sobejana added that radio challenges from Chinese ships are becoming frequent in their surface patrols.
"They now have a template, the Chinese Navy and Coast Guard saying 'this is our territory, get out from here,'" he said partly in Filipino. "But then, we are not intimidated by those challenges. We continue our route and ensure that our patrol plan is not disrupted."
'Turn Pag-asa Island into logistic hub'
The Philippines in recent years has sought to make repairs in the Pag-asa Island, which a US-based think tank last year reported having met delays.
As the country's ships patrol the waters, the AFP chief said they are proposing to convert in into a logistics hub. He said this as most of their supply and logistic operations continue to be held in Puerto Princesa.
"We are completing our plan," Sobejana said. "We want it to be very comprehensive. I am in talks with Governor Jose Alvarez of Palawan and he's very favorable to the idea."
He added that the military has no funding and other resources for this to date, but they will "make a strong representation" to the government to secure the budget.
The AFP, along with defense and foreign affairs officials, have actively opposed Chinese incursions in the country's waters.
But the tone is different in Malacañang, as President Rodrigo Duterte continues to equate asserting sovereignty to starting a war.
Last week, he likened the Philippines' arbitral win in 2016 to a piece of paper that he can just "throw away," visibly irked by the mounting criticism on his response to the issue.
RELATED: How Philippines can assert rights in West Philippine Sea without triggering war with China
As It Happens
LATEST UPDATE: May 3, 2021 – 8:58am
May 3, 2021 – 8:58am
The DFA protests the illegal presence of Chinese Coast Guard vessels in Panatag (Scarborough) Shoal and their belligerent actions against the Philippine Coast Guard.
DFA also rejects the statement of Chinese foreign ministry spokesperson Wang Wenbin that China enjoys sovereignty over Panatag Shoal/Bajo de Masinloc.
"China has no enforcement rights in these areas… The unauthorized and lingering presence of these vessels is a blatant infringement of Philippine sovereignty," the DFA says in a statement.
April 28, 2021 – 12:24pm
Foreign Affairs Secretary Teodoro Locsin Jr. orders the filing of another diplomatic protest against China following the statement of a Chinese official on the Philippine Coast Guard's exercises in the West Philippine Sea.
"They can say what they want from the Chinese mainland; we continue to assert from our waters by right of international law what we won in The Hague. But we must not fail to protest. @DFAPHL have we fired off a diplomatic protest? Do it now," says Locsin on Twitter.
April 25, 2021 – 1:08pm
The Philippine Coast Guard sends BRP Malapascua and BRP Francisco Dagohoy (MMOV 5002) — a fisheries bureau vessel manned by PCG personnel — to Pagasa Island in the West Philippine Sea for maritime exercises.
Pagasa Island is in the Kalayaan Island Group of Palawan province.
April 23, 2021 – 10:29am
Two new diplomatic protests have been lodged against China as of April 21, the Department of Foreign Affairs says.
These are in addition to the daily protests over the continuing presence of Chinese vessels in Julian Felipe Reef following reports that at least 160 Chinese maritime militia ships are still in Philippine waters.
"The continued swarming and threatening presence of the Chinese vessels creates an atmosphere of instability and is a blatant disregard of the commitments by China to promote peace and stability in the region," the DFA says.
April 18, 2021 – 2:44pm
The Department of National Defense denounces as "irresponsible propaganda" social media posts claiming that retired and active military officers have withdrawn support for President Rodrigo Duterte over the situation in the West Philippine Sea.
"Such disinformation is an act of reckless agitation emanating from detractors, who have a limited and myopic appreciation of issues," Defense Secretary Delfin Lorenzana says.
Gen. Cirilito Sobejana, chief of the Armed Forces of the Philippines, earlier Sunday also disputed the social media rumor, as well as claims of "'warplanes' from various countries taking off and landing in Clark Airbase."
*****
Credit belongs to : www.philstar.com