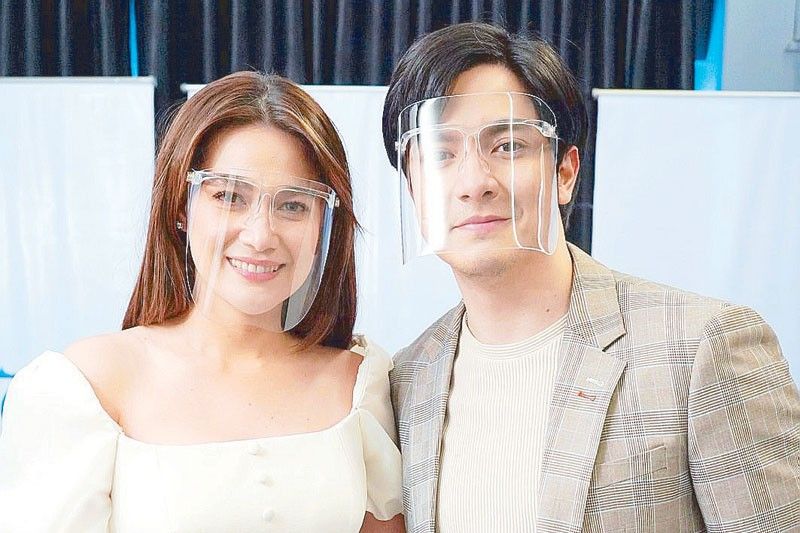 It's all systems go for Pure Soul, the landmark first movie team-up of Alden Richards and Bea Alonzo (they first appeared together in a shampoo commercial) after three of the country's film production giants — Viva Films, GMA Pictures and APT Entertainment — sealed their partnership to co-produce the movie in a presscon last Tuesday.
Present during the contract signing ceremony from Viva Communications, Inc. were president/COO Vincent Del Rosario; Viva Artists Agency president Veronique Del Rosario-Corpus; and senior vice president for Content and Production Valerie Del Rosario.
Representing GMA Network were GMA Films, Inc. president and programming consultant to the chairman and CEO lawyer Annette Gozon-Valdes; first vice president for Program Management Jose Mari Abacan; vice president for Corporate Affairs and Communications Angel Javier Cruz; and senior assistant vice president for Alternative Productions Gigi Santiago-Lara.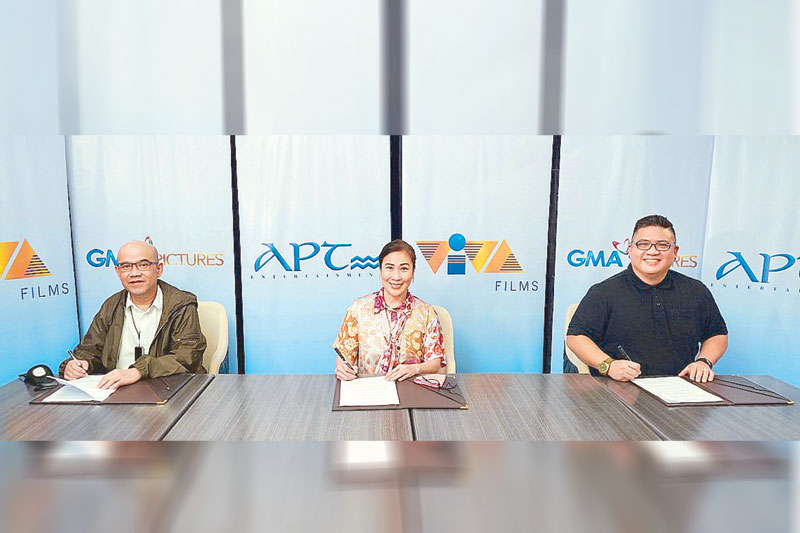 The producers of the movie, from left: Vincent del Rosario (Viva Films), lawyer Annette Gozon- Valdes (GMA Pictures) and Mike Tuviera (APT Entertainment, Inc.)
And for APT Entertainment, Inc., in attendance were CEO/president Mike Tuviera; COO/CFO Jojo Oconer; and vice president for Production Operation Camille Montano.
As Funfare reported last month, the kinks were ironed out before the go-signal was given.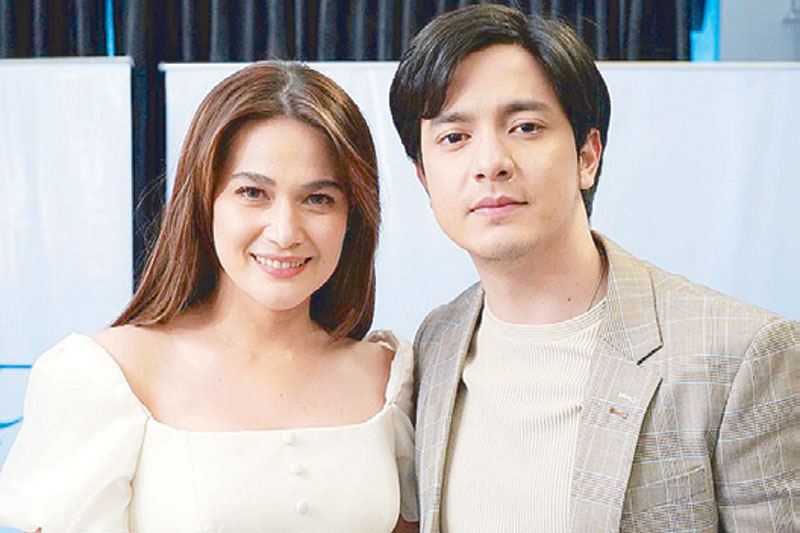 Like Miracle in Cell No. 7, the 2019 Metro Manila Film Festival (MMFF) top-grosser produced solely by Viva, Pure Soul is based on a hit Korean drama series titled A Moment to Remember, which was in turn based on a 2001 hit Japanese TV drama titled, that's it, Pure Soul (the original title must be retained as per the agreement between the companies involved).
Starring Jung Woo-sung and Son Ye-jin (now the girlfriend of Hyun Bin after they starred in Crash Landing On You/CLOY), the Korean drama is, like the Japanese drama, about "the discovery and burden of loss caused by Alzheimer's Disease." In the two dramas, the marriage of the young couple turns sour when the wife starts forgetting things, diagnosed as a symptom of the onset of Alzheimer's. The story is made more heart-breaking since the couple has a little child.
There's a slight change in the Philippine version since Alden is deemed still young (he turned 29 last Jan. 2) to play a father role and so…unless there's another change of mind in those behind Alden's career.
The story is so heart-breaking that, according to Alden, he cried when he read the script.
Vincent teased the viewers on what to look forward to in the reimagining of the story that captivated hearts in Korea and Japan, "'Yung script largely based sa Japanese na series pero 'yung nuances ng culture ng Pinoy, sineed maigi ng writer para mas ma-appreciate ng local moviegoers."
Meanwhile, Annette expressed her excitement in bringing the project to life, "Finally, this is now a reality, we're very, very excited. Napakaganda kasi ng pelikula na ito, lalo na we're having both Alden and Bea in it. We feel that this project is perfect for the both of them. Sa galing nilang umarte, kayang-kaya nila itong project na ito. We are putting our own take on it kasi nga siyempre Philippine adaptation, gusto natin may ibang ipakita sa audience para talagang uniquely Filipino adaptation ito."
Mike likewise shared his enthusiasm to begin producing the highly-anticipated film, "Napakalaking chance to be a part of a project like this, I'm sure the people want to see Alden and Bea together. Gusto talaga namin maramdaman ng tao 'yung pagka-big screen niya, 'yung concept ng kwento, 'yung characters, importante sa amin na ma-experience ng tao 'yun in its full glory talaga, in a theater. We're making the film as a theatrical experience."
Alden feels grateful to once again showcase his versatility on the big screen, "It's my first remake, and there's always comparison. What we wanted as actors is to do our own take on how we understood the role. Ang ganda ng material, sobra. Kung babalik na 'yung cinemas, it's really for it. Mas dama mo 'yung istorya."
On the other hand, Bea shared, "I'm excited na makakapag-trabaho na kami this time. We're very happy na nag-inject sila ng Filipino culture doon sa script. We are working around the parameters of what Korea wants us to do, of course to also maintain and respect the original form of the movie. It's going to be a little different from the original title but we will make sure that it's going to be a good one. It's going to be extra challenging and also very inspiring."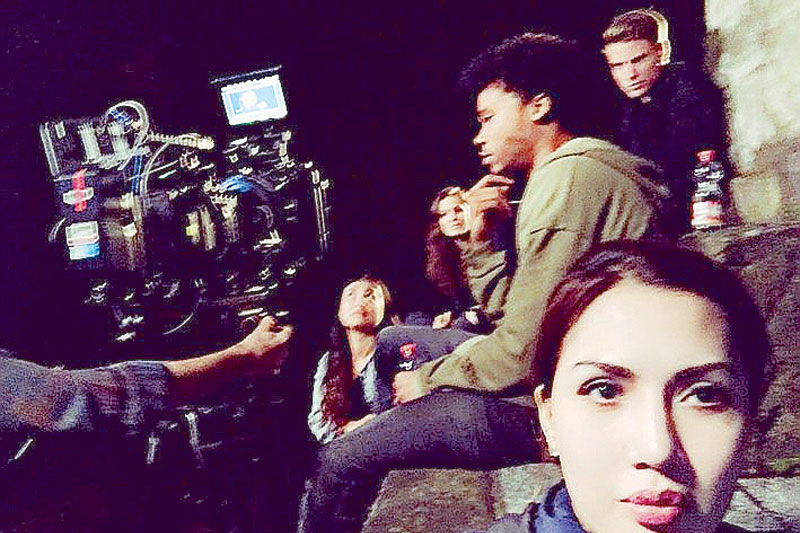 Writer-director Maria Diane Ventura on the set of Deine Farbe (Your Color).
Maria Diane Ventura's Deine Farbe streams worldwide on Amazon Prime
The multi-awarded European debut film of Filipino filmmaker Maria Diane Ventura billed Deine Farbe (Your Color) is now available on Amazon and Amazon Prime.
Deine Farbe can be streamed at https://amzn.to/3sLOPwG.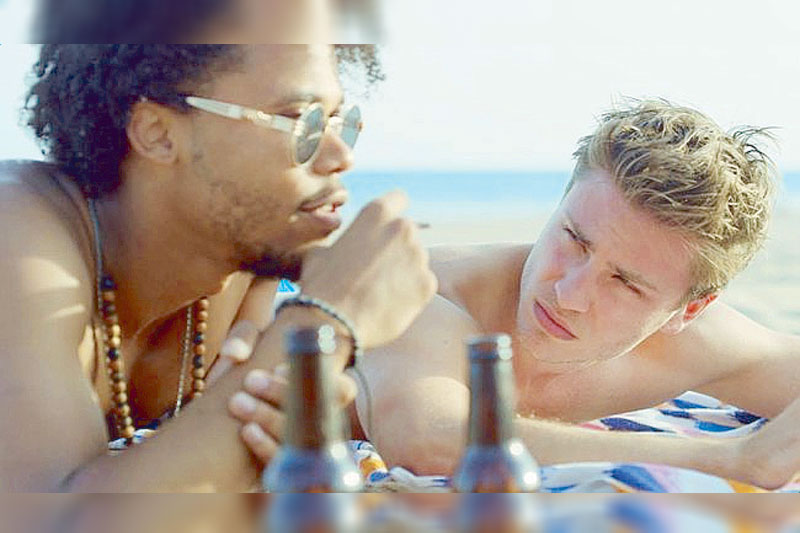 A scene of which is shown at right: A multi-awarded debut
The movie, written and directed by music producer and artist manager Ventura, is a tale of friendship between two young men who leave their German hometown for a freer life in majestic Barcelona, where fate and choices threaten their once unbreakable bond. It is a multi-cultural production from Europe, Asia and America. Ventura wrote the film as a reflection of her own internal state and feelings of displacement after leaving her comfort zone.
"As an immigrant myself, who moved to New York to find a better future for my family and at the same time immerse and acclimate to a new culture and environment, I started writing this film while I was still living in Manila dreaming of a better life thinking that, if I move away, all my problems and suffering would magically disappear," she said. "I wrote this film about two boys wanting to escape their small town only to find themselves with a different set of problems in the real world."
Deine Farbe stars established German actors Jannik Schümann (The Aftermath and Monster Hunter) as Karl and Nyamandi Adrian as Albert. Adrian stars in Tribes of Europa, one of the rare German films with a person of color in a leading role. The film also stars Juan Carlos Lo Sasso (Another Cloudy Day) as Julio and Romina Küper (Baby Bitchka) as Kristina.
This is how Schümann, also the film's co-producer, sums up the experience of working with his director. "The whole project is built on immense courage and a dash of craziness: A woman comes to Europe with her best friend as producer, and is just carrying a script in her luggage. She doesn't know the German market at all — but she entrusts herself to a casting director who is supposed to find her the right actors for her heart's project in this foreign country. The greatest gift of this tumultuous shoot for me is my relationship with Diane. She is insanely inspiring — and an incredibly loyal woman who would do anything for those around her."
Ventura was cited by the Film Development Council of the Philippines (FDCP) recently as one of the 62 honorees in the Directors' category for this year's Fifth Film Ambassadors' Night (FAN), an annual event recognizing Filipino film industry creatives, artists, filmmakers and films of various formats that gained recognitions from established international film festivals and award-giving bodies in the past year.
Deine Farbe's international recognitions include the following: Best Woman Filmmaker and Best Feature, Vegas Film Awards, USA; Best Director and Best Actor, Calella Film Festival, Spain; International Feature Debut, Diorama, New Delhi, India; Best Cinematography and Best Feature, Canadian Cinematography Awards; Best Ensemble Cast, Couch Film Festival, Toronto, Canada; Citation, Cyrus Film Festival, Canada; Nominations for Best Feature Film, SOHO International Film Festival, New York City and at Lonely Wolf: London International Film Festival; and Best Feature, Best Actor and Best Director, Queen Palm International Film Festival 2020, Palm Springs.
Her next film project, Luz Oscura (Dark Light), will be shot in Mexico and Los Angeles, USA.
(E-mail reactions at rickylophilstar@gmail.com.)
*****
Credit belongs to : www.philstar.com