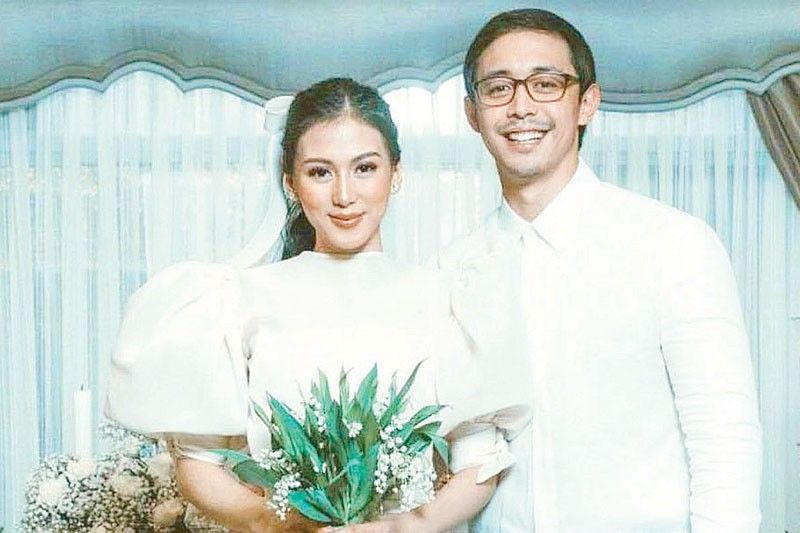 Opposites do attract. And newlyweds Alex Gonzaga and Mikee Morada prove it.
Alex's public image is "wacky and wild" and those who know Mikee well claim that he is "meek and mild." Alex is, well, "noisy" while Mikee is quiet. Alex loves to talk…and talk!!!…while Mikee loves to listen. Alex is boundless energy while Mikee is energetic just as well but keeps his energy in control. Turning 34 on April 18, Mikee holds a degree in International Development Studies from La Salle and University of California Los Angeles (UCLA).
What you see is what you get. No pretension from either side. They are for real. Walang ka-plastikan.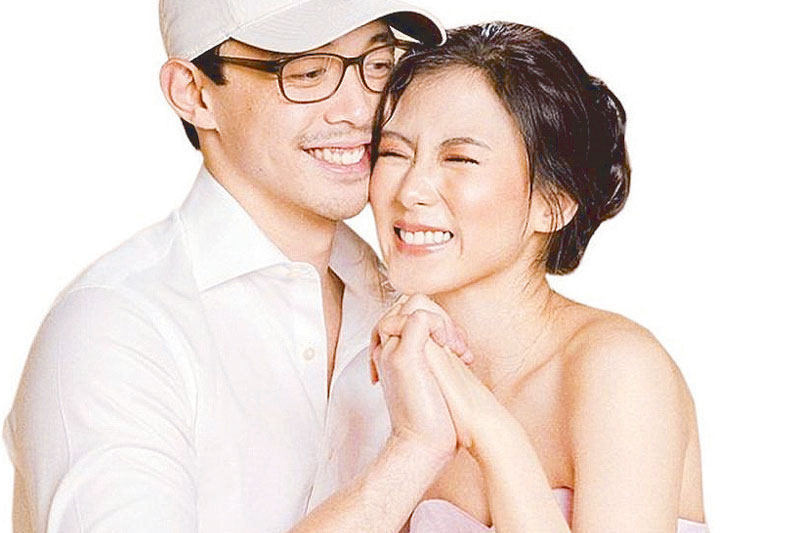 The couple during their intimate wedding at Alex's home in November last year. They plan to have a bigger celebration as soon as the times get bette
That's why Alex was hired as endorser by Villarica Pawnshop "because she is authentic and she has a strong sense of who she is. She represents the 'kering-keri sa V' tagline that no matter what the problem is, we are here to help you solve it." In short, may pondo.
The newlyweds are wise with finances. Mikee belongs to a family (the Tantocos are his grandparents) that owns a bank in Lipa City where he is a councilor while Alex is a super-vlogger (with over 10 million YouTube subscribers) who earns big money, excluding what she earns from endorsements and movie/TV projects.
Coinciding with her 33rd birthday last Jan. 16, Alex revealed that she and Mikee, engaged since Dec. 2019, got married in an intimate affair at her home in Taytay, Rizal in November last year. She wore a Rajo Laurel gown.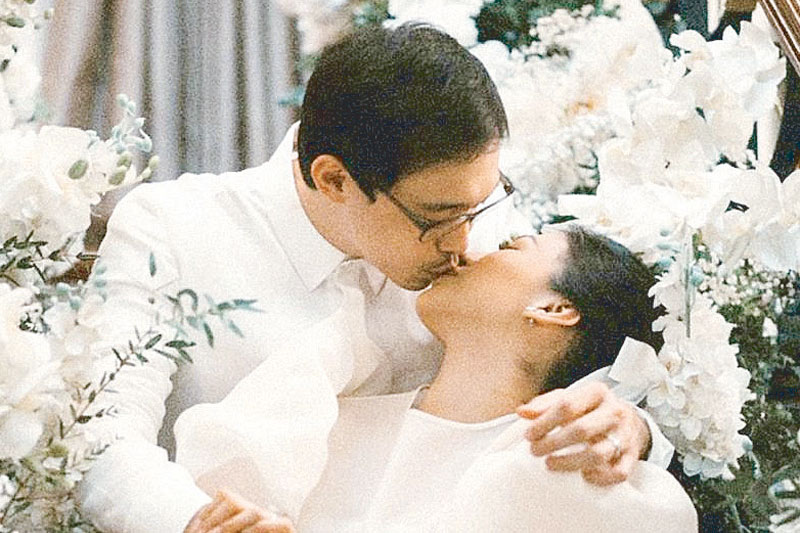 Their vows came straight from the heart.
Alex: "I vow to give you medicine every day for your vitamins…and to be the best wife I can be," adding with a laugh, "and lastly, I vow to always delete your 'Call of Duty' app."
Mikee: "I vow to take care of you always and, siempre, to always keep you happy. To come home to you. To pick you up from work as much as I can, and to love you all the time. I love you." He added, "Happy na happy ako na ikaw ang ibinigay sa akin ni Lord…"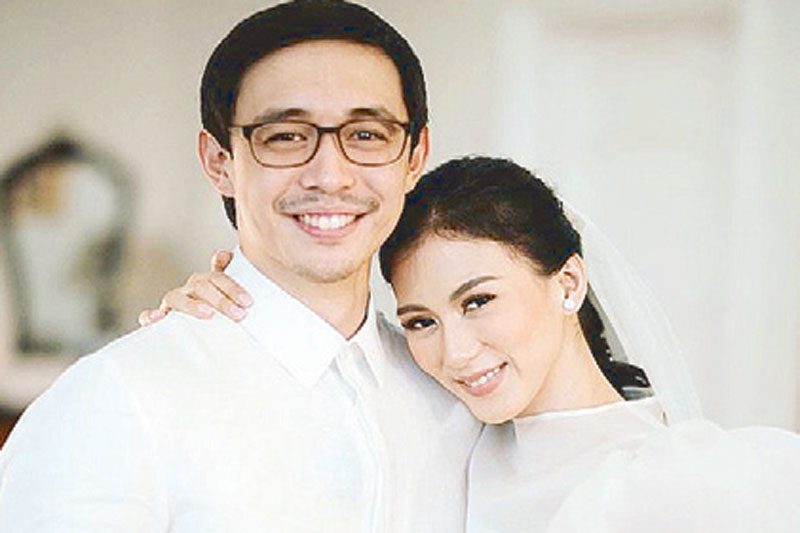 In a Conversation last year, seven months before they got married, Alex said, "I really feel that Mikee is God's gift to me. He really understands and accepts the best and the worst in me. Thank you, Lord, for giving Mikee to me."
What did you discover when you were going steady that convinced you that you were "the one" for each other?
"We understood each other saka parehas kami ng values and our love for the family and for God. 'Yon 'yung nag-convince talaga sa akin na I think we were really meant for each other."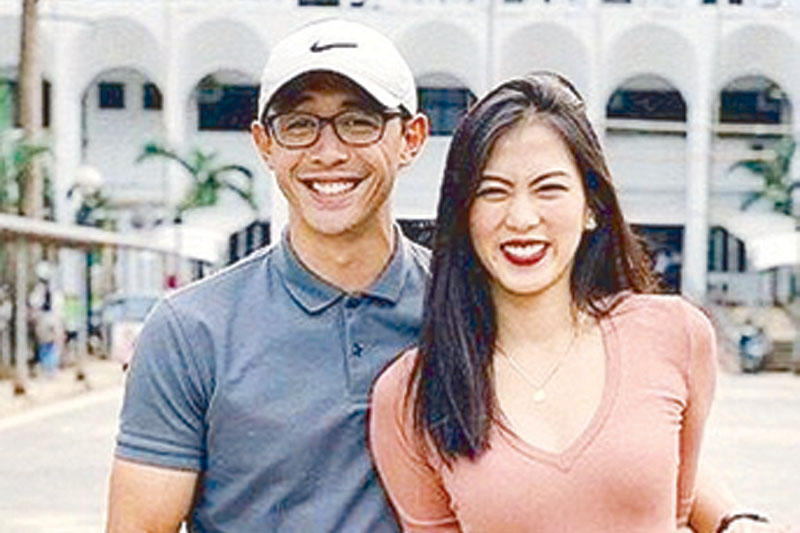 Do you agree that marriage is a never-ending process of getting to know each, especially since you'll be living together? Are you ready for that?
"Yes, of course. We prayed about this. I think Mikee is really meant for me kaya that's our commitment to each other as life partners, that we will love each other even in hard times."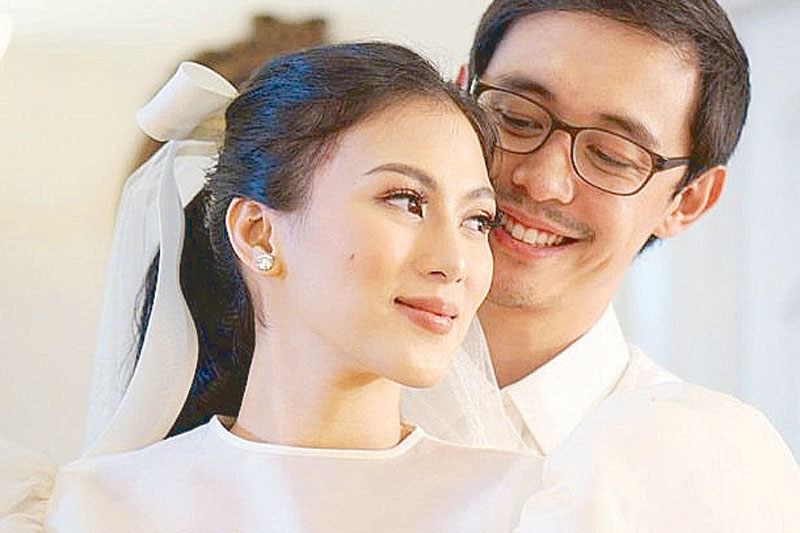 What do you like and you don't like about Mikee as married couples are supposed to accept each other's flaws and all?
"I like Mikee na he's very selfless, he always thinks about other people's happiness before his. And he really gives time to show his love. What I don't like about him is kuripot siya sa sarili niya and he's matagal mag-decide pagdating sa mga bibilhin, ang tagal-tagal niya and hindi siya cheesy or sweet magsalita. Hindi siya sweet sa salita."
I understand that you and Mikee, whose family owns a bank, are wise in handling finances. Would you have "his and hers" account aside from a joint account?
"Yes. Actually, it's Mikee's idea because his money is, well, siempre it's a family business and at the same time he's a public official so ayaw niya na 'yung pera ko din na pinaghirapan ko is parang magsama. At least we know how much he is earning and how much I am earning. He respects my career and he knows that I've worked so hard for whatever I'm earning. But he helps me in my finances, especially where investment is concerned."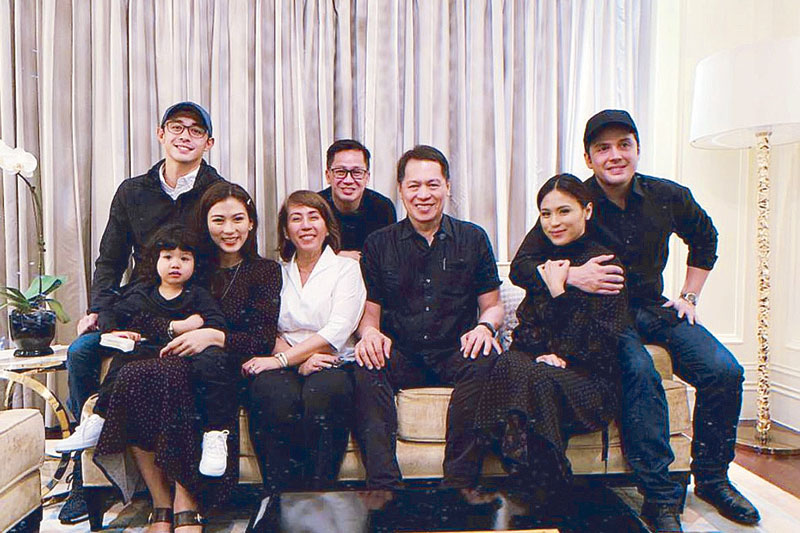 Even before he married Alex, Mikee was already close to the Gonzaga family as shown in this photo. From left: Mikee, Alex's nephew Seve (son of her older sister Toni), Alex, Mom Pinty, Dad Bonoy, and Toni and husband Paul Soriano. At the back is Alex and Toni's Uncle Jojo
Is knowing each other's family important for a harmonious marriage?
"Yes, kasi in marriage, you just don't marry only the person na pinakasalan mo, you also marry the entire family including his past, his present and his wholeness. So kasama na dun lagi 'yung family. To have a harmonious marriage, dapat talaga each other's family is also part of the marriage kasi they'll actually help you and they'll be there to guide you also."
Who snores between you and Mikee, and how do you handle it?
"Si Mikee, pero tahimik lang 'yung snoring niya, quiet lang. But sometimes, it gets louder, especially when he is tired. I would wake him up and tell him, 'Oh, bawal 'yan baka daw may something yan'."
What do you usually argue or fight about and how do you make up?
"Now, wala. Wait, siguro time. Time together because we are both busy. I am a clingy wife, maybe because we are newly married and I always want him to be around because most of the time he's parang…lalo na 'pag weekdays, four days a week he is in Lipa. Right now, I am trying to change it kasi we've been married for only four months at madalas kaming magkalayo. He would be in Lipa and I'm in Taytay. It's hard to commute every day, nakaka-pagod for him. Now, for alternate na ang uwi niya."
How soon do you plan to have a baby and how many do you want to have?
"We're planning pa pero, of course, everything is up to God. But first, we are planning to have a bigger celebration with friends who were not able to attend our November wedding. So how many kids do I want to have? Mga two or three. It depends on how many God will give us. Kahit ilan it's fine basta galing sa pagmamahalan namin."
(Question from last year's Conversation) How were you and Toni (Alex's older sister married to director Paul Soriano by whom she has a son) raised by your parents?
"Before, I thought that our parents brainwashed us so we would obey them. But as I mature, I realized that they were right all the time. With me, my parents already knew the limits and boundaries of their guidance compared nung sa Ate Toni ko. But now kasi I just obey them because I just don't want to disappoint them. Madalas old-fashioned sila but ngayon nako-convince ko na sila na maging millennial thinkers, hahaha!!!"
Will you raise your children the way you and Toni were raised?
"Yes, but not all of their ways. The best part is when they would lay their hands on us while praying. They really pray and ask for guidance from the Lord on their parenting."
(E-mail reactions at rickylophilstar@gmail.com. For more updates, photos and videos, visit www.philstar.com/funfare or follow me on Instagram @therealrickylo.)
*****
Credit belongs to : www.philstar.com