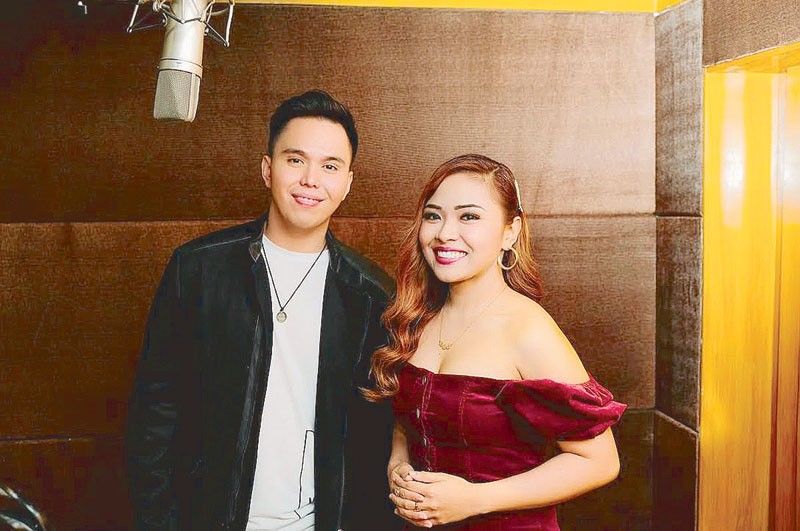 It is said that some of the best things in life come when you least expect them. In the case of Alisah Bonaobra and Myko Manago, the manna from heaven came in the form of recording a love duet and releasing it right away despite the pandemic.
The song, titled Pangako, is sure to thrill your heart with its lyrics speaking of an eternal love. Songwriter-producer and vocal coach Arnie Mendaros penned the song with RJA Productions as producer.
Alisah admitted having mixed feelings about recording Pangako with Myko. "I initially had this jittery feeling and then I became excited (to start recording) and now I'm so happy and thankful that the single has already been released."
Equally feeling ecstatic is Myko who described their song collaboration as "sobrang unexpected since (we are in the midst of a) pandemic."
He added, "And when we were told to prepare, I still couldn't believe that I will be having this (duet) with Alisah whom I was just watching in X-Factor UK before, 'yung journey n'ya. Now, I am working with her kaya sobrang saya ko."
It's an advantage for the Tawag ng Tanghalan alum that their duet turned out to be so good even without too much planning "kasi ganito 'yung mga natutuloy talaga," Myko said.
Listeners will agree that the poignant pop ballad piece displays the vocal strengths of the two RJA artists with style.
The idea of the love duet came about when followers of their interactive online game show, Winner Ka sa RJA, began requesting a live duet performance from them. And since it became impossible to perform duets during their livestream appearances because of the usual Internet signal problem in live feeds, RJA top honcho Rosabella Jao-Arribas had that "aha" moment to produce a duet song for the two artists.
"I truly feel honored to do this duet with Alisah," stressed Myko who also said that their weekly livestream (every Wednesday) helped him approach the challenge with ease. "It helped that we are already comfortable with each other kaya wala ng ilangan nung nasa studio na kami and we can fully express the right emotion to the song which tells about true love."
What's good, Pangako songwriter Arnie is also the vocal coach of Alisah and Myko. He said, "I know what they're capable of, having tackled a lot of genres already. That's why I believe they could do it right."
"What's so great about the song is that it is so inspiring. One can feel that kind of love between two people is eternal," declared Alisah.
Listening to Pangako, one shouldn't wonder how everything about it seems to have fallen into place, right from its intro when Myko sings, "Sa hindi inaasahang pagkakataon tayo'y pinagtagpo sa tamang panahon," to Alisah lovingly responding in her sweet vocal tone, "Lungkot napawi na magmula nang makita ka." And by the time they mesh it up singing, "Walang ibang makakapigil sa pag-ibig natin," the song's integrity is indubitably sealed.
So, cuddle up next to your sweetheart and listen how heartfelt Pangako is.
*****
Credit belongs to : www.philstar.com