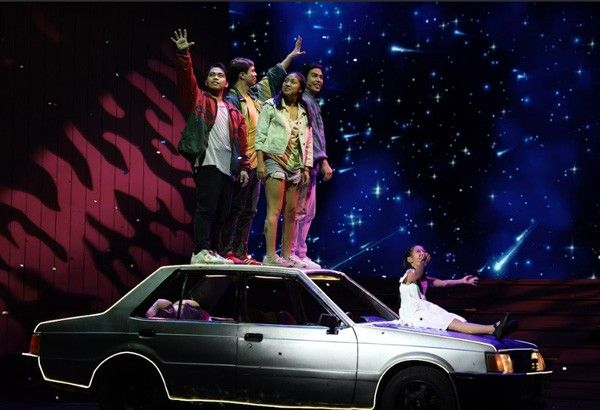 MANILA, Philippines — Theater musical "Ang Huling El Bimbo" (AHEB) made its highly-anticipated comeback to the Newport Performing Arts Theater featuring new cast, fresh choreography, stellar production, and iconic songs that struck a chord in the hearts of Filipinos.
The show has a regular schedule every Friday and Saturday at 8:00 p.m., and matinee performances every Saturday and Sunday at 3:00 p.m. for April, with new show dates recently added in May to accommodate more fans and theater-goers.
Even as a master of various crafts, award-winning artist Nino Alejandro who plays Anthony, still has plenty of new things to learn from the acting workshops with Full House Theater Company director Dexter Santos and co-artistic director Menchu Lauchengco-Yulo.
Before joining the cast of AHEB, indie folk artist Bullet Dumas recalled singing the '90s iconic track "Poorman's Grave" in gigs. Now, audiences witnessed him perform it onstage as Emman. Given his familiarity with the piece, the challenge was to give it a new flavor.
"When something you thought was very much familiar with somehow surprises you again and again, you will love the process. It always felt like a Eureka moment whenever Direk Dexter Santos, Menchu Lauchengco Yulo, Myke Salomon, OJ Mariano, and my castmates help me realize different approaches to how Emman can tackle the song," he said.
Actor, singer, and host Anthony Rosaldo made his theater debut playing young Hector, one of the lead roles in the musical. Since the rehearsals, he knew AHEB is a difficult show to mount yet this brought a fun experience for him as a newcomer.
"Coming in as a newbie in theatre, it is important that I kept my focus and really put in a lot of hard work during our rehearsals. The audience will see a very excited and enthusiastic young Hector," Rosaldo said.
Meanwhile, Mintoo has unveiled the groundbreaking "Ang Huling El Bimbo The Musical" digital collectibles on their website, offering a more convenient and elevated way to purchase your tickets to the iconic live musical through non-fungible tokens (NFTs).
To redeem your tickets, simply download the PDAX app and purchase the digital collectible through the platform. Expect to receive an email from the team for further information regarding your seat details. On the day of the show, click "Claim Utility" when you open the digital collectible and a quick-response (QR) code will be generated for you to present to the Newport Performing Arts Theater ticketing staff.
RELATED: WANTED: Ligaya: New 'Ang Huling El Bimbo' holding auditions for Ligaya role
*****
Credit belongs to : www.philstar.com