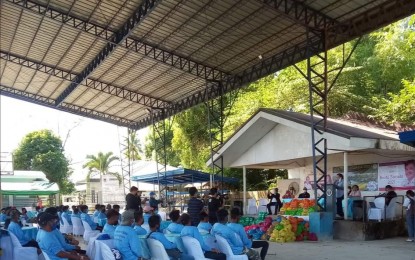 SAN JOSE DE BUENAVISTA, Antique – The Antique provincial government is now pushing to provide support to the education of the children of sugar migrant workers (sacadas) to enable them to finish their studies.
The need for financial support for the education of the children was raised during the "Bisita Sacada" or annual visit of Governor Rhodora J. Cadiao to sugar migrant workers in Negros Occidental from Dec.3 to 5, 2021, Randy Ardeño, in-charge of the sacada desk of Antique provincial government, said on Tuesday.
Currently, Ardeño said around 4,000 sacadas are working in the sugar plantations in Negros Occidental and most of them left their wives and children in Antique.
"The sacadas said that one of the reasons why their children could not continue their schooling and had to drop out despite that they have already free tuition in the state university is that they have no money to sustain them," he said.
He added that workers wanted their children to finish school but with their meager pay, they could hardly afford to provide for the daily allowance and other needs of their children attending school in Antique.
"Although there is a scholarship program already by the provincial government for poor students, but then there is no specific financial support for the education of the children of sacadas," Ardeño noted.
He added that Cadiao, who strongly believes that education will cut off the cycle of poverty among the sacada families, is now pushing to provide educational support.
The Sacada Desk still has yet to obtain the number of children of sugar migrants who are in school for them to be provided with financial support.
Cadiao together with members of the provincial board go to Negros Occidental yearly to check on the situation of the sacadas and to distribute food packs as well as their needed medicines.
The visit timed during the Christmas season was canceled last year due to the coronavirus disease 2019 (Covid-19) pandemic. (PNA)
*****
Credit belongs to : www.pna.gov.ph