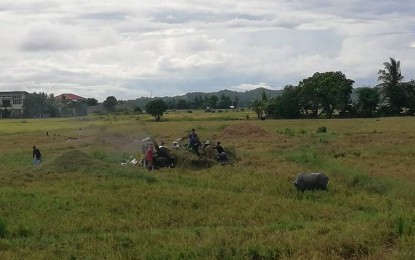 SAN JOSE DE BUENAVISTA, Antique – Provincial Agriculturist Nicolasito Calawag said Tuesday that Antique province is more than self-sufficient in palay producing 132,583 metric tons from 42,548 hectares planted area from January to September this year.
In an interview, Calawag said that based on their latest available data, the average yield of farmers is 3.68 metric tons per hectare.
He said that bulk of their production based on the Philippine Statistics Authority (PSA) data was during the third quarter of the year with 114,918 metric tons of palay harvested.
"We are in fact number 12 this year nationwide in terms of palay production," he said.
He added that this year's production showed an increase compared to 2019 wherein production was only 91,811 metric tons for the third quarter.
During the third quarter this year, the province ranked 7th with 30,626 hectares planted with palay.
"Last year, Antique was ranked number 11 nationwide with 25,715 hectares," he said.
He said the improvement in harvest and planted area was due to the support of the Department of Agriculture which provided seeds and introduced farm mechanization.
"We were also spared by Typhoons Rolly and Ulysses that had hit Luzon," he said.
Meanwhile, he said the total demand for consumption of local residents from January to September 2020 reached 54,306 metric tons.
"The monthly consumption of the residents is 6,034 metric tons," he said.
Given the total harvest of 132,583.32 metric tons from January to September 2020, there are 62,048 metric tons available for consumption.
The 62,048 metric tons available minus the 54,306 metric tons demand for consumption leaves the province with 7,742 metric tons of surplus.
He said that since they are still completing the fourth-quarter report, palay production would still increase until the end of the year. (PNA)
Credit belongs to : www.pna.gov.ph