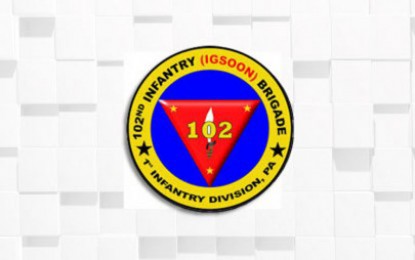 ZAMBOANGA CITY – Government troops seized war materiel and personal belongings after separate clashes against New People's Army (NPA) rebels in the province of Zamboanga del Norte on Dec. 3, a top military official said Saturday.
Brig. Gen. Leonel Nicolas, 102nd Infantry Brigade commander, said the first clash broke out in Barangay Linabo, Polanco, Zamboanga del Norte at about 8 a.m. on Friday.
The troops of the 97th and 42nd Infantry Battalions were tracking down a group of NPA rebels when the encounter took place.
The NPA fighters who figured in the Linabo clash belong to the Guerilla Front Big Beautiful Country (GF BBC), the remaining NPA group of the Western Mindanao Regional Party Committee (WMRPC) in the Zamboanga Peninsula.
Nicolas said the firefight lasted about 30 minutes after which the rebels scampered in different directions.
There was no report of casualty on both sides.
The second clash happened in Barangay Bato, Sindangan, Zamboanga del Norte at about 4:40 p.m., also on Friday, Nicolas said.
Troops of the 44th Infantry Battalion were on combat patrol when they clashed with the remnants of the NPA's Main Regional Guerilla Unit and Guerilla Front-Feliciano Alpha.
Nicolas said the troops recovered an M-16 Armalite rifle, assorted magazines with ammunition, medical paraphernalia, propaganda materials, and personal belongings following a 20-minute clash.
No casualty was reported.
"Our units on the ground are relentlessly pursuing the remaining elements of the Western Mindanao Regional Party Committee (WMRPC) that has (been) continuously evading our forces for the past months," he said.
Five clashes between government forces and NPA groups have been recorded in the region since November.
"We are still urging the remnants of the WMRPC to abandon the armed struggle, lay down your arms, and avail (of) the benefits under the Enhanced Comprehensive Local Integration Program (E-CLIP)," Nicolas added.
He said only two guerilla fronts of the WMRPC remain and they have been significantly weakened due to the snowball of surrender from its members to the government.
The Communist Party of the Philippines (CPP) – NPA is listed as a terrorist organization by the United States, the European Union, the United Kingdom, Australia, Canada, New Zealand, and the Philippines. (PNA)
*****
Credit belongs to : www.pna.gov.ph