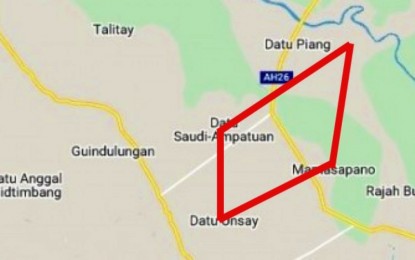 COTABATO CITY – The military again launched preemptive artillery attacks to prevent the Bangsamoro Islamic Freedom Fighters from harassing communities after they were sighted in the so-called "SPMS-box" in the province on Friday morning.
The SPMS-box is a military term referring to the contiguous towns of Shariff Aguak, Pagatin (Datu Saudi Ampatuan town), Mamasapano, and Shariff Saydona, where the BIFF operates.
Lt. Col. John Paul Baldomar, speaking for the Army's 6th Infantry Division, said the Army-led Joint Task Force Central in Central Mindanao conducted the "surgical" pre-emptive offensive.
"This is to prevent a similar incident last month In Barangay Kitango in Datu Saudi Ampatuan town where a big BIFF group had converged and launched attacks against non-combatants," he said.
Local officials and residents within the SPMS box have alerted the military about the ongoing consolidation of BIFF combatants in the area, he added.
"The locals wanted peaceful observance of their fasting month of Ramadan, so they reported to us about the presence of armed men," he added.
Baldomar said local officials were informed of the artillery strikes and combat operations.
"In fact, we made sure the artillery will land not in civilian areas," he said.
On March 18, skirmishes erupted in Barangay Kitango after some 30 BIFF gunmen tried but failed to overrun a new Joint Peace and Security Team (JPST) outpost in the village.
JPST is a composite peacekeeping unit of the Philippine Army, Moro Islamic Liberation Front, and the Philippine National Police.
Akas Mustapha of Datu Saudi Ampatuan town said the military artillery fire began at about 3 a.m. with cannon blasts reverberating from the secluded areas of the adjoining towns.
"It scared us, but we know the military is in control," Mustapha said in the vernacular.
Baldomar said military clearing operations are ongoing and could not yet determine whether the surgical offensive has resulted in casualties on the enemy side. (PNA)
*****
Credit belongs to : www.pna.gov.ph