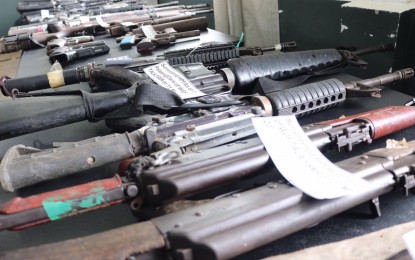 MAGPET, North Cotabato – As the Communist Party of the Philippines celebrated its 52nd founding anniversary on Saturday, the military in North Cotabato presented to the public assorted firearms surrendered by former rebels.
Colonel Potenciano Camba, commander of 1002nd Infantry Brigade, presented the 80 high-powered firearms, dozens of improvised explosive devices (IED), and some former rebels who spoke of horrible stories before the local media.
Camba said the arms were handed-down by rebel returnees from different towns under its areas of responsibility and currently undergoing interventions through the National Task Force Ending Local Communism and Arm Conflict (NTF-ELCAC).
At least 156 members of the New People's Army, the armed wing of the CPP, reportedly returned to the fold of the law this year through the 1002nd Brigade.
The returnees, he said, claimed that the NPA preys more on indigenous peoples (IPs) in their recruitment activities.
Datu Ramon Bayaan, former secretary-general of Apo Sandawa Lumadnong Panaghiusa sa Cotabato (ASLPC), said the rebels have been taking advantage of the tribal people's poverty, lack of education, and vulnerability to false information.
He said NPA members took advantage of the IPs, who communists indoctrinated to hate the government and the military.
"Now, I will personally educate my tribe to inculcate in them the efforts of the government and to stop recruitment of IPs," he said.
Camba lauded the efforts of North Cotabato Gov. Nancy Catamco in the implementation of (NTF-ELCAC) that convinced NPA rebels to surrender.
All the returnees are undergoing livelihood training provided by the Department of Agriculture and Technical Skills and Development Authority. (PNA)
Credit belongs to : www.pna.gov.ph