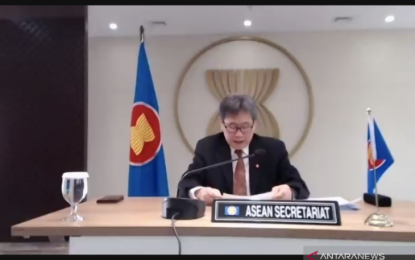 JAKARTA – The Association of Southeast Asian Nations (Asean) on Friday unveiled a regional action plan (RAP) for combating marine debris in its member states for the 2021-2025 period.
The plan will serve as a joint strategy focusing on solutions to the question of plastic pollution in the region.
"Our sea and coast are so important for life and livelihood, yet they come under major pressure, particularly due to plastic pollution that has the potential to destroy human health and erode tourism and fishery industry that are very essential for the regional economy," Asean Secretary General Dato Lim Jock Hoi said during the launch of the RAP on Friday.
The plan adopted by Asean member states ahead of World Environment Day (June 5) and World Ocean Day (June 8) has been described as a new achievement for Asean, which has shown firm commitment, in line with the national agenda of each member state, in facing environmental challenges through actions at the regional level, he added.
Nearly 80 percent of the garbage in the sea is believed to be plastic. Six out of 10 Asean member states produce more than 31 million tons of plastic waste per year, Lim Jock Hoi said.
Although each Asean member state has adopted a program to handle plastic waste, the threat of garbage entering the sea poses a problem at both the regional and international level, he pointed out.
Furthermore, a surge in the use of personal protective equipment during the coronavirus disease 2019 (Covid-19) pandemic has added to the pressure on countries, which are working to handle the accumulation of plastic waste in the sea, he added.
"The Asean Regional Action Plan to handle trash in the sea in Asean member states serves as evidence of our collective response aimed at supporting regional policies and platforms to harmonize resources in support of the action that each member state has taken," the Secretary General said.
The RAP will be implemented over five years.
The plan comprises 14 regional steps involving four pillars, support and planning of policies, research, innovation and capacity building, public awareness, education and involvement of the private sector, Lim Jock Hoi said.
The actions contained in the planning cover directives for countries to reduce the production of single-use plastic and harmonize regional policies related to recycling and standard plastic packs. (Antara)
*****
Credit belongs to : www.pna.gov.ph