It is perhaps more than mere coincidence that the birthday of NCCA chairman and CCP president Arsenio "Nick" Lizaso and the death anniversary of Fernando Poe Jr. fall on the same date, Dec. 14.
"I think the fates made it so," said Nick. "The date gives me mixed feelings. I feel happy because it's my birthday and at the same time I feel sad because I remember the happy times I had with Da King."
Nick was nostalgic as he received the Fernando Poe Lifetime Achievement Award from the Film Academy of the Philippines (FAP) last Dec. 7 in recognition, according to the official letter signed by FAP director-general Vivian Velez, "of your countless contribution and devotion to the industry and your tireless effort to create a better tomorrow for industry workers as a whole."
After his successful stint directing plays and TV programs, Nick expanded his range by directing movies that included Flor de Liza (with Julie Vega and Janice de Belen), Ulo ng Gapo (a box-office hit and critically-acclaimed action-drama that featured Rudy Fernandez, Charito Solis and Eddie Garcia) and Markadong Anghel (with Alma Moreno, Tirso Cruz III and Vic Silayan).
Nick was one of the founding members of Kapisanan ng mga Direktor ng Pelikulang Pilipino (KDPP), the first Directors' Guild in the Philippines, which also included Ronnie Poe, Lino Brocka and Ishmael Bernal. He was later elected as the second KDPP president, succeeding Lino.
In an online interview, Nick said that he considers this award as one of the two laudatory citations he treasures most, more special than all the other awards and recognitions he has received in his lifetime.
The first one is a hand-written congratulatory note on his performance in My Fair Lady from no less than Ambassador Carlos P. Romulo, former UN president and Philippine Foreign Secretary, which he keeps up to now. The other is the FAP award because he considers FPJ a special friend and colleague. Very few people know that he was "privileged" to have shared a close friendship with FPJ when he was still alive.
"I cherish the memory of my 'escapades' with Da King," said Nick, "not as a movie director, although I was then already a director, but as one of the FPJ boys. As the then undisputed King of Philippine Movies, Da King had a heavy schedule but whenever he had a free time, he would often call Rudy Meyer, an actor and director who is his trusted friend, to round up the boys or inquire about our whereabouts. Soon enough, he would come driving his huge Cadillac."
One time, FPJ sidled up to Nick and said: "Balita ko masarap ka raw magbulalo…pwede ba sample?"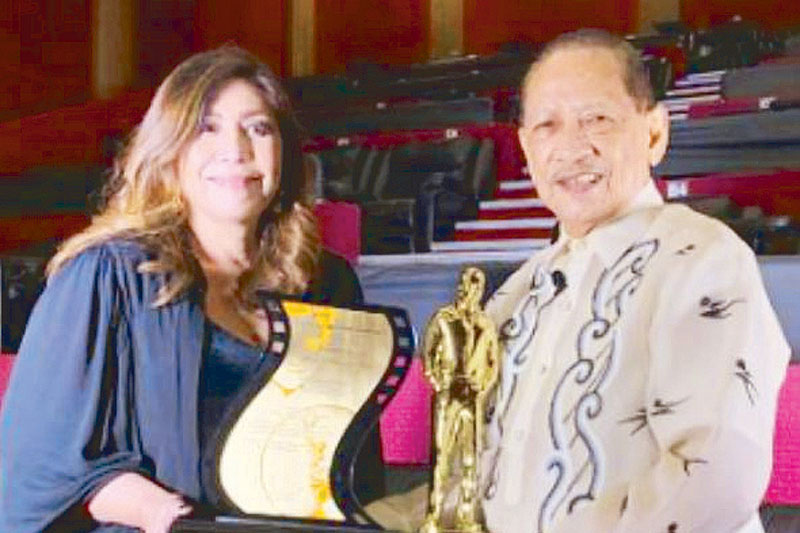 NCCA chairman and CCP president Arsenio 'Nick' Lizaso and his wife Belen.
So early one morning, Nick and a few FPJ boys went to buy several kilos of fresh beef at the Tagaytay market and then proceeded to FPJ's kwadra (horse stable) in Sta. Ana where he prepared nilagang baka. Nick was only too delighted to see Da King together with a dozen FPJ boys and members of KDPP feasting on his bulalo.
FPJ revered the Filipino master filmmaker Gerry de Leon (also known as Manong). The last film Manong directed was Juan dela Cruz starring FPJ. But Manong died before the film was finished. As a gesture of his great respect for Manong, FPJ kept the raw, unedited footages in a vault, unseen by anybody else. One day, FPJ asked Nick to view the footages, which consisted of raw cuts of the first part of the film. Even in their raw form, the footages were impressive, masterfully done, indeed. Needless to say, he was grateful to Ronnie for the privilege of seeing them. "But why me, he still cannot fathom even now," Nick wonders up to now.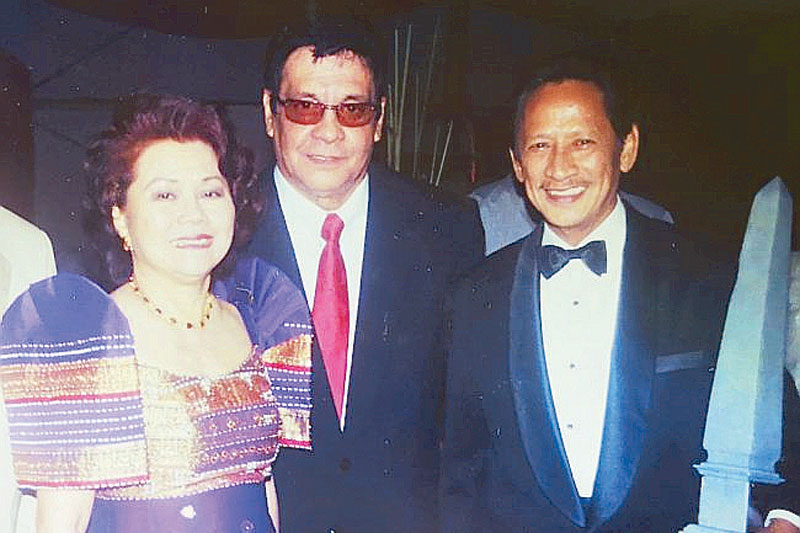 With Fernando Poe Jr. during the 2003 San Beda College (SBC) Jubilee celebration. FPJ and Lizaso studied high school at SBC. Right: Lizaso receiving his Fernando Poe Jr. Lifetime Achievement Award from Vivian Velez, director-general of the Film Academy of the Philippines (FAP).
Photos courtesy of Nick Lizaso
Just to demonstrate how close he was to FPJ, Nick recalled that when his parents had their 50th wedding anniversary, FPJ readily consented to be one of the main wedding sponsors along with the late Marichu Vera-Perez Maceda and the young Pilar Pilapil.
One of Nick's most cherished pictures, now sepia-tinged, shows him with FPJ taken in 2003 when they both attended the Jubilee celebration of their respective batches in San Beda College. That same year, Nick was also a recipient of the Bedan Achievement Award together with another former Bedan who received an award for public service, now Philippine President Rodrigo R. Duterte.
After receiving the Fernando Poe Lifetime Achievement Award, Nick remarked: "I consider this a worthy tribute not to me but to Da King who highly valued friends and stayed true to the spirit of 'may pinagsamahan'."
Then he corrected himself by saying, "may pinag-saluhan" to convey a kind of friendship that was on another level.
(E-mail reactions at rickylophilstar@gmail.com. For more updates, photos and videos, visit www.philstar.com/funfare or follow me on Instagram @therealrickylo.)
Credits belong to : www.philstar.com